749 University Row: Madison, Wis.
How Development Pays Back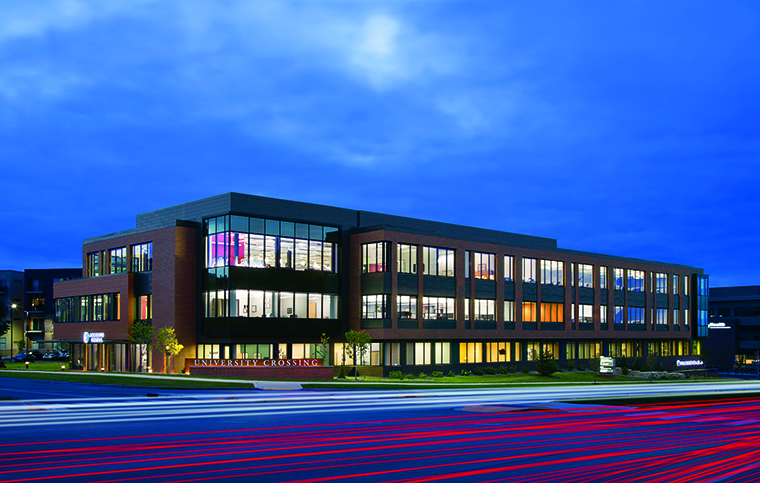 Conceived during the building slump of the Great Recession, this multi-tenant building in Madison, Wis., tells an important economic story: a developer-driven project can attain a high level of performance while remaining competitive and replicable in the market. Cited by local developers as a testament to the viability of sustainable spec office construction in the Madison market, the 85,000 ft2 office building achieved LEED Platinum and operates at 35 kBtu/ft2·yr. The developer cites faster leasing as the primary business benefit of pursuing a highly sustainable project. Even in a slow market, 749 University Row was fully leased before construction was complete.
The developer plans to build a third high performance building if a suitable urban parcel becomes available.
The project's consultant-partners focused on performance in every aspect of design, conducting energy analyses, daylight modeling, and measurement and verification planning. The team specified a high performance envelope and optimized window areas, glass materials, and exterior shading features to balance energy performance, daylighting, and comfort. A ground-source variable refrigerant flow (VRF) high-performance system helped meet the demands of a fast-paced construction schedule and stayed within a tight budget of $175/ft2 for the core and shell.
A Welcoming Place for Tenants
In a competitive leasing market, a high performance building provides an advantage to tenants who want to reduce environmental impact and make sustainability part of their branding strategy. It also provides low energy and water costs, and a more comfortable and potentially productive environment for occupants.
To create a welcoming workspace, designers focused primarily on dynamic daylighting (Figure 1) using several integrated elements:
Well-placed glazing. The ratio of window to wall area is just 39%. Areas that are glazed are placed with high window head-heights to allow sunlight to penetrate as far as possible into the space. A frameless mounting system for this glazing reduces the casework costs. Specified glazing properties were for the highest possible visible transmittance (0.55) while maintaining a solar heat gain coefficient (SHGC) of 0.28.
Glare control. Exterior glare control is provided by 2.5 ft exterior solar shades set at the top of vision glazing, but below transom glazing. To control the increased amount of interior light, roller shades on the perimeter windows have a 5% open weave to allow exterior views even when the shades are down.
Skylighting. On third-floor spaces, tenants have taken advantage of the roof exposure to add tubular and standard domed skylights. This even daylighting allows tenants to feel the sun moving across the sky through the course of the day. Tenants typically make the most of the glazing design and daylight by configuring their space to open up views using low partition heights, interior meeting rooms and glass partitions and doors. In addition to daylighting and views, the building achieves excellent indoor air quality from its use of a 100% dedicated outdoor air system (DOAS).
Practical Sustainability
Developing a high performance building for multiple tenants can pose additional challenges, especially when some of those tenants have yet to be identified as the building is designed and constructed.
The developer of this three-story, seven-tenant project overcame these challenges by taking a practical approach to sustainability, making sensible choices to keep costs low while maintaining functionality. The developer put high performing base systems in place to allow as much or as little performance as the tenants could implement.
For example, the façade was designed for maximum depth of daylight penetration, with strategic glare control. All tenants enjoy this natural light. Some tenants choose to go a step further and implement automatic daylighting controls to save more energy than manual controls.
In the same way, the central ventilation system (the DOAS) is designed to accommodate demand control. Some tenants use CO2 sensors or occupancy sensors to take significant advantage of this; others have implemented CO2 control only in spaces required by LEED or code. The system works well for both.
Finally, tenant utility use is submetered. This makes sense from a business perspective for the developer, but more importantly, it allows the tenants to have feedback and control over their own energy costs, which they could use to lower energy use further. Tenant submetering does need to be accounted for in the measurement and verification plan.


Photo © Nels Akerlund
An inviting entry stairwell encourages occupants and visitors to use the stairs instead of the elevators, which are located behind a row of doors.
The Right Site
Finding a suitable site for a sustainable project is job one. The developer took one of Madison's underused urban infill sites and turned it into a mixed-use development to the west of downtown. Demolition of the unusable buildings on the existing site went through a rigorous recycling plan, diverting over 1,700 tons of construction waste from landfills.
The development has begun to revitalize the neighborhood and increase urban density. The building is third in a master plan of seven buildings for the site. The development is currently home to a coffee shop, health club, clinic, and 118 apartments, in addition to the office tenants.
The parking below the apartments is shared with 749 University Row. When tenants of the apartment building leave for work or school in the morning, parking spots open up for University Row tenants. This reduced parking size, coupled with its underground location, substantially reduces surface parking and eases storm water runoff. A small surface parking lot serves the retail shops and dental clinic.
Many who live and work in the development are able to avoid driving altogether, an important factor considering that the energy footprint of high performance buildings is increasingly dominated by transportation to and from the building.
In addition to being located on a street with 12 bus lines, the building was designed for bicycle commuters. It has tempered underground bike parking, showers and lockers. A bike sharing station is located next door.
Envelope and HVAC
Wisconsin's climate requires heating and cooling even in the highest performing buildings. However, it is still worthwhile to design the envelope to provide as much comfort as possible before applying mechanical systems.
749 University Row uses rigid insulation on the exterior of the structure only, with a liquid-applied air barrier. To avoid potentially harmful chemicals in some insulation products, mineral wool insulation is used. The material is recycled from industrial waste and achieves an R-18 wall.
The building is then heated and cooled using a ground-source variable refrigerant flow (VRF) system (Figure 2). This HVAC option was selected by using an energy model that was completed in conceptual design based on basic massing, orientation, and anticipated high performance envelope properties. The model was used to analyze various approaches, from standard variable air volume, to different heat pump options, to different VRF options.
Ground-source VRF was the best fit for a variety of reasons, with the two most critical being performance and form. The performance of the system in this climate is substantially better than air-source VRF or any of the more traditional HVAC choices (Figure 3).
A unitary ground-source heat pump system showed slightly better performance than the VRF system, but it would require heat pumps to be distributed throughout the building. This was highly undesirable for the owner, especially with some tenant spaces not yet taken or designed.
A necessary complement to the VRF system is a DOAS, bringing in 100% fresh air for occupants, and modulating based on CO2 and occupancy sensors. The DOAS is made up of a ground source heat pump with a total energy recovery wheel.
The decision to serve the VRF system via the ground was almost lost to site constraints. The boreholes, which typically go to 400 ft in the region, were constrained to just 250 ft to avoid a city water aquifer. As a result of the constraints, nearly 50% more wells were required. Since the site offered little green space or surface parking, the geothermal borefield was ultimately placed in a ring around the building roughly 15 ft off the foundation.


Photo © Nels Akerlund
Tenants typically make the most of the ample daylight by configuring their space to open up views.
Interior
The primary focus of interior design was to create a welcoming environment. Some tenants also made sustainable elements a key focus of their build-outs.
After HVAC, efficient lighting represented the next most significant area of energy savings. Interior build-out designs averaged 0.67 W/ft2 (compared to code lighting power of 1 W/ft2) through use of LED and traditional fixtures with good design.
Seeking to minimize use of materials, the design team limited interior walls. Carpeting is used minimally throughout the facility and never in high traffic areas.
Concrete was left exposed in many places. An acoustic roof deck was used, eliminating the need for some acoustic ceilings and increasing ceiling heights.
Initial Performance
A comprehensive M&V plan was included in the design and executed following occupancy to ensure performance for tenants. Tracking energy use at 749 University Row is complex, with multiple submetered tenants and staggered occupancy dates. Figure 4 summarizes energy use for a 12-month period following full occupancy.
Nearly all space heating is accomplished with electrically-driven VRF and heat pump equipment, which is possible with the use of the ground loop. Natural gas is used as a cost-effective source for heating-only uses such as domestic hot water, garage heating and a final stage of DOAS heat.
Based on the data during that period, the building is performing with an energy use intensity (EUI) of 35 kBtu/ft2·yr (equating to a source EUI of 106 kBtu/ft2·yr) and an ENERGY STAR score of 94. While this energy use results in a step below predicted energy cost (Figure 5), some causes have already been identified (Lessons Learned).
Conclusion
Though developers continue to perceive risk in constructing high performance buildings for multiple tenants, some are finding that they can mitigate risk and deliver added value to the market by involving experts to focus on performance throughout the design and construction process. University Row has proven that this process works.
About the Author
Scott Hackel, P.E., LEED AP BD+C, Member ASHRAE, is principal energy engineer at Seventhwave, a nonprofit research and engineering firm in Madison, Wis., and Chicago.
Read More About 749 University Row
Web Exclusive: Q&A With the Author
Living Lab for Seventhwave
Lessons Learned for 749 University Row