Adaptive Reuse: Gone to the Dogs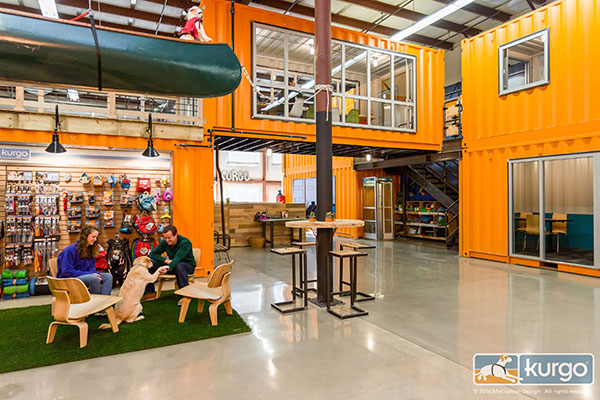 Bright paint, natural lighting, and creative use of shipping containers makes Kurgo's new HQ dog and people friendly.
Kurgo Dog Products wanted a dog-friendly office that fit both its rapidly expanding staff and its unique creative needs. The management searched all over New England, but in the end, nothing was quite the right fit. Taking it as a challenge, Kitter Spater, the founder and creative mind behind Kurgo, decided to just build the perfect office himself.Inside of Kurgo's existing warehouse!
To start, the warehouse was stripped down to bare concrete and windows were put in to provide plenty of natural light. Kurgo then brought in eight giant shipping containers (the same ones used to bring its product in from overseas) and converted them into offices, photo galleries, and meeting rooms. Of course, they were also painted the brand's distinctive orange.
The wood for the cubicles was logged in the 1800s.
The creative bullpen area called for cubicles, but they had to fit the rest of the design aesthetic. To that end, they were constructed from wood that was logged in Maine in the 1800s and just recently recovered from the rivers there. The end result is cubicles that are warm and inviting and truly feel like a cohesive part of the space.
Conference table is made of reclaimed wood.
To continue the upcycled theme, the conference table is a slab of reclaimed wood, the coffee table is an old pallet, and the break room tables are giant wire spools. The crowning touch is a vintage airstream trailer that has been renovated to include storage space, along with kegs and taps.
Reclaimed wood and brackets made in-house on a 3D printer.
The reclaimed wood was also used for the various railings around the shipping containers. To add a touch of the modern manufacturing technique, the railings are all held in place by brackets that were designed and 3D printed by Kitter with the Makerbot in his office.
Workshop includes 3D printer used to make railing brackets.
When asked why he undertook such a large design project, Kitter said, "We wanted to create a space that was creative, fun to work in, projected a sense of adventure and was innovative. Basically, a place that reflects the type of products that we strive to produce."
Tables are made from old pallets.