AHR Expo Product Preview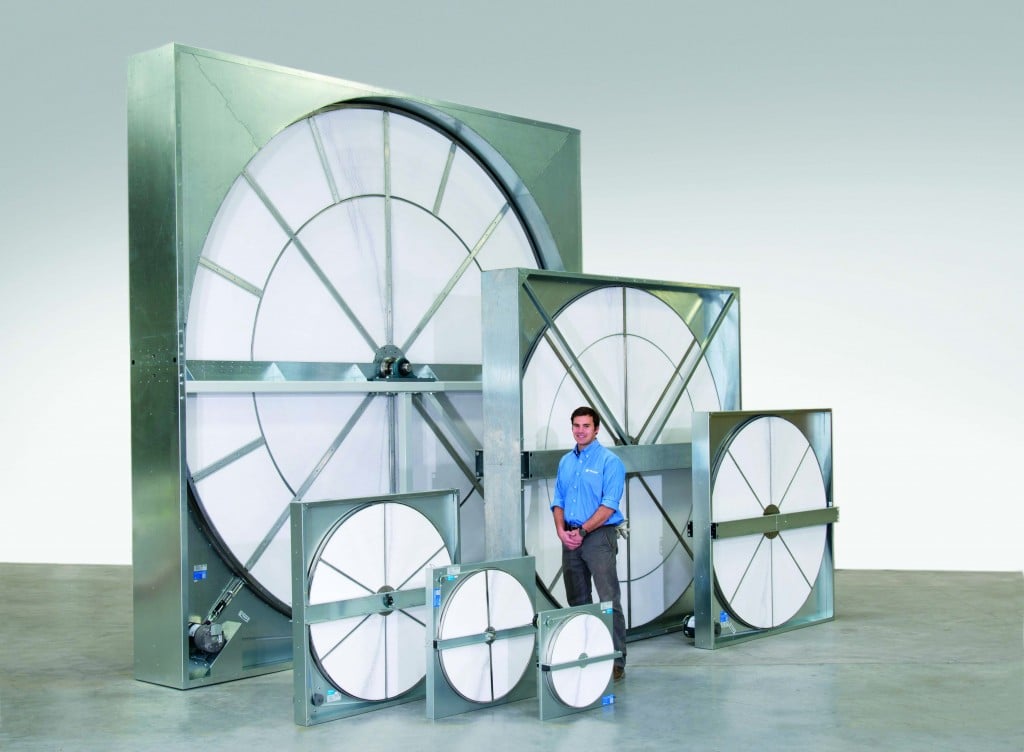 While walking through the nine football fields of exhibit space at AHR Expo Jan. 30-Feb. 1 in Las Vegas, visitors will be able to see more than 760 general types of products.
From solar panels and energy recovery to IAQ monitors and chillers, several advancements that contribute to energy efficiency and sustainability will be found on the floor of the Las Vegas Convention Center.
Below is a small sample of the many products at AHR Expo 2017.
Energy Recovery Wheel
​Airxchange is a leading manufacturer of energy recovery wheels that recycle energy from building exhaust to pretreat fresh air prior to conditioning by an HVAC unit. Airxchange provides a segmented wheel design that allows for easy cleaning and maintenance to ensure optimal performance over the life of the HVAC system.
Axial Fan Blade
The high efficiency rates delivered by EMAX4 from Multi-Wing America, Inc., a Crowley Company, considerably reduce the power consumption of the final product, which not only contributes to economic savings but also complies with the 2015 requirements of the ErP Directive. EMAX4 is designed to fit Multi-Wing's existing range of hubs, and it retains all the advantages of the Multi-Wing modular system with variable pitch angles. EMAX4 is available in 5, 6, 7, 9 and 12-bladed configurations with a diameter range from 24.56 to 36.22 inches.
Energy Saving Heating Additive
​Thermoboost from Wiseman Industries is an energy saving additive for radiant heating systems, suitable for use in radiators and underfloor heating. Using the latest Nano Fluid Formulation, Thermoboost allows a system to heat up quickly and hold onto heat for longer. The reduced boiler load allows energy savings of 20% over standard water filled systems.

Modular Water Cooled Chiller
​Mits Airconditioning Inc./AERMEC offers a 30 ton dual circuit modular water-to-water chiller, which may be placed side-by-side or back-to-back, as well as being stackable, allowing for double the tonnage in a traditional footprint. The unit meets all ASHRAE Standard 90.1 efficiencies and is easy to service, very quiet, and BMS compatible.
Adaptive Defrost Refrigeration Module
ICUBE™ from Intermatic/Grasslin is a new temperature-initiated adaptive defrost control solution that will reduce defrost cycles by 40% or more per day in commercial walk-in coolers and freezers. Designed to meet pending U.S. Department of Energy conservation standards, The ICUBE™ Module uses smart sensing technology to defrost evaporator coils only when needed.
Pre-Insulated Pipe
Perma-Pipe's Multi-Therm 750 Supreme is the first pre-insulated piping system fortified with Aerogel nanotechnology, making it an advanced and thermally efficient steam and hot water transportation piping system. Aerogel's Pyrogel XT® reduces cross-sectional size, which provides cost savings, reduces insulation thickness, improves thermal efficiency, extends service life, and has superior resistance to water.
Indirect Evaporative Cooler
The Climate Wizard CW-80 from Seeley International is an efficient, high volume indirect evaporative cooler that offers energy savings up to 80% compared to refrigerated systems performing the same duty. The supply air is colder than wet bulb, with high static pressure and 100% fresh air with no added moisture. Features and benefits include EER of up to 75.3, up to 106 tons of cooling capacity in outside air precooling applications, and up to 28,000 cfm supply air.
Scroll Modular Chiller
​ArctiChill offers an air-cooled modular chiller with enhancements, including all variable speed scroll compressors and heat recovery heat exchanger on skid with three-way valve, which is actuated when conditions are favorable, and adiabatic assisted condenser coils.
Energy Recovery Ventilator
The InspirAIR Compact 80 from Aldes is an energy recovery ventilator (ERV) designed specifically for smaller dwellings within larger multiunit buildings, such as condominium towers, apartment buildings, senior residences, and student residences. The maximum airflow capacity is about 75 cfm of balanced mechanical ventilation per residence, and it can be installed on a concrete slab above the bathroom or in a closet. The ERV has a high heat-recovery performance and an economizer mode to reduce the amount of heating or cooling required to bring the MERV-6 filtered indoor air temperature to the desired level.
Low Ambient Heat Pump
Solstice Extreme, SpacePak's low ambient heat pump, provides primary heating and cooling, even in severe weather climates. Its environmentally friendly design uses enhanced vapor injection (EVI) technology and hydronics as its primary energy source to deliver conditioned air to any occupied space. The condenser provides efficiency and improved heating capacities. The EVI increases heating capacity by over 30%, making it suitable for severe ambient conditions (0°F) in cold climates, while maintaining the ability to cool during the summer. The heat pumps feature a dual fan, horizontal discharge configuration, and soft-start activation.
Chilled Beam Pump Module
​NEUTON from SEMCO is a plug-and-play proactive condensation control device for active chilled beams. The device allows a chilled beam system to be installed at a cost similar to more conventional systems, while providing high performance and energy efficiency.
VRF Dedicated Outdoor Air System (DOAS)
Daikin's new VRF dedicated outdoor air system (DOAS) consists of an air handler that integrates seamlessly with a Daikin VRV system to provide 100% outdoor air. Options such as gas heating, reheat, and energy recovery allow for installation in a variety of applications in cold, hot, or humid climates.

Thermal Energy Storage
IceBank® Energy Storage from CALMAC Manufacturing Corporation reduces expensive on-peak energy use and emissions caused by air conditioning. Energy Storage increases viability of sporadic renewable energy resources, such as wind and solar, which helps with net zero design.
Solar Air Heating Panels
​ATAS International's solar air heating panels improve indoor air quality, reduce heating costs, contribute toward LEED Certification credits and provide strong return on investment. They also use free solar energy and qualify for tax incentives.
Zoning System
The OneZone VRF is a zoning system for inverter units (VRF and multisplit). It has communications with the indoor unit, controlling the fan speed, operation mode, and temperature. It represents up to 30% or more savings in first-costs and energy use. The new controllers for OneZone VRF make it simpler and better-looking.
Outdoor Air Unit
LG's Outside Air Units (OAUs) provide conditioned outdoor air to meet code ventilation requirements for occupied spaces and can be combined with LG VRF indoor units that provide comfort cooling/heating to occupied spaces. The units can also be installed on existing refrigerant circuits, reducing costs.
Energy Recovery Ventilator
dPoint's polymer membrane ERV technology recovers 75% of the thermal energy and 50% of the latent energy (humidity) lost from building ventilation systems. This is achieved by transferring the heat and humidity between the outgoing and incoming airstreams across dPoint's patented polymer membrane and ERV exchangers. The dPoint ERV technology has many features and benefits, including 0% cross contamination between the airstreams, a polymer membrane that won't grow mold or bacteria, and an exchanger that is water washable.
Integrated Energy Recovery/Evaporative Cooler
Softcool from Polybloc AG is a fully integrated indirect evaporative cooling system, featuring a high efficiency aluminum heat exchanger with hydrophilic coating for enhanced water evaporation, a low pressure traversing water spray system with detergent wash and deicing, and integrated face/bypass dampers. Softcool reaches maximum cooling efficiency with minimum water waste.
VRF Heat Recovery, Single Phase Outdoor Unit
Carrier brings heat recovery energy efficiency to the single-phase market with an IEER of 28.4 and SCHE of 36.6 (both nonducted values). The 6-ton SHRM-e MMY-MAP unit can connect to 12 indoor units of various styles and be twinned to have a capacity of 12 tons and up to 25 indoor units.
Water-Cooled Chiller
CenTraVac™ chillers from Trane Commercial deliver reliable, energy-efficient and sustainable operation for industrial and comfort cooling applications. They provide low cooling costs, while delivering environmental benefits that meet sustainability goals, and are capable of operating with either R-123 or next-generation, low global warming potential (GWP) refrigerants R-514A or R-1233zd.
Wall-Mount Air Conditioner
The MULTI-TEC Wall-Mount air conditioner from Bard Manufacturing Company, Inc., uses programmable logic control (PLC) technology to allow multiple units to operate connected to a single LC6000 controller. When installed with an optional 100% free cooling economizer, the unit will supply full-rated airflow in free cooling mode with the ability to exhaust unconditioned indoor air, without the need for additional relief openings in the structure.
Cooling Tower
Delta Cooling Towers introduces their new Anti-Microbial (AM) Cooling Tower. Their tower displays the only antimicrobial activity against Legionella bacteria out of all the common cooling tower casing materials. They're manufactured with antimicrobial resin, which is fully compounded into base cooling tower plastic. They offer a 20-year warranty and are made in the U.S.
Heat Pump Water Heater
​Sanden International offers a split-type HPWH with a 4.5 kW capacity heat pump, connected via two water lines to a stainless steel storage tank of 43 gallon or 83 gallon capacity. The heat pump uses R-744 (CO2), a natural refrigerant to improve performance, efficiency and recovery rates. They feature high first hour ratings.

Diffuser/Ceiling Fan
Acting as both a diffuser and a ceiling fan, the DAD from ECCO Manufacturing™ requires no electricity; it uses the forced air from the operating HVAC units in the building instead. Airflow from the attached ductwork flows through the diffuser's hub and out the engineered linear slots of the fan blades to produce its turning motion without electrical assistance.
Dryer Duct Booster
Dryer Duct Booster from Tjernlund Products, Inc., meets UL 705 DEDPV and IRC-2015 requirements and saves significant energy, reducing drying times by 50% or more. It reduces lint build-up, dust, and fire hazards by maintaining proper velocity in duct runs up to 150 equivalent feet. Also featured is the Lint Blitzer™ material handling wheel and a five year no-clog guarantee. The 50 watt motor is not exposed to heat, lint, or moisture. It includes 115 VAC cord with automatic operation.

Air-Cooled NH3/CO2 Secondary Coolant Chiller
Introducing Mayekawa's new factory packaged NH3/CO2 Secondary Coolant Chiller with air-cooled microchannel condenser and low-charge NH3 technology. High efficiencies are achieved with VFD controlled semi-hermetic compressor. Designed for supermarkets and food service applications, a water-chiller version for building cooling applications is available.
Facility Application Builder Software
Project Assist 2.0 for Facilities from DGLogik is a drag-and-drop facility application builder. It allows users to easily create custom HTML5 interfaces to quickly gain complete insight into building performance and energy consumption.
Cooling Tower
Compared to other factory-assembled cooling towers, NC Everest from SPX Cooling Technologies, Inc., offers several customer advantages, including 50% greater cooling capacity, using up to 35% less fan power, for higher energy savings, fewer piping, and electrical connections to save installation costs and greater interior access to make inspections and maintenance of components safer and easier.
Energy Savings Calculator
​Berner offers a user-friendly, energy savings estimation tool for quick payback calculations and air curtain selection. Developed in-house by Berner, the program is based on loads calculated from generalized customer input, TMY2 weather data and ASHRAE calculations. The air curtain efficiency used is based on generally accepted theory, laboratory, and field tests.