AIA Focuses on Community Needs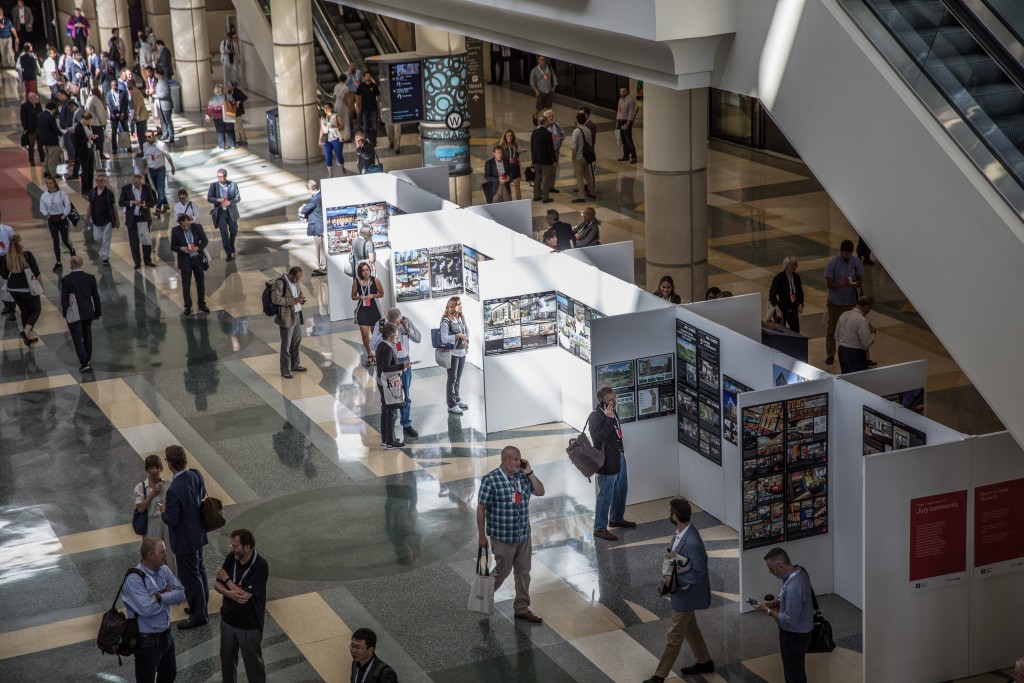 ORLANDO, Fla.—Architects should anticipate the needs, changes, and challenges not only within their own businesses, but in their communities. Those themes set the course for this year's American Institute of Architects (AIA) Conference on Architecture held April 27 to 29.
A number of speakers, including former First Lady Michelle Obama, touched upon those themes. Obama was making her first public speaking appearance since leaving the White House.
The opening day theme of "Anticipate Need: Design That Cares" was discussed by four speakers, each focused on giving back to communities. "As architects, we have tremendous power in the choices we make," Michael Murphy of MASS Design Group said. "Whether or not we intend them, the consequences of our decisions cannot be divorced from the social and political impacts they have on the public."
First Lady Michelle Obama made her first public speaking appearance since leaving the White House at AIA.
Todd Winters Photography
Pritzker Architecture Prize winner Alejandro Aravena talked through one of his firm's projects in Chile that sought to provide housing for 100 families with very specific space and financial restrictions. Rather than choosing houses or a high-rise building, they settled upon an alternative—duplex apartments on top of houses. This would allow lower-class families to expand from the smaller apartments to middle-class homes if their means improved.
During an onstage conversation with 2017 AIA President Thomas Vonier, FAIA, Obama explained the need for all professions, including architecture, to embrace diverse voices.
Regarding diversity within architecture, Vonier said, "Our ranks do not resemble the American population." He asked Obama how to change that.
"So many kids don't even know what an architect is," she said. "They don't think about how buildings are built; they don't know anything about developing or planning. I know I didn't, and I was an educated kid. You have kids growing up in communities where people don't even work, period, let alone as doctors or lawyers or architects."
"You need to go to schools, neighborhoods, communities, any place where underrepresented minorities exist, and start talking," she told the audience." Start small. Make a friend."
On Friday, a panel called "Anticipating Challenge: Design that Overcomes" included Dan Goods and David Delgado from NASA's Jet Propulsion Laboratory, and Dr. Eve Edelstein, the director of Perkins+Will's Human Experience Lab.
Goods and Delgado explain complex topics, such as rocket science, through creative works of art appearing in public spaces and art museums. They also cofounded the Museum of Awe and Wonder, an interactive experience of art, theater, and science.
On the conference's final day, a panel reflected on the theme of "Anticipate Change," addressing what's next for architecture. The panel, led by Frances Anderton, host of the podcast DnA: Design and Architecture, featured three speakers focused on the opportunities at architecture's frontier.
"In terms of diversity and bringing people into the profession," Cheryl McAfee, FAIA, said, "It's very important that we meet people in their communities. Our world and our country is only as good as we treat the least of us. Our profession has to continue to mold architects that maintain that passion, to help those who can't help themselves."
The conference featured more than 500 workshops, seminars, tours, and expo credit sessions.
Bates
Todd Winters Photography
Other conference highlights:
William J. Bates, FAIA, from AIA Pittsburgh/AIA Pennsylvania, was elected 2018 first vice president/2019 president-elect. He will succeed Carl Elefante, FAIA, the 2017 first vice president/2018 president-elect.
​
The Whitney M. Young Award went to Detroit Collaborative Design Center, while the prestigious Firm Award went to Leddy Maytum Stacy Architects of San Francisco.

AIA selected 14 recipients for the 2017 AIA Young Architects Award. Young Architects are defined as professionals who have been licensed 10 years or less, regardless of age.

I. M. Pei's pyramid at the Louvre was honored with the AIA's 25 Year Award. Pei, 100, was represented by his son, Chien Chung Pei, and firm partner George Miller in accepting the award.

A team of students from Clemson University won the second annual Composites Challenge presented by the American Composites Manufacturers Association.