Building Envelope – Brock Environmental Center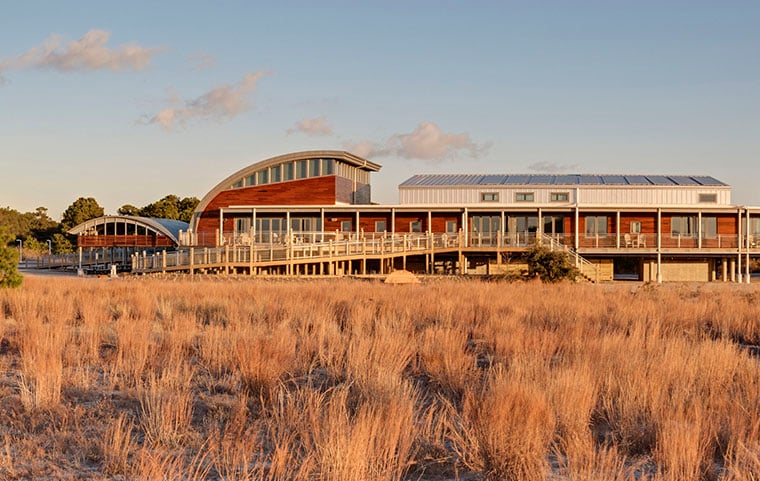 Photo by David Chance
Building Envelope
Roof
Type Standing Seam Metal
Overall R-value 51
Reflectivity 0.3
Walls
Type 2 × 6 wood stud wall with batt insulation, with continuous foam insulation installed in rain screen assembly
Overall R-value 31
Glazing Percentage 24.7
Basement/Foundation
Basement Floor R-value 24.59
Windows
Effective U-factor for Assembly 0.15
Solar Heat Gain Coefficient (SHGC) 0.26
Visual Transmittance 0.41
Location
Latitude 36° 54' 13.794"
Orientation North
Key Sustainable Features
Water Conservation Rainwater captured in two 1,650-gallon cisterns for all potable water use. Composting toilets, graywater infiltration on site.
Recycled Materials Salvaged building products were used extensively and celebrated within the design. Maple floors from a local gymnasium were transformed into interior flooring. All interior wood trim was made from salvaged school bleachers (students' carvings/graffiti were preserved). All wood doors, cabinets, countertops, mirrors, sinks, toilet accessories, lockers, etc., were salvaged from local demolition projects. Cabinet pulls were made from salvaged champagne corks. The wood siding was milled from cypress "sinker logs"—remnants from 19th century logging, recovered from the bottom of rivers centuries later. Materials' ingredients were documented to ensure no LBC red-list chemicals were included in the Center—and that documentation is publicly available here: http://www.smithgroupjjr.com/info/transparency/.
Daylighting 100% of regularly occupied spaces have daylighting at levels that allow lights to be turned off during daylight. Daylight sensors control artificial lighting. Brock consumes over 95% less energy for lighting than an average office building (CBECS 2003).
Individual Controls Operable windows in all spaces, ceiling fans, local thermostats with occupant override.
Carbon Reduction Strategies Net zero energy design.
Transportation Mitigation Strategies No parking on site (other than 3 ADA spaces). Showers and bicycle racks provided on site.
Other Major Sustainable Features Situated on a coastal site, the design anticipates the onset of sea-level rise and hurricanes. The building is set back 200 ft from the shore and sits on pylons 14 ft above sea level. The building's structural system is capable of resisting 120-mph hurricane-force winds, and windows are capable of resisting wind-borne debris.