Deep Energy Retrofits for Profit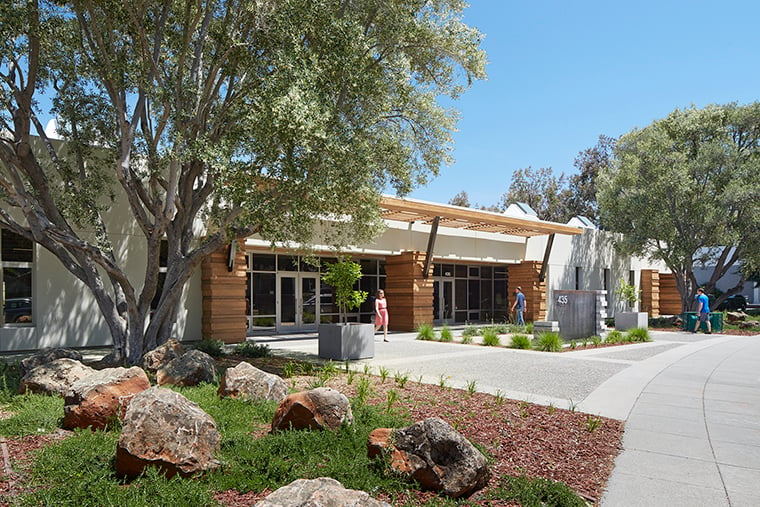 The 1970s-era 435 Indio Way didn't have a lot going for it. Nondescript, dark, and cold buildings don't attract a lot of tenants, but especially not in sunny California.
However, after a deep energy retrofit that included using 100% natural ventilation and 100% daylighting, the building took only three months to fill with tenants. The industry average for Silicon Valley is 18 months.
To write this worse-to-first story, Sharp Development had to look beyond the downsides to the potential profits that could result from a net zero energy conversion. The investment paid off. "The retrofit increased the property's value by $56 per square foot," according to RMW Architecture and Interiors.
Existing buildings are a "huge reservoir of real estate [representing] a gold mine of potential deep retrofit-driven profitability," according the Rocky Mountain Institute (RMI).
RMI defines deep energy retrofits as those that "employ an integrated array of energy efficiency measures… to reduce energy consumption by 30% or more compared to the pre-retrofit energy use while achieving superior sustainability performance."
In the case of 435 Indio Way, the energy retrofit went far beyond 30% to net zero energy. Sharp Development's president, Kevin Bates says, "Now that we've proved that we are able to carry out this type of sustainable renovation and increase profitability, we believe there's no longer a need to rely on traditional renovation methods."
To assess whether a building is a candidate for a deep retrofit, the New Buildings Institute has developed a Retrofit Savings Estimator. The estimator produces an energy simulation for a large variety of buildings from basic information.
The Rocky Mountain Institute has published a report: "How to Calculate and Present Deep Retrofit Value: A Guide for Investors" as an aid for real estate investors to reach untapped potential of existing buildings.
Once the decision has been made to do a deep energy retrofit, ASHRAE's Advanced Energy Design Guides and Standards 90.1 and 189.1 offer guidance for new buildings that can also be used for buildings that are undergoing a deep energy retrofit. Standard 100 is specifically for existing buildings.