First Rotatable Lab for the Tropics Opens in Singapore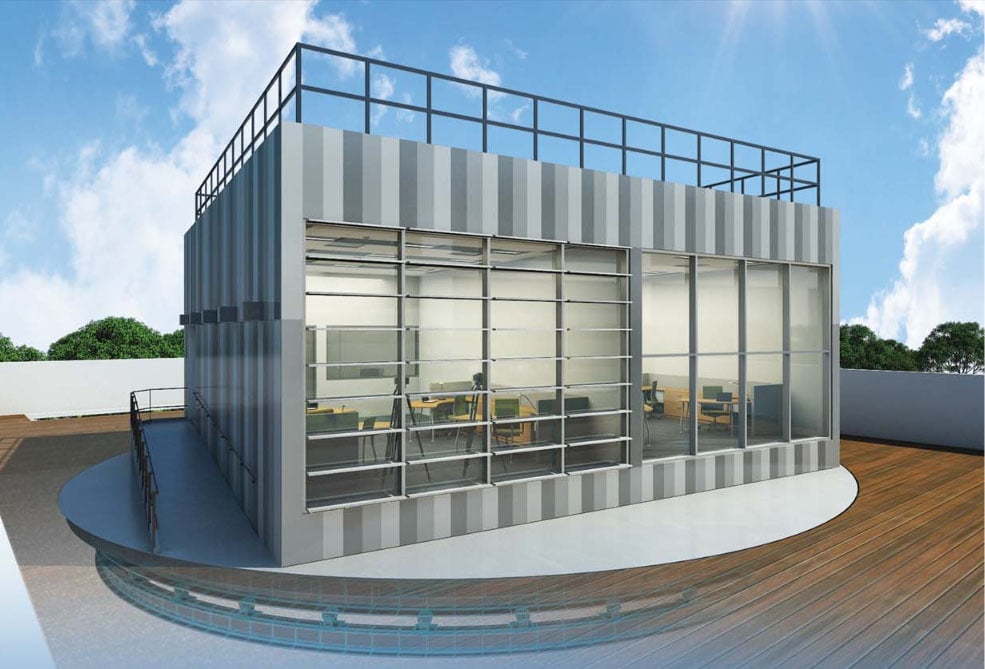 The BCA SkyLab can rotate 360 degrees. It will enable testing at any orientation for sun and wind, accelerating the pace of research, development and application of energy-efficient building technologies in the tropics.
Credit: BCA
The Building and Construction Authority's (BCA) SkyLab, the world's first high-rise rotatable laboratory for the tropics, and the Academic Tower, a dedicated experiential learning facility and living lab for the built environment sector, opened in recent ceremonies at the BCA Academy in Singapore.
The BCA SkyLab was developed by BCA in collaboration with the Lawrence Berkeley National Laboratory in California, which has a similar facility, the Facility for Low Energy eXperiments in Buildings (FLEXLAB). The California facility runs comparable tests in a more moderate climate.
The Singapore facility can rotate 360 degrees, has full plug-and-play configurability and is fitted with extensive instrumentation and sensor networks scalable in the future, BCA said. The 132 m2 (1,421 ft2) facility is equipped with a network of more than 200 sensors with high accuracy and granularity, across two identical cells for comparison testing.
These sensors measure performance metrics such as energy performance, indoor environmental quality, outdoor environmental parameters and building automation system indicators.
The BCA SkyLab will enable testing at any orientation for sun and wind, accelerating the pace of research, development and application of energy-efficient building technologies in the tropics.

Credit: BCA
More than 20 organizations, including universities and the building performance industry, will be involved in potential experiments through 2018, BCA said. Those experiments include integrated systems test of lighting, cooling and sun-shading; air-conditioning systems with oblique fins; predictive methods for tropical daylighting; and cool surface technologies.
Singapore Prime Minister Lee Hsien Loong officially opened the BCA SkyLab and Academic Tower in ceremonies on July 20.
Credit: BCA
"The BCA SkyLab is an excellent research and test-bedding platform for the research community and building industry. Its flexibility and sophisticated instrumentation enable the research and development of a wide range of building technologies," said assistant professor Wan Man Pun, principal investigator from Nanyang Technological University, which is involved in the first research project. "It also allows for test-bedding of multiple technologies and interactions between technologies, which will provide new insights to building sciences research."
Singapore has achieved much as a leader in green buildings over the past decade, setting standards and benchmarks for the tropics with the BCA Green Mark scheme. To date, 31% of Singapore's entire building stock has been certified under the Green Mark scheme.
"Our medium-term aspiration is to have positive energy low-rise, zero energy medium-rise, super low-energy high-rise buildings in the tropics," Dr. John Keung, CEO of BCA said. "To realize this, we need to achieve breakthroughs with innovation as part of our green building agenda going forward."
The BCA SkyLab aims to significantly improve energy efficiency beyond the current best-in-class Green Mark Platinum buildings, which are already at least 30% more energy efficient than a code-compliant Singapore building, Keung said.
Academic Tower at BCA Academy
The BCA SkyLab is built on the rooftop of the newly built Academic Tower at the BCA Academy. The Academic Tower transforms the BCA Academy into a living lab. Some of the experiential features include a rooftop education deck with a functional energy-efficient chiller plant, life-size graphics on universal design and a dedicated outdoor air dual-wheel system. The Academic Tower complements the mix of existing experiential and test-bed facilities at the Academy, such as the Centre for Lean and Virtual Construction, Zero Energy Building and Sensory Garden.
BCA earlier retrofitted its three-story building on the BCA Academy campus to make it a net zero energy building, despite the challenge of doing so in a hot and humid tropical climate. The net zero energy targets are being met, and occupants are benefiting from the increased visual and thermal comfort.
Established in 1984, the BCA Academy is the education and research arm of BCA.