Forums Explore Frontier of Energy Efficiency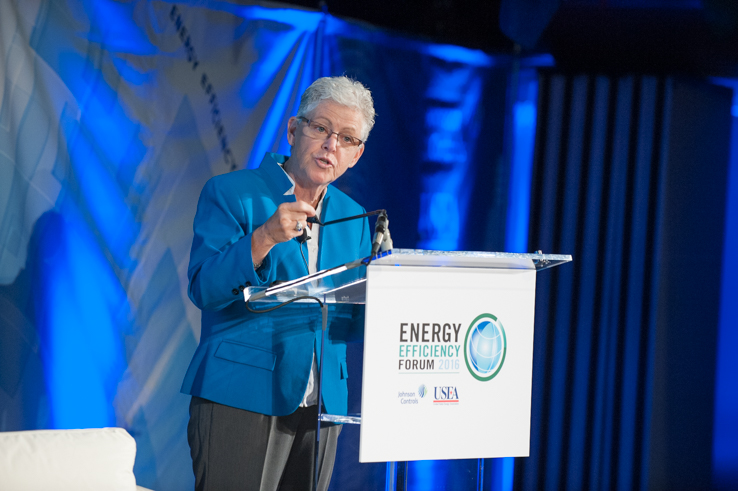 WASHINGTON, D.C.—Two major manufacturers gathered diverse groups of leaders in the HVAC&R and building industry during June for lively discussions on the future of energy efficiency and smart-building technologies with government officials, policymakers, researchers and advocacy groups.
Danfoss hosted its 26th EnVisioneering Symposium "Tomorrow's Buildings: New Driving Forces" on June 7. Johnson Controls and the United States Energy Association (USEA) co-sponsored the 27th Energy Efficiency Forum, this year titled "Leveraging Innovation to Become an Energy-Efficiency Superpower," on June 23.
Both events were connected with ongoing initiatives.
Executive Director of Building Energy Exchange Richard Yancey outlined New York City's OneCity Built to Last campaign during the recent Danfoss symposium. NYC's climate action plan seeks to reduce greenhouse gas emissions by 80% by 2050, including a 60% reduction from buildings.
Credit: Danfoss
The Danfoss symposium laid the foundation for a report the manufacturer is working on with James Freihaut, Ph.D., Member ASHRAE, of Penn State University on advanced building and energy performance strategy. "Danfoss' 2017 EnVisioneering Symposium is already in the design phase and will take a deep, holistic look at the building delivery system—and how it needs to function in a low- or post-carbon world," the company said.
The Johnson Controls/USEA forum coincided with the release of the 2016 Johnson Controls Energy Efficiency Indicator (EEI) survey, which found interest and investment in energy efficiency are at an all-time high. More than 1,200 facility and energy management executives in the U.S., Brazil, China, Germany and India were surveyed.
Highlights from the Danfoss Symposium
"The U.S. Clean Power Plan and the recent United Nations carbon emissions agreement point to a new vision for energy and a low-carbon or post-carbon future. High-performance buildings are vital to that future," Lisa Tryson, Danfoss director for corporate communications and public relations, said in opening the meeting. "Buildings can be made dramatically more efficient, smart, and integrated. Since buildings consume about 70% of our electricity, it is hard to imagine a low- or post-carbon world without very high-performance buildings. Our mission today is to explore how we make the vision a reality."
Two officials from the U.S. Environmental Protection Agency (EPA) told the participants that the U.S. Clean Power Plan's (CPP) vision of a clean energy future will not be derailed by today's energy politics or litigation. Implementation of CPP, which aims to achieve a 30%reduction in carbon emissions by 2030, was stayed by the U.S. Supreme Court in February after a court challenge.
Some states, they said, are not waiting for resolution and already planning for the future. "Energy efficiency," Cindy Jacobs, EPA senior advisor, commercial and industrial buildings branch, climate protection division declared, "is critical to reducing greenhouse gas emissions."
The EPA officials and attendees agreed that the success of the CPP depends on states finding innovative ways to drive energy efficiency in commercial buildings.
Scott Foster, director, sustainable energy division at the United Nations Economic Commission for Europe, offered global perspective. "By 2050, the world's population will be about 9 billion. Of those 9 billion people, 70% will be living in cities. That's the equivalent of adding 235 cities the size of Paris to the planet," he said.
Yesterday's building and energy strategies simply are not sustainable. Foster said the market requires a significant "mind-shift." "We're not actually delivering energy," he said. "We're delivering quality of life. We're not actually delivering commodities—oil, gas, and electricity, we're delivering lighting, heating, cooling. If we can figure out how to structure the regulatory system so that it focuses on the services and puts value on services, it would change business models."
Among many other topics, attendees discussed grid modernization and how to leverage the massive amounts of building data becoming available. A Danfoss summary of that discussion concludes:
"The vision that emerged is of a data flow that captures the values being provided by energy through buildings, not simply the quantification of energy consumption, and analysis of that data to guide the integrated design of buildings and communities of buildings with quality of life metrics. Moving to a whole-building consumption metric would itself be transformative."
Read more about the Danfoss forum here.
Highlights from the Johnson Controls/USEA Forum
Fifty percent of respondents to the 2016 Johnson Controls EEI survey said their organizations are paying more attention to energy efficiency today than they did a year ago, with 72%anticipating increased investments in energy efficiency and renewable energy over the next 12 months.
"Although cost reduction remains the primary driver, organizations are also increasingly considering energy security, customer and employee attraction, greenhouse gas reduction, enhanced reputation, government policy and investor expectations when making investment decisions," the company said. Survey results show that 64% of U.S. organizations now have an internal or publicly stated carbon reduction goal, compared to 41% in 2013.
"Energy efficiency is the center of a major transformation of our buildings, energy systems and urban infrastructure," said Bill Jackson, president, Building Efficiency at Johnson Controls. "Investment in smart, sustainable and resilient buildings is key to increasing urban efficiency and delivering its many social, environmental and economic benefits."
"Today, an additional 1.9 million Americans are employed, either in whole or in part, in energy efficiency," said EPA Administrator Gina McCarthy, in an address to the forum. "And the Department of Energy projects that more than a quarter million new hires will happen in 2016 alone."
Asked for her advice to the next EPA administrator, McCarthy said, "Make sure they are following the science and the law. The path is very much set. We all know Paris was great, but we need to build for the next generation of technology. We have a long way to go."
Ralph Izzo, president of Public Service Enterprise Group discussed the need for balancing energy regulations. "There are four winners in an intelligent balanced efficiency-energy regulation," Izzo said. "The first is the consumer, the second the supplier, the third the environment and fourth the utilities. The challenge in creating regulations is balancing all four to work together to be effective."
U.S. Sen. Maria Cantwell (D-Wash.) called for the development of policies that promote and accelerate energy efficiency and smart buildings, unveiling new research demonstrating the energy savings that come from investing in energy-efficiency technologies.
A study by the Northwest Energy Efficiency Council quantifies how money saved from energy efficiency is reinvested in the economy through lowering business costs, increasing competitiveness and creating jobs, Cantwell said.
With almost half a billion dollars invested in energy efficiency in the state of Washington each year, Cantwell said the study found that $1 billion is saved in energy costs. That same $500 million investment also contributes $91 million gross regional product; $76 million in wage benefits for Washington state workers; $8 million in exports and more than 1,300 jobs—in addition to the 7,500 jobs the energy efficiency industry already directly creates in the state.
"Energy efficiency, in and of itself—the report said—is a driver of productivity," said Sen. Cantwell.
Mayors and former mayors from across the U.S. discussed energy-saving measures their cities are taking, including hydroelectric power, electric bikes for transportation and LED lights to reduce light pollution. The city of Binghamton, N.Y., for example, now owns all of the street poles, and its installation of LED lighting has saved the city hundreds of thousands of dollars a year, Mayor Richard David said.
Read more about the Johnson Controls/USEA forum here.