Innovation Fuels AHR Expo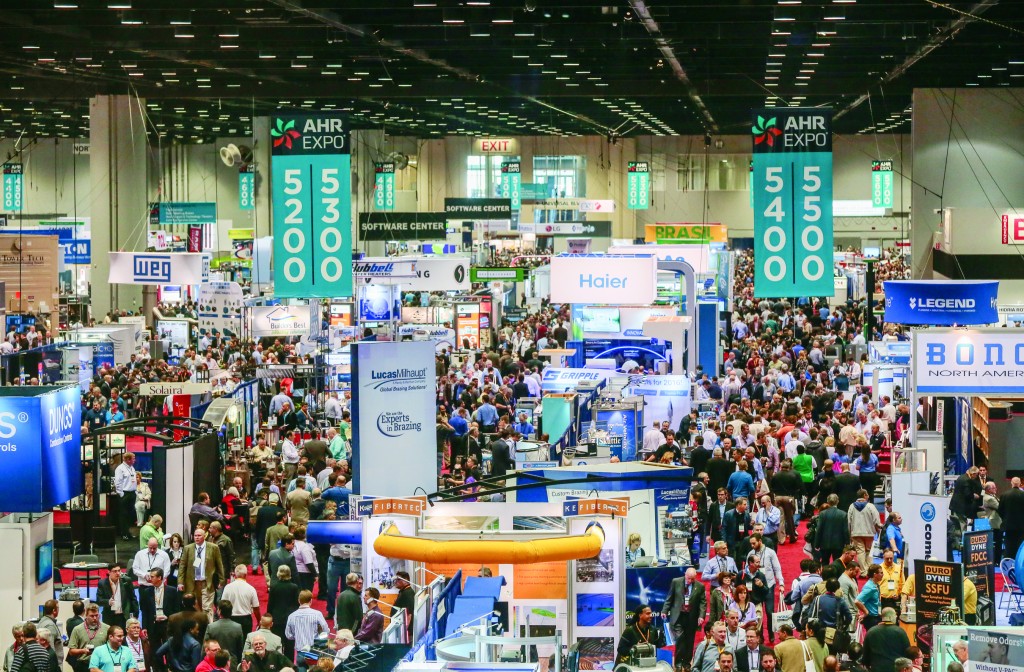 Sustainability means different things to different people, especially in terms of products.
When faced with a multitude of products to see within nine football fields of exhibit space at AHR Expo in January in Las Vegas, how does an attendee find the best sustainable solutions?
"It's not as easy as identifying the number of exhibitors who check off the box that says they provide 'sustainable' products," says Clay Stevens, president of International Exposition Company, which produces AHR Expo.
It's easier to explain how, and why, innovation fuels AHR Expo. The visitors who attend each year demand it, and manufacturers deliver.
"Visitors are very confident that exhibitors are not going to display something that's old," said Stevens. "In general, manufacturers are going to exhibit their very best and newest developments."
The Show rewards this innovation with the AHR Expo Innovation Awards. Check out this year's winners and finalists.
Finding Your Way
Consider that 8 miles of carpeting covered the aisles at AHR Expo's last show in Orlando. This show will be even bigger. So, it's important to have a plan before you start exploring the Show floor.
"Visitors will be well-served spending some time on our website and doing some research, so they don't do what I do at the supermarket, which is walk up one aisle and down the next. They need to plan," said Stevens. "If people know what they want to see in advance and plan ahead, [the Show] can be done without being overwhelming."
At ahrexpo.com, you can search for everything from exhibiting companies to specific types of products to see to what educational sessions to attend. (And, the educational sessions are perfect opportunities to rest your feet!)
On AHR Expo's website, go to the "Attend" tab and click on MyShow Planner to create a specialized itinerary.
AHR Expo is Jan. 30 to Feb. 1 at the Las Vegas Convention Center. You can learn more at www.ahrexpo.com.
Innovation sparks energy efficiency. "Energy efficiency means a better bottom line. Energy efficiency means saving money. Everyone wants to be able to do that," said Stevens.
Inherent in efficiency is high performance, and Stevens says thousands of products will fill that bill.
"A major benefit of attending AHR Expo is the opportunity to talk directly with the folks who design these products," said Stevens. "A lot of the things that high performance building management and engineers need to know is all there. The key products and equipment that make a building 'high performing' are provided by major manufacturers that will be exhibiting the best available anywhere in the world."
Manufacturers are responding to the increasing importance of regulations driving future green building activity* by showing the most energy-efficient equipment they have, which benefits attendees.
"When you're there and you can actually talk to folks who design the equipment and who are familiar with how it's used, they can discuss your own projects with you," says Stevens. "They can say, 'Another product may work, but here's how our equipment will best meet your particular requirements.' I think that might enable a building designer, owner, or manager to meet regulations that can be fairly challenging."
Manufacturers bring their newest product offerings to the Show to meet visitor demand for innovation.
The Show floor is also rich with opportunities to learn more about the parts of the industry that might not intersect with your everyday job. "There are lots of different niches that the architect, for example, needs to know," said Stevens. "For instance, HVAC equipment application and performance, building automation/integration, energy saving and conservation options and other mechanical systems—they're all there for the picking."
You'll be able to find everything from solar panels and energy recovery to IAQ monitors and chillers among the more than 760 general types of products.
ASHRAE Offerings
At ASHRAE's Winter Conference that runs concurrently to AHR Expo, experts in the HVAC&R industry work together to develop standards on high performing buildings, water conservation, energy efficiency, and more. Much of this vital work happens at the conference, with nearly 700 technical committees and standards committees meetings.
In addition, the conference offers a strong education program including many seminars and papers on issues surrounding sustainability.
Several seminars explore how water and energy management are connected and how conserving energy can reduce and control water consumption.
ASHRAE's Winter Conference is Jan. 28 to Feb. 1 at Caesars Palace. You can register at www.ashrae.org/lasvegas.
Ample opportunities exist for learning away from the Show floor as well. They include more than 50 free educational sessions presented on site by experts representing industry organizations.
In addition, the ASHRAE Learning Institute (ALI) offers professional development seminars and short courses at the Show that are approved for continuing education credit. They include "High-Performance Building Design: Applications and Future Trends." You can register at ALI's booth at the Show.
Communication drives the show. Innovation fuels the engine that keeps everyone coming back.
"AHR Expo is a unique marketplace where the providers (manufacturers) of HVAC&R and related products can connect directly with those who need to see, touch, and compare the most advanced systems, equipment and components available anywhere in the world. For those responsible for high performing buildings, it's all about the communication of information and sustainable solutions," said Stevens.
*According to the "World Green Building Trends 2016: Developing Markets Accelerate Global Green Growth" study from Dodge Data and Analytics. Thirty-five percent of respondents to the 2015 survey said regulations was a trigger to increase their firm's involvement in "green," 12% growth from 2012.