Lessons Learned – NIST Net Zero House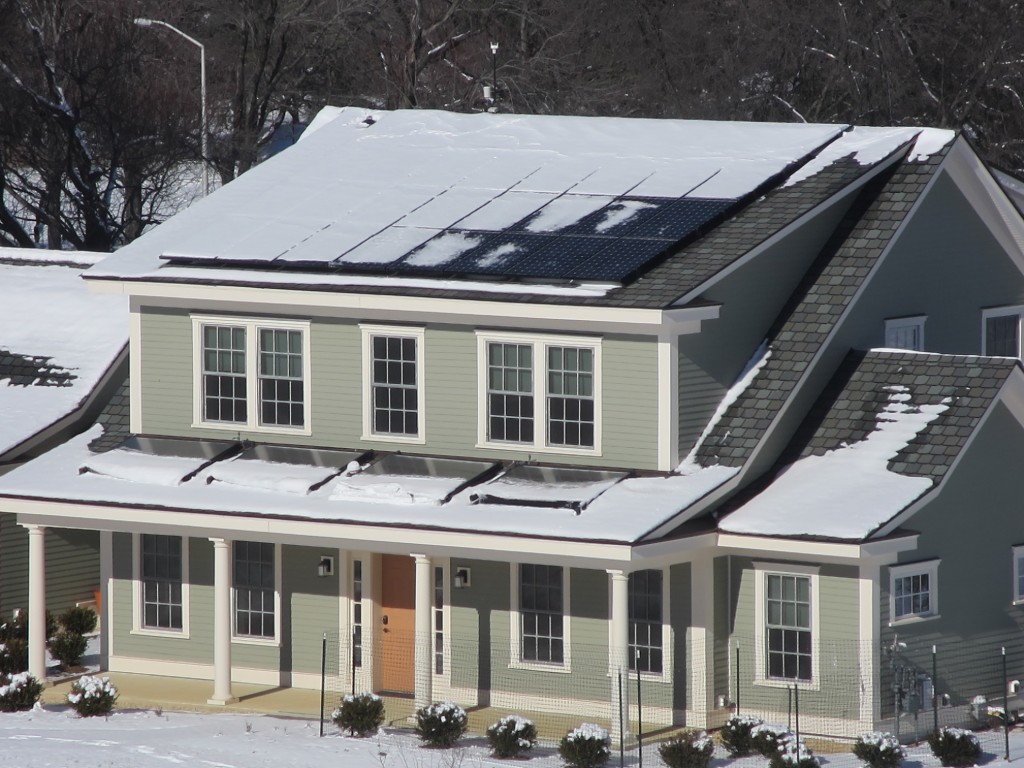 Although the use of renewables is needed to achieve net zero, a well-designed and executed building envelope and the use of energy efficient building energy technologies can, by themselves, reduce the energy consumption of a new home significantly. In this particular case study, the energy use intensity of this home is 75% less than an identical home built to comply with the local energy code.
Net zero can be achieved for a new house with conventional architecture, full amenities, and typical size through the use of a well-designed and executed building envelope, efficient building energy technologies, and appropriately sized solar systems.
A photovoltaic system, using central inverters, is significantly impacted by snow cover when any module is partially or fully covered by snow and/or ice. Significant periods of time are required for snow/ice cover to melt on the solar photovoltaic system, as a result of the well-insulated roof assembly keeping heat loss to a minimum.
Actual performance of a heat pump system will be less than that projected using laboratory test procedures. Rated performance does not fully capture a number of factors including standby energy, resistive heat during defrost cycles, controls that are not optimum, and, in the case of this particular heat pump, the degraded performance that occurs when the heat pump operates in its dedicated dehumidification cycle.
The sensible to total heat load capacity ratio of future residential heat pumps will need to be lower to provide adequate moisture control in low energy/net zero energy homes.
Through the use of careful material selection, formaldehyde levels within the unoccupied/unfurnished NZERTF were lower than those commonly found in occupied furnished homes.
Mechanical ventilation consumes energy, but it is crucial to providing acceptable indoor air quality.