Lessons Learned – The Renwick Gallery of the Smithsonian American Art Museum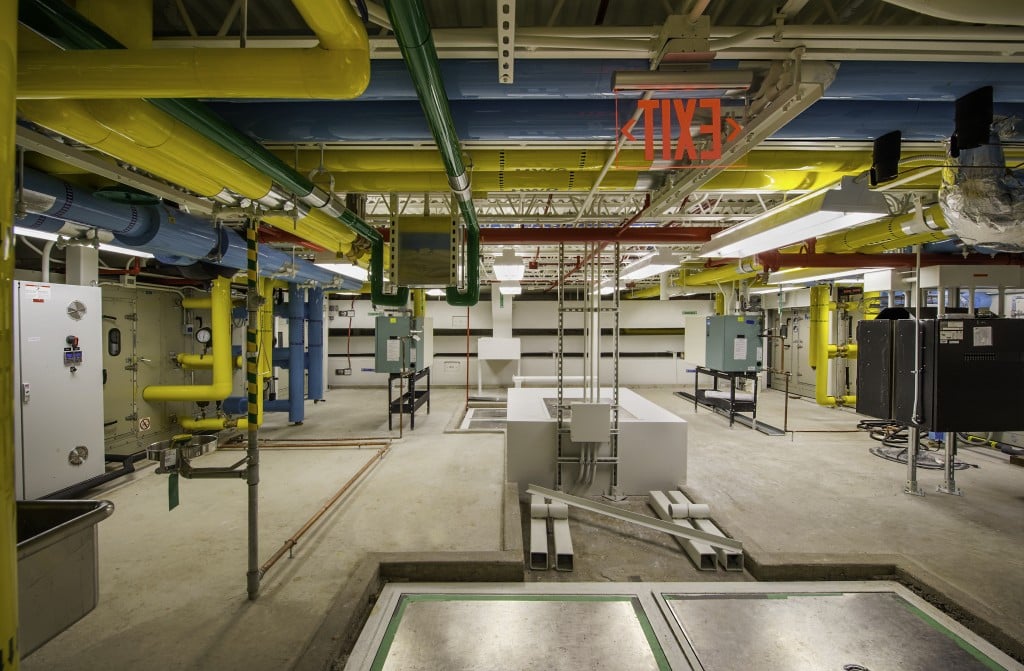 Construction: review of constructability with building trades contractors can be extremely beneficial when working in a historic building. In an existing building with load-bearing masonry walls, penetrations have to be coordinated with extra care. While there are different methods of fabricating and joining duct sections, one method may require more clear space. This was a project where careful attention to duct flange locations, insulation materials, duct jacketing, duct aspect ratio, and hanger methods, all had an impact on meeting 6 ft, 8 in. head height conditions with only a 12 in. ceiling zone.
Information Sharing: consider providing an in depth overview of design intent directly to the contractor's team, including all subcontractors. Often times, design narratives are not automatically transferred to a construction team. One of the features of the project, the condensate reclamation system, was not immediately understood, without having more in-depth context.
Duct Design: the team discovered that splitting up a single rectangular duct into smaller individual round ducts was a way to pass thick masonry walls, without triggering the need for additional lintels. Additional demands for coordination are required for this type of project, which includes 23 individual vertical shafts, many requiring fire or smoke dampers.
Lighting reheat: the project made use of an all-LED gallery lighting scheme. While the electricity energy savings versus an all halogen solution is significant, the extra heat gain from a halogen solution did in the past serve as a form of reheat for a traditional subcool/reheat dehumidification process. As more LED sources are used, desiccant systems, coupled with return air bypass systems could further help reduce energy use.
Mechanical, Electrical, Plumbing and Fire Protection Coordination Model
The contractor worked closely with subcontractors and the design team to develop a detailed 3-D model of all building systems, after importing detailed laser scanned point cloud data. Subcontractor models are color-coded and identified by trade. Architectural and structural models are semi-transparent. This process allowed for final integration of systems with a dimensional fidelity not previously possible.
Image Courtesy of Consigli Construction Co., Inc.
Commissioning integration: commissioning processes for a museum must use monitoring-based approaches. The design team augmented the commissioning team's work by reviewing detailed trend data for alignment with design intent and also to offer further optimizations to balance environmental control with energy performance. Depending on when a project reaches substantial completion, a major building system may not be able to be fully finished until the right outdoor climate is available for testing.
Shared Resources: the building is located in a high-density urban area, which restricts available area for cooling towers or other outside heat rejection equipment. The team engineering a specialized discharge collar from the cooling tower, to reduce recirculation. For emergency backup, the building is able to derive chilled water from the adjacent government building. Consider distributed energy systems when possible, to enhance redundancy and maximize usable space.
Equipment Manufacturers: high-performance buildings require high-performance equipment vendors. Consider introducing Owner teams directly to a range of major equipment vendors, to allow them to ask operational questions. One of the challenges with open bid projects is that it is difficult to qualify equipment vendors based on service and reliability track record.
Visualization: although 3-D computer modeling can significantly assist with visualization of spaces prior to construction, scale perception can still be challenging. The team performed simple physical mockups of basement office spaces, by using cardboard and tape within a similarly sized room, to represent ductwork and other building systems. Virtual modeling was critical to allowing clash detection of art with building systems, as it moved through the basement from the building entrance to the workshop.
Design Phase Investigation: the existing documentation for the project was good for a building over a century old. Because the museum was fully in use during the design phase, the ability to perform invasive selective demolition was challenging. During construction, windows were discovered to be poorly anchored, requiring additional structural reinforcement. The team was able to adapt quickly to conditions, but project teams should consider the impact of unforeseen conditions and determine when invasive investigation can significantly reduce project uncertainties.