MGM Macau Resort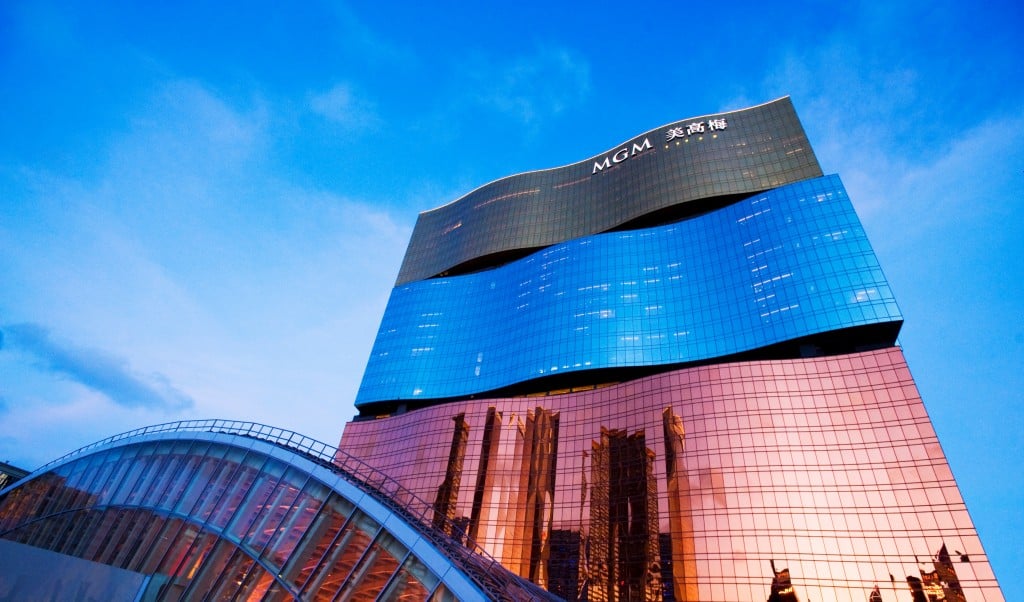 Gambling revenue in the Chinese territory of Macau, about an hour west of Hong Kong by ferry, dwarfs that of Las Vegas. The sprawling resort of MGM MACAU, boasts nearly 600 guest rooms, suites, and villas, plus casino facilities and amenities. With a property this enormous, energy management has always been the key focus, and persistent and significant effort is given to reduce the energy consumption and equipment operating efficiencies.
Since 2011, a number of energy management opportunities have been initiated to continuously improve energy efficiency and reduce energy consumption. A 27% reduction has been achieved to date (Figure 1). Some of the most significant opportunities were changes to the chiller and boiler plants.
Changes to Systems
Chiller Plant Modification. The resort's original chiller plant consists of 10 R-134A chillers at 3,517 kW (1,000 ton), 10 primary chilled water pumps at 152 L/s (322 cfm), 6 secondary chilled water pumps at 300 L/s (636 cfm), 10 condensing water pumps at 200 L/s (424 cfm), and 10 cooling towers at 200 L/s (424 cfm). For pressure break purposes, there are three plate-type heat exchangers (1,000 kW [294 ton]) provided on the nineteenth floor to generate secondary chilled water to supply the hotel tower fromthe twentieth floor and above.
Since 2011, MGM MACAU has initiated several modifications to the chiller plant, completed with compliance to Standard 90.1-2010 in mind:
1. The chilled water network was designed as a decoupler system with two decoupler bypasses. The chilled water design supply and return temperatures were 7°C and 12°C (45°F and 54°F), respectively. We had disabled the decoupler bypasses and converted the system into a full variable primary system (Figure 2). The result was a reduction of 876,196 kWh (41%) of pumping power the first year post-modification. Average DT was slightly improved as well.
2. The secondary side of the –7°C (19°F) heat exchangers' differential bypass was replaced with a variable speed pumping system using variable speed drives. The on-off type control valves on the primary side of the heat exchangers were replaced with modulating valves. This has reduced the pumping power on the secondary sides of the plate heat exchanger and improved the DT on both sides.
3. The oversized cooling water pump impellers were trimmed, with all the springs inside the constant flow valve serving each chiller removed. The cooling water flow was carefully balanced using manual butterfly valves.
4. Variable speed drives were installed on all cooling tower fans. During spring and autumn, there were 2×n number of cooling fans in operation, with n number of operating chillers.
5. Chilled water supply temperature was reset linearly and inversely against outdoor air temperature to minimize chiller power use by reducing chiller lift between evaporators and condensers.
6. Pressure-independent control valves were used to replace both the balancing valves and control valves on air-handling units situated on the critical path of the chilled water circuit to identify the true flow demand to reduce chilled water pumping power.
The overall savings across the entire chiller plant was 2,001,760 kWh per year compared to the previous year. All figures are verified from 15-minute interval data for 12 months from submetering.
Boiler Plant Modification. The boiler plant initially consisted of two liquefied petroleum gas (LPG)-fired steam tube boilers with an output of 7,800 kg/h at 10 bar (17,196 lb/h at 4,014 in. w.c.). The transferred energy was provided to facilities in the hotel and casino areas for pool heating, laundry, kitchens, space heating, and domestic hot water. After a feasibility study, the two larger boilers were replaced with two 1,500 kg/h (3,301 lb/h) smaller boilers as the primary source of steam for kitchens, laundry, and the pool, with three new 880 kW (250 ton) heat pumps at N+1 configurations. The heat pumps were installed to serve as the heat source for space heating, space dehumidification reheat, and domestic hot water heating (Figure 3). One larger boiler was kept and not removed to cater for extremely low temperature weather, e.g. below 8°C (46°F) outdoor temperature.
Based on actual utility billing, the actual achieved energy savings is 7,164,805 kWh (25,793,298 MJ), compared to 2014. The additional heat pump electricity cost is calculated based on the unit rate of $0.16/kWh and by averaging the electricity unit rate of the past 12 months. All figures were verified from 15-minute interval data for 12 months from submetering.
Conversion to EC Motors
There are 1,000 fan coil units (FCU) in the nearly 600 guest rooms, suites, and villas. All existing capacitance motors/fans were removed from the FCUs and replaced with electronic commutated motors. There is generally a 40% reduction of fan motor power. All FCUs are connected via wireless mesh network through digital thermostats to the hotel management system, which can determine the room temperature and on/off status of the FCUs depending on occupancy.
Other Measures
1. Variable speed drives are installed for exhaust fans in busy kitchens so the chefs can select cooking mode (normal speed) or standby mode (reduced speed) of fan operations.
2. AHU economizer mode is introduced to enable free cooling of indoor spaces when the outdoor temperature is low. Enthalpy wheels are also installed in AHUs to facilitate pre-cooling/heating of outdoor air.
3. Programmable thermostats are used to control runtimes, fan speeds, and minimum adjustable temperatures of the FCUs in the back of house office areas.
4. Over 95% of the traditional halogen, filament, fluorescent, and cold cathode lighting at MGM MACAU was replaced with LED lighting, resulting in an annual electricity reduction of 4,807,462 kWh. In addition, timer switches are used in plant rooms, and daylight sensors are used to control the operations of aesthetic façade lighting on the building perimeter.
Operation and Maintenance
Recommissioning. We recommissioned the casino areas in 2011 and 2014. During the recommissioning in 2011, we rebalanced all air diffusers, recalibrated all VAV box proportional bands, and rewrote the AHU control logic to introduce economizer cycles. During the recommissioning in 2014, we installed air differential pressure sensors in various locations connecting the podium floor to external environments. This included the neighboring shopping mall, where the air-conditioning system was only operated intermittently and was competing with our conditioned air when the mall was closed.
We successfully controlled the ingress of warm and humid air as well as extremely cold air during extreme weather. In addition, the AHU control logic was further revised to introduce demand control ventilation.
Reducing Maintenance Cost. With the introduction of the primary variable system, we were able to significantly reduce the maintenance cost of the chiller plant through the removal of the 10 primary chilled water pumps and the related pipework.
Energy Monitoring Dashboards. To enhance staff buy-in and visibility, MGM Facilities Management has introduced a plant monitoring energy dashboard that tracks the energy performance of both the chillers and heat pumps. Regular reporting on chiller and heat pump COPs, month-to-date electricity consumption of various components, and monthly utility summaries are created automatically and reviewed regularly to ensure the chiller plant and heat pump are running in optimal conditions. Energy consumption data is stored in 15-minute intervals, which allows International Performance Measurement and Verification Protocol (IPMVP)-compliant M&V of energy saving projects, analysis of plant operating data through the monitoring-based commissioning (MBCx) platform, and record keeping for the ISO50001 system, which MGM MACAU is certified in.
By deploying the energy performance dashboards in addition to the BMS functional dashboards, we strengthened data visibility and made energy management part of our conventional BMS control operation. This also allows operators to better understand the impact of their actions on performance, such as that a temporary override on a VSD-equipped CHWP could double energy use. This allows feedback on initiatives and operational issues where lessons are learned and mistakes not repeated.
IAQ and Thermal Comfort
MGM Facilities Management has strived to continuously improve indoor air quality throughout the years—all AHUs and makeup air units are equipped with EN779 F9 bag filters to filter smoke and other harmful particulates. The BMS also monitors the differential pressure through the filter and will notify the Facilities Management team when a filter change is required. The casino AHUs are equipped with CO2 sensors to ensure there is a sufficient supply of fresh air into the space. CO sensors are also installed in the parking lot, which start the exhaust fans at low speed when the CO level reaches 15 ppm and at full speed when the CO level reaches 100 ppm.
AHUs and makeup air units are cleaned monthly with another more thorough "deep-cleaning" once a year to reduce the chance of bacteria growth. IAQ is also tested and monitored monthly (e.g., PM10, PM2.5, TVOCs, Benzo[a]pyrene, CO, CO2, etc.) for the casino, and quarterly for back of house office areas. For construction work, low VOC paint is used, and all paint jobs are done in the paint booth, which prevents hazardous gases and odors from contaminating the surrounding environment.
In terms of thermal comfort, in addition to having more capacity to maintain building thermal comfort through the heat pump project, property-wide air balancing work has been done to ensure the building is slightly positive (+5 Pa [0.02 in. w.c.]). This prevents hot and humid air from entering the MGM MACAU property from both the outdoors and from its connected shopping mall when the mall is closed.
In addition, front of house space temperature sensors that were originally installed inside return air ducts 15 m above human height level were relocated wirelessly to human height level to increase thermal comfort. All window surfaces are also plated with window films that reject up to half of the incoming heat from the sun and most of its infrared and UV radiation. For the hotels, we have connected the guest room air-conditioning control to the hotel check-in system; cooling is ramped down when the room is not rented to reduce electricity consumption and ramped up shortly after guest check-ins to ensure thermal comfort.
Innovation
Monitoring-Based Commissioning (MBCx). To better identify design and operating issues, MGM Facilities Management has introduced the concept of monitoring-based commissioning to its chiller, boiler, heat pump systems, and airside systems. The MBCx platform consists of analytical rules that are run automatically on plant data from the BMS. These rules are regularly refined, which enables MGM Facilities Management to be notified in real time when there are operating abnormalities or efficiency issues on plant operations. These issues range from high-level control logic problems, such as improper chiller staging, to individual sensor drift. The MBCx platform captures these faults automatically and sends regular reports and alarms with descriptions of the faults and recommendations on how to rectify the problem. This results in improvements on energy efficiency and thermal comfort and drives preventive maintenance of the plants.
Waste Water Recycling. MGM Facilities Management has introduced waste water reuse by treating and recycling waste water from cooling tower blowdowns and AHU condensate for toilet flushing in busy washrooms.
Cost Effectiveness
The cost savings of the primary only system and heat pump project are calculated using actual before and after electricity consumption metered data, and the cost is calculated by multiplying the electricity consumption by the average electricity rate, obtained by averaging the electricity unit rate of the last 12 months. The primary only system and the heat pump projects offered the most significant savings with a verified payback of only 1.9 years. Capital cost and savings shown in Figure 4 are the actual project pricing and verified savings, respectively.
Environmental Impact
Since the introduction of the energy saving initiatives in 2011, MGM Facilities Management has implemented numerous energy saving and sustainability projects, resulting in a 27% energy savings and a cumulative carbon emission reduction of 22,875 tonnes (Figure 5).
Conclusion
It may be largely invisible to the millions of vacationers who visit MGM MACAU each year. But, the property's corporate sustainability vision means owners seek to achieve continuous energy efficiency improvements behind the scenes as vacationers enjoy their stay at the resort.
About the Author
Peter Chan, Member ASHRAE is executive director of engineering at MGM MACAU, NAPE, Macau.•