NOAA Daniel K. Inouye Regional Center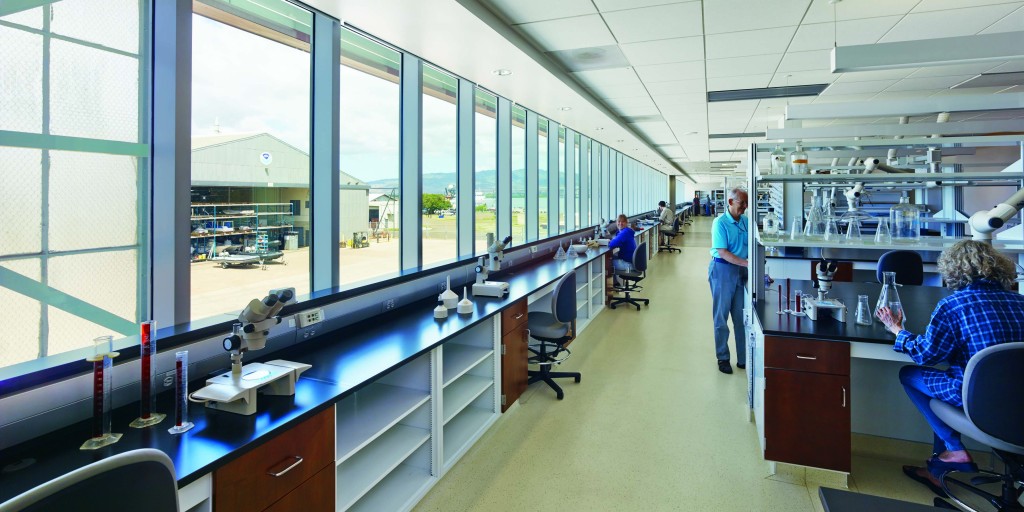 Large open-plan bioscience and marine research labs are designed to promote interdisciplinary collaboration among NOAA researchers and scholars from around the world.
NOAA's new Pacific Region headquarters consolidates 715 agency employees from 15 NOAA offices spread across Oahu. This 350,000 square foot facility brings together offices including the National Weather Service Pacific Region Headquarters and Tsunami Warning Center, as well as a wide range of essential functions and federal departments addressing fisheries, ocean, coastal, climate and atmospheric issues in the Pacific.
Inside the building are wet and dry research laboratories, a marine center with animal tanks, a library, administrative offices for conservation management and law enforcement programs. A central atrium serves as a visitor center for education and outreach. The first floor also includes a 200 seat auditorium, a large dining hall with views to the water and mountains, classrooms and interactive exhibits highlighting the history of the island and NOAA's mission. The agency's research vessels for fieldwork and external data collection are moored on piers behind the Center.
Since opening in 2014, the Center has become a destination for Pacific Rim business and climate leaders to explore and discuss ocean science, climate change resiliency and tsunami warning procedures. The U.S. Pacific Command also hosts gatherings to discuss non-military issues related to resiliency, unregulated fishing and other international matters of regional interest.
The Center welcomes daily tours and science camps that educate students about NOAA, the oceans and the marine life of the Hawaiian Islands. Partnerships with the University of Hawaii and visiting doctoral researchers advance this knowledge. The campus promotes collaboration between forecasters and climate scientists to reinforce a shared mission of developing environmental intelligence.
The design designates places along the waterfront for large gatherings, Polynesian festivities, informal dining and public exhibits highlighting the island's voyaging history.