Owners Want Health, Wellness Expertise in Commercial Design/Construction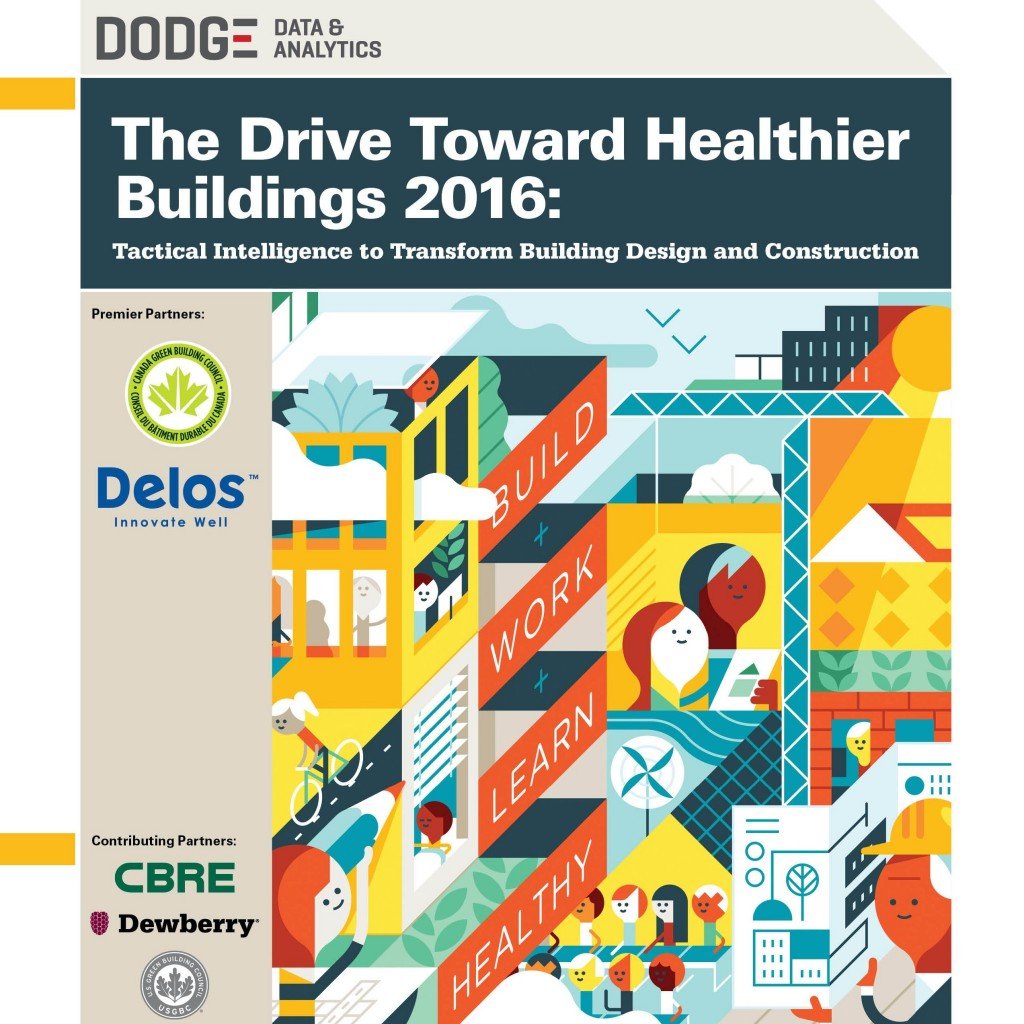 Laquidara-Carr
A pair of recent studies show that building owners want to invest in healthier buildings but face obstacles in finding sufficient health expertise among design and construction professionals. This finding reveals an excellent opportunity for design and construction professionals seeking to distinguish themselves in a crowded "green" marketplace.
In 2014 and 2016, Dodge Data & Analytics published two SmartMarket Reports focusing on the drive toward healthier buildings in the U.S. and Canada. From 2014 to 2016, the percentage of building owners reporting that building health impacts have a high degree of influence on their design and construction decisions increased eight percentage points, from 59% to 67%. More than half of the owners surveyed in 2016 responded that they also want to learn about ways to measure health impacts and health benefits, and nearly half would like more information on strategies that promote physical activity for building occupants.
In addition to surveying building owners in 2014, Dodge also conducted a study with human resources executives on factors influencing owner decisions about healthier buildings. Their responses contribute to the rising interest among owners for healthier buildings, insofar as three-quarters of those executives report that absenteeism is an important factor in reduced productivity for their companies. They also reveal that companies are already making investments in the health of their employees beyond providing health insurance. For example, more than 80% reported that their companies sponsor fitness programs and biometric screenings.
Even among those companies that don't build directly, the response of the HR executives demonstrates factors driving the market for healthier buildings, with most (80%) reporting that improved employee engagement is one of the top factors influencing leasing decisions, and more than two-thirds (67%) also citing improved productivity.
This finding is particularly telling when viewed in context with another finding from the more recent report, that the top owner goals from making investments in healthier buildings include improved employee engagement and improved productivity, with a similar gap between the two. While the industry has found it challenging to measure the impact of buildings on productivity, many owners measure employee satisfaction and engagement, and these factors can be more easily measured in relation to building investments. In fact, in the 2016 study, more than two-thirds (67%) of owners report seeing improvements in employee satisfaction and engagement from their healthier building investments, with just under half of those seeing a high level of improvement. This immediate, measurable benefit is clearly helping to drive the market.
However, a concurrent qualitative study featuring confidential, in-depth interviews of building owners and developers that was also featured in the 2016 SmartMarket Report, reveals that the most commonly reported obstacle by owners and developers to increased investment in healthier buildings is the lack of data and industry knowledge, along with the cost of making these investments. As one owner interviewed stated, "we are paying for the learning curve right now." Another confided that the "lack of expertise and budget concerns go hand in hand."
The urgent need for those with knowledge about healthier buildings creates an opportunity for green designers and engineers to distinguish themselves to their potential clients. When asked which healthier building features they are most interested in, three features are selected by a majority of owners: improved indoor lighting conditions and daylighting, enhanced thermal comfort, and enhanced ventilation. However, the design industry significantly underestimates owner interest in these areas, especially enhanced ventilation, which only 30% of architects recognize as an area of interest to their clients. Being able to connect specific building interventions with improved health is likely to resonate well with owners.
Being able to distinguish a firm's capabilities in the area of health may be particularly important at this time, as the green building movement moves into a more mature phase. The U.S. Green Building Council has reported that, as of April 2017, more than 200,000 people are credentialed in the LEED AP program. A study that has been conducted by Dodge every four years since 2006 in partnership with Siemens on the greening of corporate America reveals that, while corporate America is still becoming more aware of green concepts and practices, the steep curve of adoption originally seen has taken on a more measured pace of growth. In addition, that study demonstrates that green is now widely adopted among the largest companies in the U.S.
Firms that wish to push the envelope and lead the industry may find the best opportunities to do so by expanding their green practice to more explicitly address issues of the health of the individual as well as the health of the planet.
About the Author
Donna Laquidara-Carr, Ph.D., LEED AP, is Industry Insights Research Director, Dodge Data & Analytics.