Powering an Alaska Village, Sitka, Alaska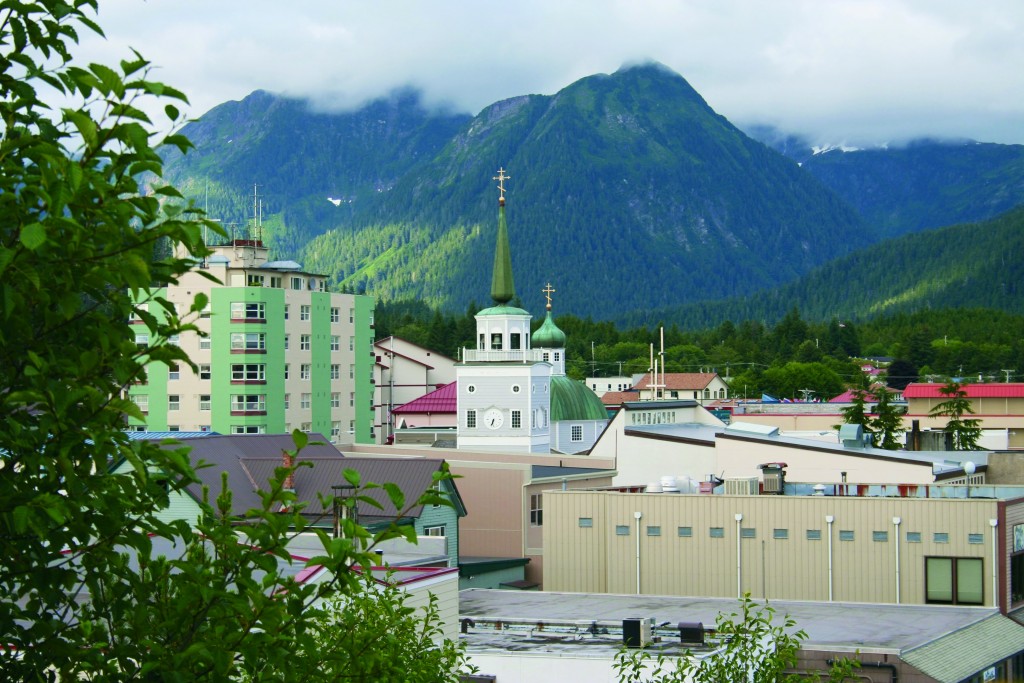 Appears in the Summer 2018 issue.
A small island village in Alaska wanted to reduce its reliance on expensive imported fuel oil, but simply switching to all oil use electricity would tax the electrical grid. The energy-efficiency approach taken at three major renovations in Sitka, Alaska, completely eliminated the use of fuel oil and demonstrates how current building stock can continue to move toward a carbon-neutral, energy-efficient future.
Sitka is located in Southeast Alaska with no road access to the mainland. Towns in this part of the state must carefully manage their energy supplies.
The city of Sitka planned to renovate two high profile public buildings: the library and convention center. Both were uncomfortable, declining and expensive to operate, and both relied on oil boilers. The city wanted to improve and expand the buildings while using the clean electric power already owned by the city rather than send municipal money out of the community to pay for "imported" oil (See "Sitka's Energy Challenges," below).
At about the same time, the U.S. Forest Service wanted to convert an older facility into new offices in Sitka. They also wanted to eliminate their use of fuel oil and to convert to carbon-neutral biomass to align their energy use with their core mission.
Sitka's Energy Challenges
Sitka, Alaska, population roughly 9,000, has historically relied on oil for heating, like much of the state. In recent years oil burned in Sitka has been mined in Alaska, shipped to Washington for refining, and barged back up to Sitka.
Sitka's electricity comes from a municipally owned hydroelectric dam and backup diesel generators. Several years ago, the city found that they were beginning to run out of electrical capacity.
They were using their backup diesel generators frequently, and municipal electric utility was beginning to discourage growth. Fish processors wanted to expand refrigerated processing facilities, and the utility did not have adequate capacity to fully serve them.
With oil prices rising, people began shifting from oil to electric heat, which further taxed the system. Furthermore, air quality was suffering as more people began relying on wood stoves.
In reaction to the energy and air quality challenges and with an eye to making space for future growth, the city spent $145 million to raise the level of the Blue Lake Dam to expand their hydropower resources.
The three retrofits discussed in this article focus on key design features that must accompany renovations of this sort: reduce the load, decouple the ventilation using heat recovery ventilators, right-size zonal heating and cooling equipment, and use high-efficiency heat pumps or biomass (See Five Key Design Concepts for the Sitka Renovations ).
Sitka Public Library
From Oil Boiler to Heat Pump System
Added envelope insulation at the Sitka Public Library greatly reduces the library's heating energy requirement.
Dan Evans
The Sitka Public Library underwent a 4,800 ft2 expansion in 2016, increasing the total heated floor area by 63%. Early on in design, the team set an ambitious energy target for the project: completely eliminate dependence on oil and maintain the same electrical use. Several energy saving measures were selected to accomplish this goal, with a focus on reducing the heating load while managing the existing electric load.
After the first year of full occupancy the energy use and savings were evaluated. Energy bills were collected from before construction (2011-2013) and after construction (2016 to 2017). Annualized results for overall energy use is shown in Figure 1.
Main takeaways include:
Oil, 60% of the preliminary energy use, has been eliminated.
Despite the team's goal to maintain the same electrical use, it increased by 32%­, because of adding space heat to the electric load and increasing the heated floor area by 63%.
Utility costs nearly cut in half, with money staying in the community rather than paying for imported fuel.
Carbon emissions eliminated from a previous 72,377 lb/yr of CO2.
Annual energy use normalized by total square footage (EUI) cut by factor of three, from 99 to 32 kBtu/ft2·yr. This puts it at one-third the national average for libraries.
Figure 2 illustrates the building's energy use at varying outdoor temperatures. This type of analysis is useful when examining the heating requirements of a building and analyzing how buildings react to colder (and warmer) temperatures. In Sitka's heating-dominated climate, all efforts must be made to reduce the heating signature if significant energy reductions are to be achieved.
Before the retrofit, all heating was done with an oil boiler at 80% efficiency (blue line). Electricity covered the remaining end-uses (green line). In looking at Figure 2, the heating signature is quite pronounced (blue line steeply increases as the average outdoor temperature drops). This is related to a poor envelope and inefficient heating system.
The sitting area in the library looks out over the harbor. The building seen through the window is neighboring Harrigan Centennial Hall.
Joe McCabe
Post-retrofit, added envelope insulation and heat recovery ventilation greatly reduces the heating energy requirement, while the high-efficiency variable refrigerant flow (VRF) heat pump system provides hydronic-radiant and airside space heat and cooling as needed (sloped red line). Efficient fans, which are turned off when there is no call for heat/cool, and LED lights further reduce the daily electrical use.
---
U.S. Forest Service Office
From Oil Boiler to Wood Pellet Boiler
The exterior of the Sitka Forest Service Offices highlights local stone and wood. The interior is a modern office with high-efficiency lighting and controls.
The U.S. Forest Service project converted an old run-down facility on the edge of town that used an oil boiler and radiators for heating into a beautiful new super-efficient office facility. The envelope was upgraded with high levels of envelope insulation and triple-paned windows, and ventilation is accomplished with a high-efficiency heat recovery ventilator to dramatically reduce heating energy demand to about 50% of a typical code-compliant design.
The wood pellet boiler, manufactured in Europe, uses untreated wood pellets made from compressed waste sawdust. The automatic feed mechanism delivers only a few pellets at a time into the burn chamber.
Then, heating was provided with radiant floors supplied from a wood pellet boiler. There was a strong desire among some within the Forest Service to use forest biomass for heating, but there has been mixed experience in Alaska with biomass boilers as the market for these products is still relatively immature. The distribution infrastructure for pellets is weak and maintenance know-how is lacking.
To alleviate these concerns, the pellet boiler was backed up with an air-to-water heat pump system so in the event of a fuel shortage or boiler failure the building can be heated with highly efficient use of hydropower. To date the pellet boiler has functioned as expected and they have not needed to rely on the backup heat pumps.
Sitka has mild maritime weather, with long cool winters (about 7,400 heating degree-days) and average daily highs in the low 60s in the summer (zero cooling degree-days). Therefore, ceiling fans and operable windows are provided for comfort cooling.
---
Harrigan Centennial Hall
From Coupled To Decoupled Ventilation
Next door to the Sitka Public Library is Harrigan Centennial Hall. It provides public gathering space and is the first public building to welcome the thousands of cruise ship tourists who visit Sitka every summer. Like the library project, the convention center was worn down and expensive to operate.
Harrigan Centennial Hall with its new museum addition is the welcoming point for summer tourists and a gathering place for community events throughout the year.
Don Kluting
The city wanted to increase the size of the building to allow for expanded space for a heritage museum as well as increase their offerings to the public. They wanted to accomplish this while eliminating their use of imported oil and cutting their energy use. As with the library project, the design approach was to first focus investment on the building envelope with new windows and insulation.
Harrigan Centennial Hall's heating and cooling is provided with a zonal air-to-air VRF heat pump with ductless ceiling cassettes in most zones.
The original building was based on large 4-pipe fan coil air handlers with fixed outdoor air supply provided with hot water from an oil boiler and chilled water from an air-cooled chiller. Since the fan coils provided ventilation air as well as heating and cooling, the large central fans would have to run during all occupied hours to provide ventilation even when no heating or cooling was required. The new system decoupled the ventilation from the heating and cooling using high-efficiency heat recovery ventilators with 70% to 80% thermal effectiveness so no additional tempering of the ventilation air is required.
These much smaller ventilation fans are all that needs to run for much of the year. The heating and cooling is provided with a zonal air-to-air VRF heat pump with ductless ceiling cassettes in most zones. The ductless cassettes have extremely low fan energy requirements and can cycle off when there is no call for heating or cooling.
Low velocity high volume (LVHV) ceiling fans aid air distribution. Along with a lighting retrofit this approach led to an EUI reduction of more than a factor of two compared to the original building systems. Fossil fuel use was eliminated, and electrical energy use also dropped even for the enlarged building.
---
Future Work
Sitka continues to promote a shift away from fuel oil to clean electricity. The city utility has been providing incentives to shift homes from electric resistance heat to ductless heat pumps. The Alaska Housing Finance Corporation also has a generous rebate program for insulation and transitioning from electric resistance, oil and propane to ductless heat pumps. The city has seen a surge of demand for ductless heat pumps and has seen an improvement in local air quality from using less oil and wood heat. •
Lessons Learned
At the Sitka Public Library, the original intent was to have a robust and detailed M&V system with submetering of individual electrical loads, with real-time feedback and continuous datalogging of energy used for lighting, fans, heating, cooling, hot water, and miscellaneous plug loads. This would allow detailed energy management and tracking of performance of individual building systems. However, this level of submetering and tracking requires somewhat complex submetering and programming of datalogging functions and a data management plan—and city staff interested in managing and analyzing the data flow.
The controls contractor and city settled on a simpler submetering plan that only allows for tracking total energy use and submetering of the heat pump system. The lesson learned is more communication with all parties early in the project is always better and local conditions and politics are often difficult to negotiate from outside Alaska.
Furthermore, it is important to know when to step back, as the client ultimately must make the decisions regarding final design and contracting issues.
---
The biomass boiler for the U.S. Forest Service building was new to us, the HVAC contractors and the local forest service management and maintenance personnel. There was some trepidation to use a biomass boiler due to a recent injury from a wood boiler explosion in another part of Alaska. Furthermore, a well-established distribution network for the pellets does not exist, so loading the hopper is done a bag at a time by hand from a pickup truck. This resulted in push and pull between local forest service workers and the regional officials regarding selection of the heating system.
To overcome the local office's reluctance, we designed the air-to-water backup heat pump system to provide system redundancy so the building can switch back and forth from pellets to highly efficient electricity depending on pellet availability and price. After the first year of operation, the pellet boiler has performed without incident.
---
One primary lesson learned at Harrigan Centennial Hall is that VRF equipment vibrations must be adequately isolated from the building structure to eliminate noise complaints. Originally, the heat pumps were not mounted with the manufacturer's recommended clamping system, and it took months to get correct products and sizes shipped to Sitka. And, the refrigerant piping was rigidly attached to the building's wall, so equipment vibration was being transferred to the wall diaphragm and creating interior noise complaints. Eventually these items were corrected.
Acknowledgments
The author thanks the City and Borough of Sitka, Alaska, and the architects of the three buildings featured for their assistance:
Rice Fergus Miller (U.S. Forest Service); MRV Architects (Sitka Public Library); and McCool Carlson Green (Harrigan Centennial Hall).
About the Author
Jonathan Heller, P.E., is president at Ecotope, Inc., in Seattle.