Revisiting Timber Buildings: Wood Taking Root in U.S. Construction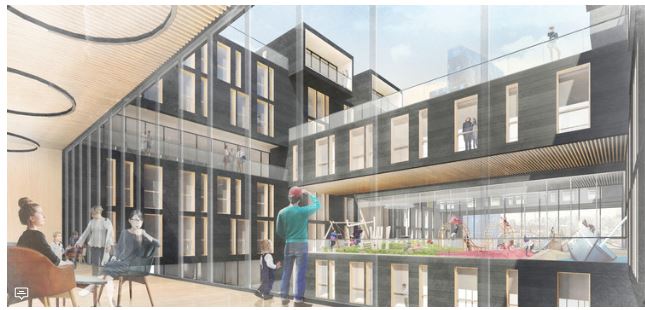 "Stack Exchange," the winning entry in the 2016 Timber in the City: Urban Habitats Competition, a student competition exploring wood as an innovative building material.
University of Washington: Student team members Buddy Burkhalter, Mingjun Yin, Connor Irick, Richard Mohler and Elizabeth Golden
An annual competition promotes wood as a building material to the next generation of architects. The Timber in the City: Urban Habitats Competition is coordinated by the Binational Softwood Lumber Council (BSLC), the Association of Collegiate Schools of Architecture (ACSA) and the School of Constructed Environments (SCE) at Parsons School of Design. The competition is meant to encourage students to imagine the repurposing of existing cities with sustainable buildings built primarily with wood. The approximately 850 entries from student teams across the U.S. demonstrated some of the possibilities of timber in the buildings industry.
It is not only collegians who are learning about timber construction. The collective buildings industry is gradually gaining new insight.
The Timber in the City group recently held a symposium entitled "What's holding timber back?" According to the panelists in the roundtable, the more building professionals learn about the true nature of wood as a building material, the more they will want to use it.
"Our goal is complete acceptance of mass timber buildings in the cities and towns of North America," said symposium presenter Amir Shahrokhi, project director at SHoP Architects in New York. He acknowledged that there are obstacles in the way of that goal. Shahrokhi cited as factors confronting timber architecture:
Lack of familiarity with timber as a building material in modern architecture;

Lack of testing and measurement of the performance of construction timber; and

Preconceived notions leading to misconceptions about timber's strength, safety and durability.
The rising popularity of a couple of building technologies is enabling wood structures to be built taller and taller. They also are changing mindsets about wood.
Cross-laminated timber (CLT) is changing perceptions and fueling a renaissance of wood-based construction. CLT is a wood panel typically consisting of several layers of lumber oriented at right angles to one another and then glued to form structural panels.
NLT (Nail Laminated Timber) is a mass timber panel system which can be used for floor, wall, and roof structures. NLT is created from dimensional lumber stacked on edge (in configurations such as 2 by 4, 2 by 6, 2 by 8, 2 by 10, or 2 by 12) and fastened together with nails. Plywood sheathing can be added to one side to provide a structural diaphragm.
Shahrokhi says many, including professionals in the buildings industry, when they hear "wood building," think "log cabin."
"We have a picture in our heads of 2 by 4s," he said, "and not 12 by 12s or 24 by 24s."
CLT, by its design, provides dimensional stability, strength and rigidity. Because the panels are manufactured off site, final assembly of the building is typically much faster than with conventional steel-and-concrete construction. Typically, the estimated time of construction in a timber building is an average of nine days per floor.
Construction timber is also surprisingly fire-resistant. According to Susan Jones, founding principal at atelierjones in Seattle, another panelist at the Timber in the City roundtable, wood chars at a rate of 1.5 inch per hour. Because that rate is fairly consistent, even among different types of wood, she says, "We can design for it."
As mentioned in a previous article, in the last five years, 17 buildings over seven-stories tall have been constructed using wood. Most of the extant buildings are outside the U.S. That may soon change.
The T3 Building in Minneapolis, the "largest modern wood building in the U.S."
Ema Peter/Michael Green Architecture
U.S.-based Skidmore, Owings & Merrill LLP (SOM), one of the largest architecture, interior design, engineering, and urban planning firms in the world, is working to bring timber building to the U.S. SOM recently released the results of its "Timber Tower Research Project." For the test, the research team proposed a structural system called the Concrete Jointed Timber Frame, a system which uses mass timber for main structural elements and reinforced concrete for connections. According to SOM, the successful test of the final full-scale specimen provided "strong evidence that the timber-concrete composite system can satisfy code requirements and compete with traditional construction methods."
The U.S. also recently gained a showpiece for its nascent wood-buildings sector.
The T3 is a seven-story, 220,000 ft2 office building in Minneapolis's North Loop district. It became the tallest modern wood building in the U.S. when it opened Nov. 30. The T3—which stands for Timber, Technology, Transit—features NLT clad in weathering steel.
T3's NLT panels were fabricated in nearby Winnipeg, MB, Canada. The building's 180,000 ft2 (17,000 m2) of timber framing was assembled in less than 10 weeks.
According the developer, Minneapolis-based Hines, the building provides "All the charm of an old brick & timber building, with none of the downsides." It also "represents the juxtaposition of old and new. Modernity and character, forward design and heritage."
The building proudly hails its wooden DNA. "The entire timber structure of T3 was intentionally left exposed and illuminated with interior lighting directed up to the ceiling," said project lead Candice Nichol, of Michael Green Architecture, the designer of the building.
The T3 building may become the acorn from which the oak of a wood-based construction sector in the U.S. grows.