Seventhwave Offers Free Energy Analysis Tools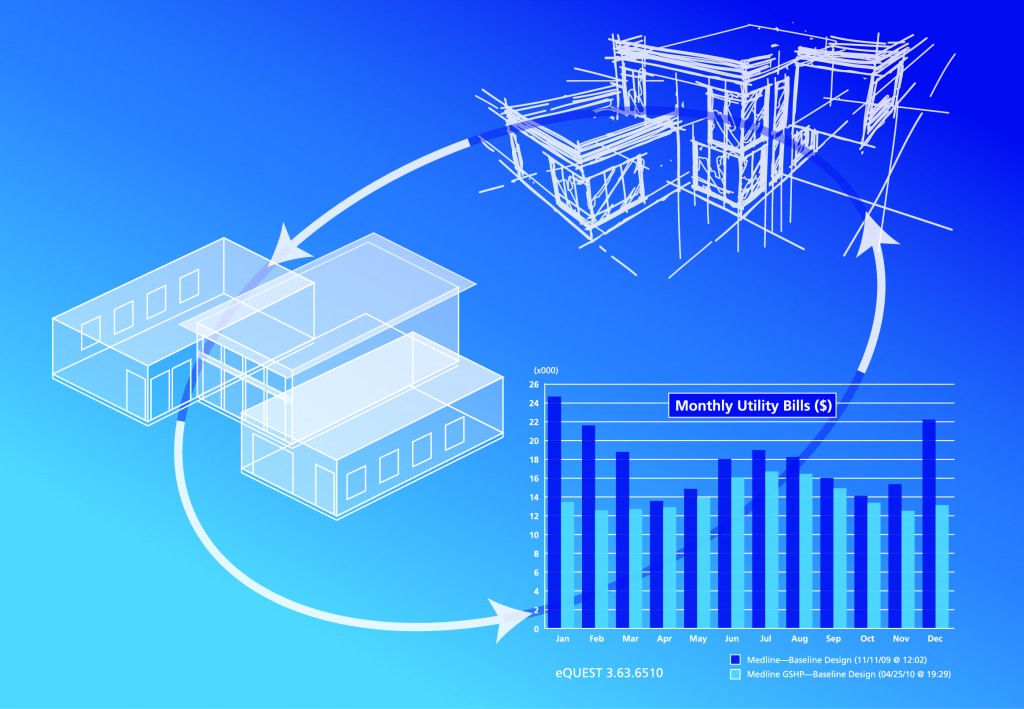 Seventhwave, the nonprofit high performance building design think tank, has recently released several energy analysis tools online for free. These tools and resources gauge the impact of design decisions and set realistic energy performance goals.
EUI Analyzer
Start setting measurable EUI goals for your next project. The EUI Analyzer assists building owners and design teams in the planning or pre-design phase for new construction and major renovation projects.
The tool takes publicly available city benchmarking data and processes it into a user-friendly format. It offers flexibility to filter the data in a variety of ways including building type, size and year built, and it displays the resulting filtered data onto a customizable plot. Multiple benchmarking databases can be viewed and filtered to compare data across different cities. Users are also able to download the filtered benchmarking data to a CSV spreadsheet for further customization.
Target practice! This tool supports owners and design teams in helping identify EUI goals and targets.
Image credit: Seventhwave
Whether your baseline is ASHRAE 90.1-2013 or the 2030 Challenge, users can make informed decisions on future and current building performance standards.
Climate Resiliency Toolkit
Buildings are designed, constructed and operated in a world affected by climate change. How do you design buildings today that are equipped to handle the expected increase in temperature and extreme weather events of the future?
Energy simulation is a commonly used method for estimating building energy consumption, peak demands and energy cost. Mainstream building simulation practices do not incorporate future climate predictions in building energy analysis. Instead, the industry uses climate data of the past to design buildings of the future.
Explore future and current climate data for major cities in each major North American climate zone.
Image credit: Seventhwave
To enable architects and engineers to make well informed decisions to increase resilience, Seventhwave has developed future climate datasets that are available to download and incorporate into your energy modeling software. Data is available for 16 locations representing the major North American climate zones. Seventhwave has also included a case study that outlines the process for including the data in your next analysis.
Back-of-the-Envelope Calculator
When it comes to building energy consumption, nearly everything affects everything.
This Back-of-the-Envelope Calculator is a learning tool that allows anyone to interact with a building as an energy system. With the calculator, someone can view real-time energy connections between building components, isolate the effects of changing a single energy parameter or produce concept-level energy and CO2 emissions estimates.
What happens to cooling costs if roof insulation is doubled? How much does it cost to keep a building open longer? Does lighting efficiency also affect heating energy? Play with Seventhwave's Back-of-the-Envelope Calculator to explore expected outcomes of design and management decisions.
Access these tools and others at www.seventhwave.org/tools.
Seventhwave's mission is to inspire real and lasting change that advances economic and environmental sustainability. Seventhwave works with hundreds of building owners and design teams every year through utility energy efficiency new construction programs, provides sustainable design consultation for projects with aggressive energy reduction goals, trains thousands of professionals annually through workshops and webinars and researches cutting-edge and emerging building systems and technologies. Saranya Gunasingh, Greg Marsicek, P.E., Associate Member ASHRAE, and Dave Vigliotta contributed to this article.