Specify Certified Stone to Reach Sustainability Goals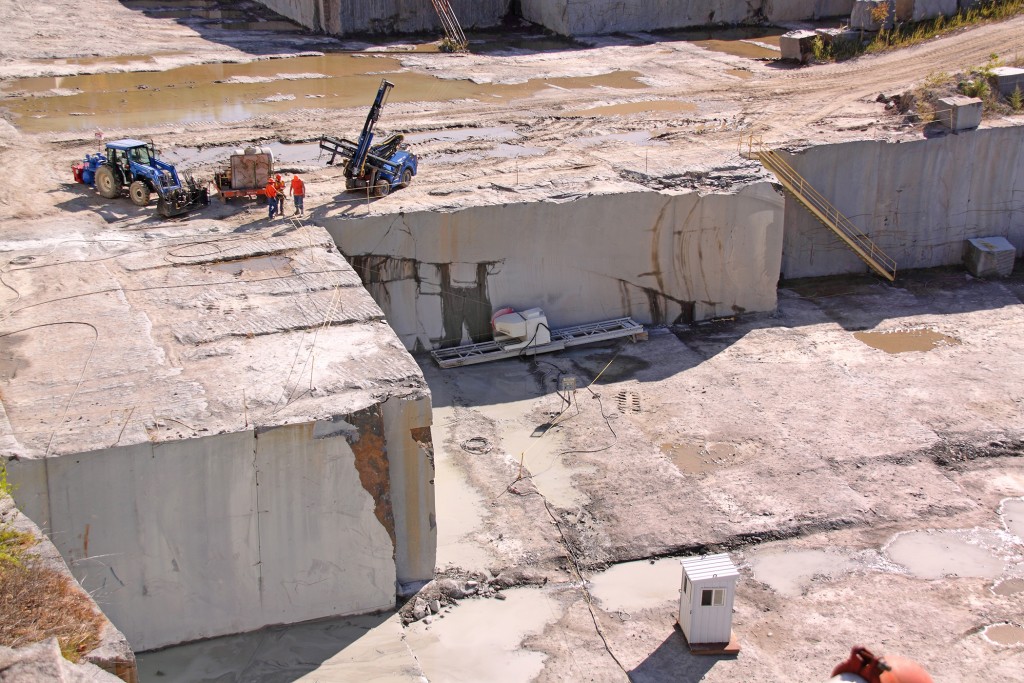 Spanier
It's no secret that sustainability is on the forefront of top minds in the building industry—from architects to owners to product manufacturers. Because of the building community's increasing commitment to constructing sustainable structures, material certification is becoming more important to reassure educated consumers that best practices are being followed. The stone industry is one of the most recent in the building industry to adopt a certification program. Now, a third-party verified standard for natural dimension stone helps project teams clearly identify which stones are produced in an economically, environmentally and socially responsible manner.
While the standard was adopted in 2014, many in the building industry remain unaware of its existence and significance to the design and construction world. Known formally as ANSI/NSC 373 Sustainable Production of Natural Dimension Stone, the standard represents a great achievement for the stone industry and the result of years of planning.
Years in Development
In 2014 the Natural Stone Council (NSC), a collaboration of businesses and trade associations to promote the use of natural stone, established the rigorous and voluntary standard to determine the degree to which natural dimension stone is extracted and manufactured sustainably.
The standard was accredited by the American National Standards Institute (ANSI), which provides third-party verification to the standard's development and establishes the standard's credibility. The NSC developed ANSI/NSC 373 with assistance from third-party organizations Ecoform of Knoxville, Tenn., and NSF International of Ann Arbor, Mich., to determine the environmental effects of how stone is quarried, transported and processed.
The standard includes a set of well-defined environmental, ecological, socially responsible and human-health metrics for extracting and manufacturing natural dimension stone. It provides a method for improving baseline environmental performance for stone. Ultimately, ANSI/NSC 373 has a goal of educating key members of the design and building professions the value and benefit to them of incorporating certified stone into projects.
Rigorous Process
When stone companies seek ANSI/NSC 373 certification, a third party such as NSF International supervises the rigorous certification process. To achieve certification, companies must achieve points in numerous areas of stone production, including:
water usage and recycling;
custody and transportation of the stone;
site and plant management;
land reclamation and adaptive use;
corporate governance;
energy usage and conservation;
management of excess process materials and waste;
safer chemical and materials management;
worker health and safety; and
optional innovation credits.
The standard also includes a companion Chain of Custody (NSC COC) program to further elevate the process. NSC COC traces the stones as they travel from the quarry to processing and through the supply chain and ultimately to their journey's end. Each organization handling the stones at each step along the way must be COC certified, conforming to the COC standard, for the stone to retain certification. Products achieving COC certification will be identified with the certification mark, making these products a preferred choice for responsible consumers.

As a cradle-to-gate standard, ANSI/NSC 373 applies to quarry operations through final fabrication.
Merits of Stone Certification
Now that stone has a sustainability standard, architects and owners can know with certainty that the stone for their buildings – whether imported from another country or from the project's own backyard – is produced in an environmentally sustainable manner. What's more, the standard will help project teams and consumers clearly distinguish which natural stones line up with their project's goals.
Recently, the standard has become even more relevant in meeting project goals. In October 2016, the NSC announced ANSI/NSC 373 is recognized in both the U.S. Green Building Council's LEED v4 and the International Living Future Initiative's Living Building Challenge version 3.1, within Responsible Sourcing of Materials. Being named an approved program by the USGBC and ILFI is an accomplishment for the stone industry, which came as the result of years of coordination and cooperation among stone industry associations, environmental experts and additional stakeholders.
Design teams desiring to source sustainable stone in their projects should begin writing the standard into the project's specifications. Architects are urged to update their specifications to include language indicating a preference for stone from ANSI/NSC 373-certified companies as well as the NSC COC designation.
As more projects and design teams specify certified stone, the entire building industry will reap the benefits. Awareness of this important product designation will be generated, and the bar will be raised for stone production and fabrication across the globe.
About the Author
Kathy Spanier is NSC Sustainability Committee chair and director of marketing at Coldspring.