Tall Timber: Wood Buildings Reaching New Heights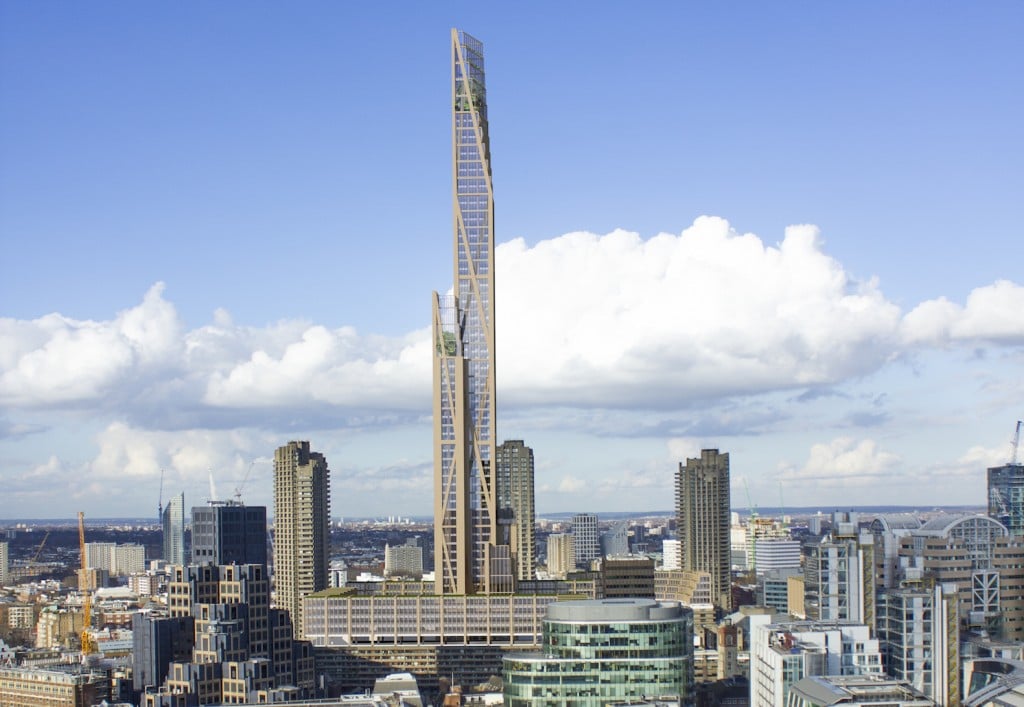 Wood is increasingly being touted as a viable building material for tall towers. In fact, a "race" of sorts is under way as the title of "World's Tallest Wooden Skyscraper" changes hands among new buildings around the world.
The Forte in Melbourne, Australia, set the early pace. The apartment building topped out at 105 ft (32.2 m) in 2012. The building is built with 759 cross laminated timber (CLT) panels of European spruce imported from Austria.
CLT is created by gluing together several layers of lumber at right angles to each other, making it much stronger and more rigid than normal wood. Proponents of CLT say it can be used to erect buildings that are just as strong and fire-resistant as those made from steel and concrete. It was developed in Austria and Germany in the 1990s.
It is only in the last few years, however, that the idea of building tall, multistory buildings entirely, or mostly, of wood has taken root. "The use of timber as a structural material in tall buildings is an area of emerging interest for its variety of potential benefits; the most obvious being that it is a renewable resource, unlike prevailing construction methods which use concrete and steel," said a statement from the University of Cambridge.
In the last five years, 17 buildings over seven-stories tall have been constructed using wood.
Treet, a timber high-rise building in Bergen, Norway, which began construction in 2014, reached a height of 160 ft (49 m). Its construction technique led to it being able to achieve a new height plateau. It consists of glulam load-bearing structure and prefabricated modular flats, made from engineered timber using Norwegian wood. The concept involves the modules being stacked four stories high, with two platforms being anchored to the glulam frame. These platforms are supported and reinforced by 3 m (10 ft) glulam lattice beams. Another four stories of modules are then stacked on top of each platform.
This rendering of the Treet building in Norway shows its wood frame.
Bergen and Omegn Building Society (BOB)
Another novel building method was used on another wood building to lay claim to a variation of the "World's Tallest" moniker. The Cube, in London, was built by architecture firm Hawkins/Brown, which terms the building "the tallest building to use structural cross-laminated timber in Europe." Like Australia's Forte, the Cube uses CLT. However, the "hybrid" building also features steel elements and a reinforced-concrete core. At 108 ft (33 m), the building has a total floor area of around 73,000 ft2 (6,750 m2).
However, the wood skyscraper boom has yet to reach the U.S. But signs are that it is coming. Late last year, the Department of Agriculture announced the first Tall Wood Building Prize. With the prize comes $3 million in funding intended to spur tall wood building design in the U.S. Two winners are splitting the money: a 10-story residential condo, to be built in Manhattan, N.Y., and a 12-story retail, office, and apartment building in Portland, Ore.
It appears that the "race" is still on and wood skyscrapers are only getting taller. In April, PLP Architecture and Cambridge University's Department of Architecture proposed the Oakwood Tower to London Mayor Boris Johnson. The wood tower would be 80 stories and 984 ft (300 m) tall. This would take the timber tower well ahead of the pack when it comes to wood building height, and into the realm of traditional supertalls. If it were to be built, it would be the second-tallest building in London. The project would house hundreds of units of low-cost housing.
Benefit: Carbon Sequestration
Carbon sequestration is a common benefit of wood edifices. One cubic meter of structural lumber stores 0.9 tons of CO2, which the tree has absorbed from the air. Australia's Forte is said to sequester 761 tons of CO2 annually. Bergen and Omegn Building Society (BOB), the developer of the Treet building, says it doubles down in this regard. In addition to directly storing CO2, the glulam in the building's structural frame replaces materials such as concrete and steel. This supposedly is even more important than the CO2 directly stored by the wood as the combination of stored CO2 and the replacement of nonrenewable materials avoids approximately two tons of CO2 emissions per cubic meter of structural lumber. Ole Herbrand Kleppe, Chief project manager at BOB, estimates that the building avoids approximately 18,000 tons of CO2 emissions.
Benefit: Rapid Construction
According to its builder, Lend Lease, the Forte building was 30% faster to build, had less construction traffic, and caused less disruption and less waste than a concrete building of comparable size. Using wood also enables measures to further speed construction. Prefabricated modules of CLT were "plugged in like Lego pieces" to build an eight-story apartment block in Finland that opened in the summer of 2015. It also lays claim to a (modest) "tallest" label. It is called "the tallest wooden apartment (building) in the country."