The Evolution of Integrated Design: Looking Back to the Future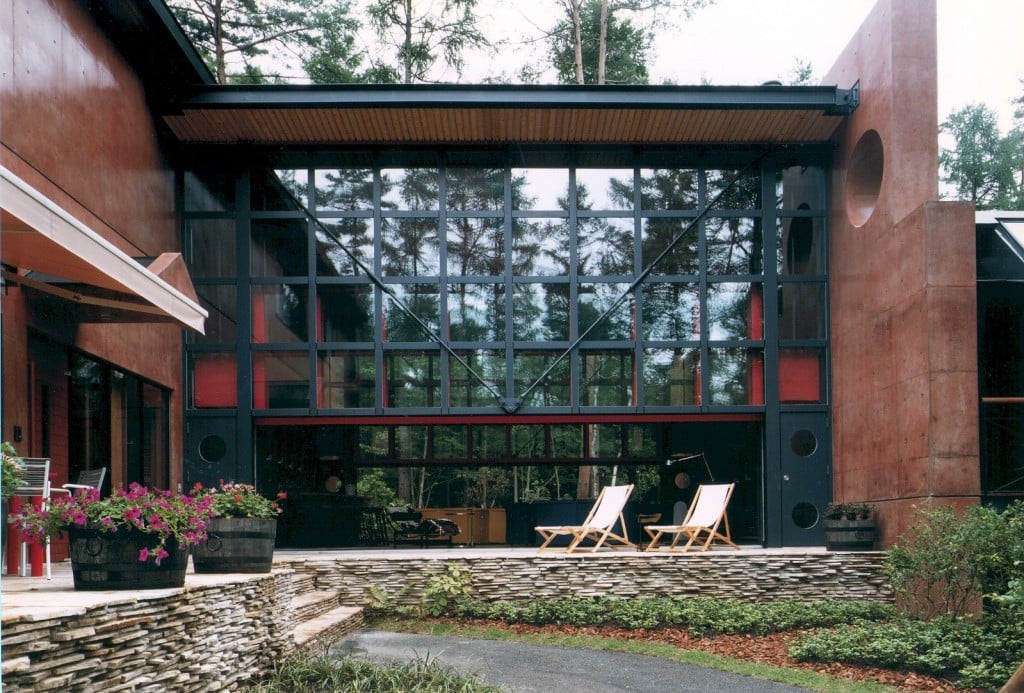 If you practiced architecture or engineering in the 1990s, you can probably recall hearing the earliest utterances of the words "integrated design" (ID). This is sometimes referred to as integrative design—implying an ongoing process. In the 1980s and early 90s it was more common to hear passive solar design, green building, or even healthy building design. But then the words integrated design entered our vocabulary and every green building project seemed to include early design workshops or charrettes and eventually energy modeling consultants. All good things.
But when you think back to your earliest green building project, what do you think about? What were the goals and the focus of the project? Did you achieve them? How do you feel about comparing that project to one of your green buildings today? Of course, it is not a fair comparison given how far we have come with collaboration tools, techniques, and knowledge. Which brings us to the purpose of this article—what has been the evolution of the integrated design process (IDP) and where might it be headed?
What is Integrative Design?
Integrative design reveals and exploits connections between parts of a system to achieve far more than the sum of their individual benefits. Integrative designers optimize the performance of buildings, vehicles, machines, and industrial processes by collaborating in diverse teams to understand how the parts work together as a system, and then use this knowledge to harness synergies that increase efficiency, reduce waste and energy use, and improve functionality. Rather than saving more energy by using more, costlier technologies, integrative design uses and artfully combines fewer, simpler technologies, achieving greater savings at lower cost and creating expanding returns rather than diminishing returns.
— Rocky Mountain Institute 2018 class on "Extreme Energy Efficiency: The Future of Design"
Some of the earliest integrated design influences most of us experienced were through books, often prescribed by professors. These were books that mostly focused on design for context or climate. The idea that a building should be so aptly tuned to its site and bioclimatic location wasn't new—it was just seemingly left behind in the rising tide of coal, oil and natural gas, post-World War II. The oil crisis of the 1970's reminded the U.S. of its dependence on foreign oil as well our rampant addiction to its consumption. Therefore, the focus on energy efficiency in the 1980s was a natural response.
"Every design problem begins with an effort to achieve fitness between two entities: the form in question and its context. The form is the solution to the problem; the context defines the problem."
— Christopher Alexander – The Synthesis of Form (1964)
Edward Mazrias' The Passive Solar Energy Book: A Complete Guide to Passive Solar Home, Greenhouse and Building Design (Rodale Press, 1979) was used by many professors and practitioners as their passive solar design "bible." It not only introduced the subject carefully, but it provided detailed technical guidance and even solar declination charts for drawing your own conclusions.
For others, it was the much earlier Design With Climate: Bioclimatic Approach to Architectural Regionalism by Victor Olgyay (Princeton University Press, 1963; new expanded edition, 2016). This book reminded us that it's not only the sun, but the wind, the trees, shade, and the hills. It also brilliantly bridges the disciplines of architecture, engineering and biology.
Elementary school students look on with surprise into an 8 meter diameter glass honeybee habitat at Yanmar headquarters top floor café and restaurant. The opening through the roof allows the bee's access to flowering plants on the green façade and nearby flowers and trees for pollination activity. Honey collected from the bees is used and sold by the restaurant.
NIKKEN SEKKEI
For still others the green building movement, as an evolutionary step toward integrated design, was mostly an environmental movement. Fossil fuel wasn't the only problem with the way we were building. The environmental movement involved materials, assemblies, moisture, resources, waste, air quality, and even human health. It was perhaps this unique blending of architects and engineers with building scientists, biologists, environmentalists, and energy experts that formed the foundation of the integrated design process.
In preparing to write this story, I reached out to several well-respected thought leaders in architecture and engineering and asked them some questions about their recollections and experience from 20 or so years ago. I also asked them about the future of the integrated design process. These are their stories.
Looking Back to the Future
I first asked them about their earliest recollections of the integrated design process—even if they didn't call it that.
Recalling his time at Rocky Mountain Institute, Bill Browning, founding partner, Terrapin Bright Green, said: "Our first really big experience of a truly integrated design process was the 1993 charrette that we co-organized with the AIA COTE (Committee on the Environment) for the Greening of the White House Feasibility Study. We realized that there were so many different topics that needed to be addressed and that they were intertwined. So we had 13 working teams of 10 people each on different topics, and we included one team whose role was to actively make interconnections between the topic teams."
"Born of depression-era parents, resource conservation was in my fiber," reported Alexis Karolides, principal architect with Point Energy Innovations. "You don't need to run the shower while soaping up," my dad would say, while mom kept the thermostat hovering at the fringes of comfort. "But the idea of efficiency rather than conservation, based on 'whole system' or integrated design, was Amory Lovins' gospel." She continued: "The concept of integrated design meant that real estate and ecology didn't have to be at odds. We could design buildings to "heal," providing comfort, livability, affordability and environmental sensitivity, while being profitable for real estate developers."
Steve Brauneis, senior sustainability consultant, Ecoworks Studio, said: "I think early integrated design was more often a team of one–a single, perhaps overly-passionate person, often formally trained in one area with some practical experience, and perhaps the pro bono opinions of a few professional friends, to supplement in other areas as needed. This approach has often led to the creation of boutique products—perfect in certain ways, lacking in other ways and adored by a limited audience."
David Williams, lead MEP/FP engineer, LHB, Inc., said: "My college HVAC course was taught by an architect! (Harvey Bryan at MIT in the late 70s) So I think that was as integrated as it gets. But then again, the Institute wasn't that interested in traditional barriers between disciplines and many such classes were open and listed under multiple departments."
Section view, Iizuna Camp, Nagano, Japan: Cold winter air is preheated using the glass plate solar collector on the roof and the earth tube air duct system. The site placement, structural form, architectural façade and mechanical/electrical and plumbing systems were carefully integrated in the 1991 design.
NIKKEN SEKKEI
Everything Old is New Again
With the launch of the International Well Building Institute's (IWBI) WELL Building Standard there seems to be a renewed and welcomed focus on health and wellness. And the alignment of strategies, synergies and solutions between U.S. Green Building Council's Leadership in Energy & Environmental Design (LEED), WELL and the International Living Future Institute's Living Building Challenge is also welcomed by design professionals who are applying these rating systems to their projects.
Today, the integrated design process is not only better understood by practitioners, it has made its way into these rating systems and the requirements to meet prerequisites related to integrated design improve with each new version. The question you might have, especially if you are early in your career in design and construction, is how has the integrated design process evolved?
Ken Miyoshi, P.E, Member ASHRAE and mechanical engineer with NIKKEN SEKKEI, said this about the evolution of ID. "It has not evolved so much in process but the complication of the projects has increased and become more diverse, which has made the ID process more challenging with so many specialists involved. Back in the 90's, the main players were limited mostly to a handful of disciplines, which made things much easier and faster."
Brauneis reflected that "it is still in the early years for integrative design. I don't know that ID has reached critical mass to the point that it has begun to evolve. It is still very much—and will remain—grounded in person-to-person communication."
Karolides said: "While not everyone in the building industry chooses to use LEED, most all industry professionals know what LEED is and multiple other systems and tools have emerged for rating and measuring efficient, green performance. The early adopters, such as the state of California, have moved on to establish strict green goals that are hard to achieve without integrated design, such as zero net energy design and carbon neutrality."
The Future of Integrated Design
While none of us may have a crystal ball, past experience, along with emerging technologies and approaches, are likely the best indicators of what's to come.
Williams said: "To meet ever tightening energy and climate conditions the design profession will need to focus on being futurists and helping our clients accept that change is needed and we can't continue to provide systems and structure of yesteryear."
Brauneis believes the future will rely on technology. "Artificial intelligence (AI)-based software will provide structure to a process that is still all about prompting outcomes that are greater than the sum of their otherwise siloed parts," he said. "Integrative design process software will intelligently prompt communication between disparate design professionals while providing a clear path for those conversations and it will happen asynchronously in multiple languages across multiple time zones. The software will prompt input from many while empowering the quietest voices and prompting celebration of individual and team achievements,"
"Today projects seem to be heading in a unified IDP direction, but 20 years from now I think each project will try to set goals that create more uniqueness. Of course the technology tools supporting IDP, like AI and automated design will continue to develop; however, the market will demand a strong presence of a "strategy making" or "goal setting" leader. Architects and engineers as well as project managers are and will continue to be the lead players in this area," said Miyoshi.
Karolides noted: "I think integrated design will simply be "design" for future buildings. To meet climate goals cost effectively, expertise in building envelope, systems engineering, and renewable provision of energy and water will have to be included early in the design process. The next frontier will be to avoid the buildup of trash and the embodied energy of the built environment, which will require an even more integrated design process—one that reinvents building materials and products used during occupancy, to be carbon neutral and ecologically restorative."
The Future is Now
Most design professionals understand that there is an urgent need for action related to mitigating and restoring the negative impacts we have had and are having on the Earth. The integrative design process is an important tool in solving those challenges. Buildings and communities that are net zero energy and water are strategies and outcomes from a well conducted ID process. And the revived focus on health and wellness inspired by the WELL Building Standard helps expand the scope of the ID team to remind ourselves that buildings are for people. Whichever future the integrated design process follows, it has to move us toward once again becoming a beneficial species for the planet. •
About the Author
James Scott Brew, AIA, FCSI, CPHC, LEED AP, WELL AP, is a senior health and sustainability architect with NIKKEN SEKKEI in Tokyo, Japan. He specializes in helping to inspire and create high-performance, healthy, and sustainable buildings and communities for people and the environment.