Turning Rainwater into Drinking Water – Stevens Library at Sacred Heart Schools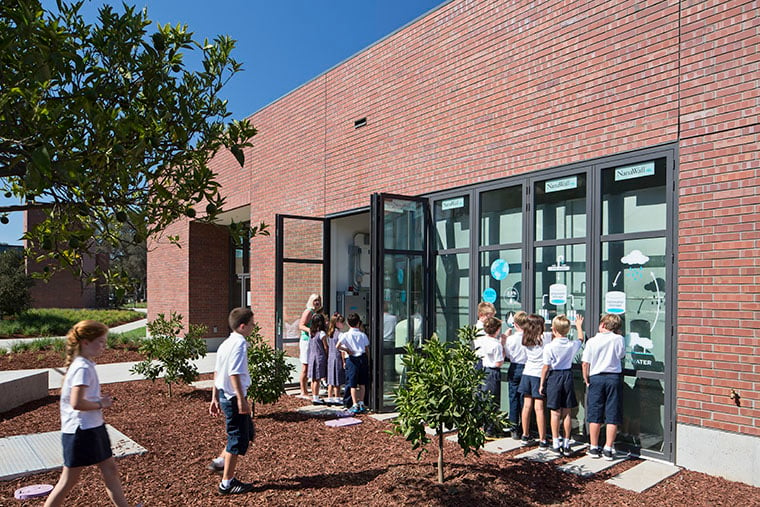 Nothing closes down a school like the lack of access to water, yet the value of water is often not appreciated—even by Californians in the midst of a drought. So Sacred Heart Schools pursued net zero water for the Stevens Library.
Graywater is collected from the Stevens Library sinks and condensing unit, and filtered along with the graywater from the rest of the campus (Figure 1). This recycled water is adequately treated, so it can be used for campus irrigation needs and toilet flushing.
Figure 1 Graywater Recycling System. (Credit: WRNS Studio)
Graywater is collected from campus buildings, treated and reused for irrigation, toilet flushing, and nonpotable plumbing fixtures.
In addition, rainwater is collected from the library roof and then filtered. Plans originally called for the rainwater to serve as the library's drinking water source, but that plan encountered regulatory obstacles.
The rainwater project was approved at the city level, but the city required approval from upper regulatory levels. The county agreed with the concept, but required state approval.
The state agreed with the concept, but required the potable water system to be tested on an aggressive daily schedule that the school could not accommodate. Not willing to abandon the educational opportunity, the project was redesigned during construction to use the collected rainwater and use i as the only irrigation source for the eco-orchard the students tend.
A 3,000-gallon rainwater tank and its filters are part of the library and are accessible through exterior folding glass doors. Graphics on the glass doors illustrate the water story and potable water availability.