Web Exclusive Q&A: Biosciences Research Building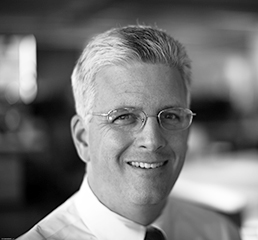 Q&A with co-authors: Andrea Love, AIA, LEED Fellow, director of building science/associate principal at Payette and Kevin Sullivan, FAIA, president/CEO at Payette.
HPB: What made the design team think that it would be possible to design a scientific research building on such a tight budget?
Sullivan
Authors: Because the building was designed during the depths of the Irish economic collapse, the tight budget was a necessary factor. We also didn't want the building to look excessive in any way in response to the nation's economic climate. This ethic informed the design aesthetic and the design approach to sustainable strategies and energy efficiency.
HPB: What can North American laboratories learn from the energy-efficient designs of this project?
Authors: There is a lot that North American laboratories can learn from this project. The concept of high energy/low energy zoning, creating a thermal buffer, using a high performance envelope and incorporating natural ventilation in a research building are all strategies that translate to North American climates as well.
Additionally, this building is thinner than traditionally seen in this building type. The transparency between spaces that allows for larger portions of the building to be daylit is something else that is not typically implemented in a North American research building.
While the energy-efficiency strategies of this project are fairly simple, they could all be translated to the North American market. The primary difference is in the climate conditions of this project and much of North America.
Because of the more extreme climate in the U.S., there is a smaller portion of the year that natural ventilation would be the primary ventilation and conditioning strategy for low-load spaces. However, natural ventilation is a viable strategy to incorporate into North American projects.
HPB: What occupant feedback has been received regarding the indoor environment?
Authors: We conducted a post-occupancy evaluation (POE) to scrutinize all aspects of the design, with a particular focus on building performance, operational efficiencies and the environmental quality of the workplace. Anecdotal feedback from the client indicates the building is exceeding design performance metrics and provides an unparalleled work environment for NUIG research teams.
A few key takeaways from the POE are:
Building was fully occupied and oversubscribed by year one—people want to work there.
Currently planning to add another wing to the building, per the master plan.
Café/lobby: "Feels like a café, used by everyone (faculty, staff, visitors) —great stop-and-talk space for meetings—formal and spontaneous."
HPB: Andrea, you lead Payette's in-house Building Science Group. How did this group support sustainability and performance goals for this project?
Love
Authors: The Building Science Group assisted with the tracking and monitoring of performance, particularly tracking and looking at the post-occupancy performance. As a firm, our commitment to building science is not simply about sustainability.
Fundamentally, we believe in true, first-principle thinking that challenges conventional hypotheses and shepherds innovation without preconception. For us, the end game is not to successfully negotiate some sustainability metric. Instead, we focus on rational decision-making that is driven by functional and programmatic constraints, which is exactly what we did on this project.
HPB: Payette also conducts building science research. Could you highlight a lesson or two from recent findings that has changed how your firm has approached projects?
Authors: One research project that has impacted how we approach our design work is the extensive research we've conducted on thermal bridging. Prior to the research project, our details looked fairly similar to the rest of the industry, which is to say they had quite a few thermal bridges.
Our measurement of the R-value of some of our built work revealed that the R-value of our façades was often 40%–60% less than what we had intended. As a result, we have developed new details and an increased attention to thermal continuity when we are detailing.
Additionally, we now design R-values of our façades to be two to three times higher than before we focused on thermal bridging. This strategy means our buildings now have substantially higher performing envelopes that decrease energy use and increase thermal comfort.
Another research project with a direct impact on our design work is a study that examines glazing's impact on thermal comfort. Because much of our work is in the Northeast, typically a perimeter heating system is required to create comfortable spaces along the perimeter of the building.
If we can implement higher performing glazing, such as a triple glazing system, we can eliminate the perimeter heating system. This subsequently reduces the building energy consumption, increases thermal comfort, and our findings show this leads to a lower construction cost.
Because thermal discomfort can be caused by downdraft off the window as well as colder radiant temperatures, the tipping point at which we can create a thermally comfortable space that doesn't require supplemental heating is dependent on a number of factors. Based on our research, we have developed an online tool that we are using to evaluate our designs and determine if our glazing designs will be thermally comfortable or not. This allows us to make more informed decisions that lead to lower energy use and more comfortable spaces for building occupants.