Web Exclusive Q&A: Brock Environmental Center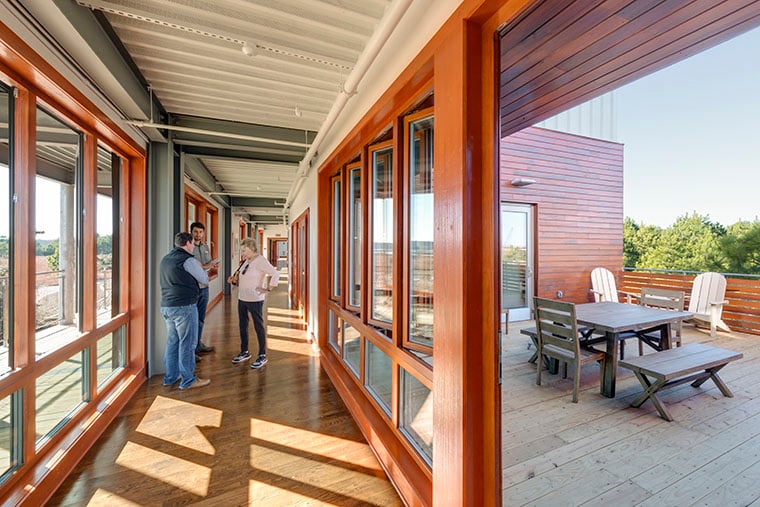 Q&A with Strong Through the Storm authors Brian Coffield, P.E., Sara Lappano, P.E., and Greg Mella, FAIA about their work on the Brock Environmental Center.
HPB: What obstacles do building teams face when seeking to incorporate resilient design?
Authors: Designers and owners tend to consider the present condition, the historic average condition, or the short-term event. Resilient design requires designers to consider the long-term solution.
Incorporating resilient design has cost implications. Deciding how to prioritize a project budget now involves conversations about risk management and long-term investment.
Finally, designers have embraced the concept of right-sizing as a means to improve performance and operational efficiency. But some of Brock's designs were upsized for resiliency.
For instance, the rainwater harvesting cisterns (which supply the building's drinking water) were sized to anticipate a six-week drought. The collection and filtration system might have been smaller, taken up less space, and cost less if this resiliency principle wasn't addressed. But the pursuit of net zero water resulted in a greater level of design contingency, ultimately bolstering the project's resiliency.
HPB: To what extent do you see resilient design being incorporated into high performing projects?
Authors: We are seeing conversations about resilient design increasingly in our work. Our first clients who were interested in resilient design were clients like the Chesapeake Bay Foundation (CBF).
The Bay will be heavily impacted by sea-level rise calculations. The Foundation wanted to ensure projects like the Brock Center will withstand these impacts, and can be a resource to the communities that surround them.
We are also seeing clients with critical operations committed to the principles of resiliency. Hospitals, for example, need to maintain uninterrupted operations and available potable water to act as a resource during times of disaster.
Recently the USGBC incorporated pilot credits within the LEED rating system that prescribe process and outcome strategies to embed resilient design into projects. The Living Building Challenge 3.0 puts a much greater emphasis on resilient infrastructure. As resilient design principles become defined and measurable, we see the market adopting them increasingly into the future.
HPB: The Center was the first in the U.S. to receive a commercial permit for drinking treated rainwater in accordance with federal requirements. How did the Brock Center gain approval for this system?
Authors: We began the process early during schematic design. We met with staff from the Virginia Department of Public Health and the Office of Drinking Water to better understand the regulations and process.
The questions we were asking had not been asked before for a project of this scale. At first the officials probably didn't think we were serious, but our team was steadfast in our pursuit. Success involved:
Patience. It took over two years to obtain approvals;

Understanding of process. Any regulatory approval is by nature bureaucratic. Knowing the process, forms, and standards that needed to be met was critical;

Speaking the language. Our team brought in a firm that had an in-depth understanding of the federal and local regulations; and

Finding common ground. Once it was evident that we shared a common goal of designing and maintaining a safe and effective system, the regulatory agencies were less skeptical and became part of our team.
Brock's landmark achievement required CBF to become a public waterworks. Our "waterworks" fits in a room that is 20 ft2, so the reality of becoming a waterworks was not like the images the term conjures up.
Regulations governing water are founded on principles of maintaining public safety. Any system that serves the public on-site treated water needs to have the oversight to ensure the effectiveness of the design and operation. This commitment to safety is an integral part of net zero water and Living Building Challenge projects.
HPB: Beyond the rainwater harvesting system, what other ways does this building raise the bar for sustainability in the built environment?
Authors: Triple net zero (energy, water and waste) is still pioneering and only a handful of projects in the U.S. have achieved this distinction. Brock is likely to be among the first net zero projects in a hot-humid climate.
We are seeing net zero achieved on a broader range of program types in a broader range of climates. Brock's energy use intensity of 14.11 kBtu/ft2·yr is also among the lowest in this region for similar programs.
Brock's energy dashboard is available to the public. We have shared the process and strategies that resulted in Brock's low EUI.
Brock also broke new ground in its materials research and selection. Every material—from the most visible product like its siding made from sinker-cypress, to its least visible like the jacketing on wires or pipes buried below ground—was vetted to determine that its material ingredients complied with the Living Building Challenge's Red List.
Brock was one of the first projects to publish our research and every material used, which is available at http://www.smithgroupjjr.com/info/transparency/.
SmithGroupJJR has advocated for building material manufacturers to disclose the material ingredients behind their products. And we have been transparent about the material ingredients that went into the Brock Center. Paving the way for a greater emphasis on materials transparency, is a groundbreaking step toward ensuring our work contributes to human health.
HPB: How do you see resiliency shaping future building design?
Authors: For projects in low-lying areas and in proximity to the shoreline, teams must consider the potential impacts of sea-level rise, modeling conservative and worst-case scenarios. Teams are increasingly considering how to create designs that are self-sustaining to withstand disruptions in infrastructure.
In this regard, resiliency pairs well with net-zero buildings. If municipally provided power and water is lost, net zero energy projects can still function, relying on daylighting for illumination and natural ventilation for cooling.
Optimized envelopes allow buildings to maintain thermal conditions for an extended period of time. Rainwater collection can maintain the occupants' potable water needs, if municipal water supply is compromised.
On-site renewable energy sources can still generate power, powering emergency lighting and ventilation if the power grid is disrupted. Battery technology is improving, and we anticipate seeing more projects going "off-the-grid."
About the Authors
Brian Coffield, P.E., Member ASHRAE, is a mechanical engineer and principal with SmithGroupJJR. Sara Lappano, P.E., is an electrical engineer and principal with SmithGroupJJR. Greg Mella, FAIA, is an architect and vice president with SmithGroupJJR, as well as the co-director of sustainability for the firm.