Web Exclusive: TWIN Elevator System Coming to U.S.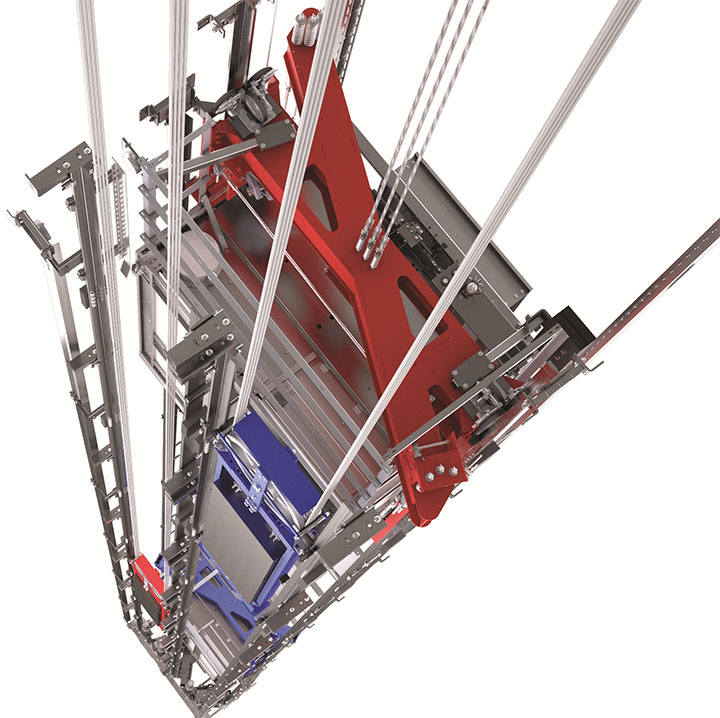 Phase 2 of midtown Atlanta's Technology Square project, known as Coda, includes a 21-story collaborative building developed by Portman Holdings for Georgia Tech, and will feature a unique elevator system installed for the first time in the Americas.
thyssenkrupp Elevator Corp. will install its TWIN elevator system in a new 750,000 ft² (69677 m²) glass tower, part of a mixed-use complex containing a high performance computing center, office space and research centers. The building is scheduled to open January 2019. Additional space will house retail and restaurants, including the adjacent historic Crum & Forster building, which will undergo an adaptive reuse.
A new 750,000 ft² glass tower is part of the next phase of Atlanta's Technology Square. The building wraps around the historic Crum & Forster building, which will undergo an adaptive reuse.
John Portman and Associates
The TWIN elevator system has two cars, arranged on top of each other, that operate independently in the same shaft. Five TWIN elevators will be installed in the building, along with two escalators and seven conventional elevators. The project also features an intelligent Destination Dispatch elevator control system that works to transport passengers efficiently.
According to the company, the TWIN system reduces the number of elevator shafts, leaving more leasable space and providing architects with more space and freedom to design. The system uses less energy and transports up to 40 percent more passengers than conventional elevators.
The TWIN elevator system allows for two cars to operate independently within the same shaft, freeing up more leasable space in buildings.
thyssenkrupp North America
"Unlike a double-deck elevator system, TWIN can park one cab while the other stays in operation," the company's website states. "So when passenger volumes are low, no energy is consumed by moving empty cars. Furthermore, all TWIN elevator systems can be equipped with an energy recovery function that can feed about 30 percent of the energy generated by braking back into the building's power grid."
TWIN features four safety systems to ensure a minimum separation of the cars is maintained. The TWIN elevator system was introduced in 2003 and has been in operation in buildings around the world, including the European Central Bank in Frankfurt, Germany; Rain Square in Perth, Australia; and the CMA Tower in Riyadh, Saudi Arabia.
Created by Georgia Tech and its foundation in 2003, Technology Square quickly became a hub for industry innovation labs and startups. Coda, a $375 million project, is intended to attract even more high-tech companies and bring together research and commercialization.
Patrick Bass, CEO of thyssenkrupp North America, speaks at an April 20 ceremony in which plans for Phase 2 of Atlanta's Technology Square project were disclosed.
thyssenkrupp North America
"This center is changing the landscape of Atlanta. We are honored to call it home to the first installation in the Western Hemisphere of thyssenkrupp's TWIN and its industry-changing technology," said Patrick Bass, CEO of thyssenkrupp North America. "thyssenkrupp's Research Innovation Center has been a proud member of the Tech Square community since 2013. The installation of TWIN now gives us the opportunity to be a part of both its building design infrastructure as well as its innovation ecosystem."
"We believe innovation is generated by looking at things in a different way," said Pierluca Maffey, Vice President of Design for John Portman & Associates, which is designing the project. "So we are creating spaces that allow brilliant thinkers, creative minds and smart business people to come together, share their points of view and start a process that leads to the next big idea."