Building Envelope – 749 University Row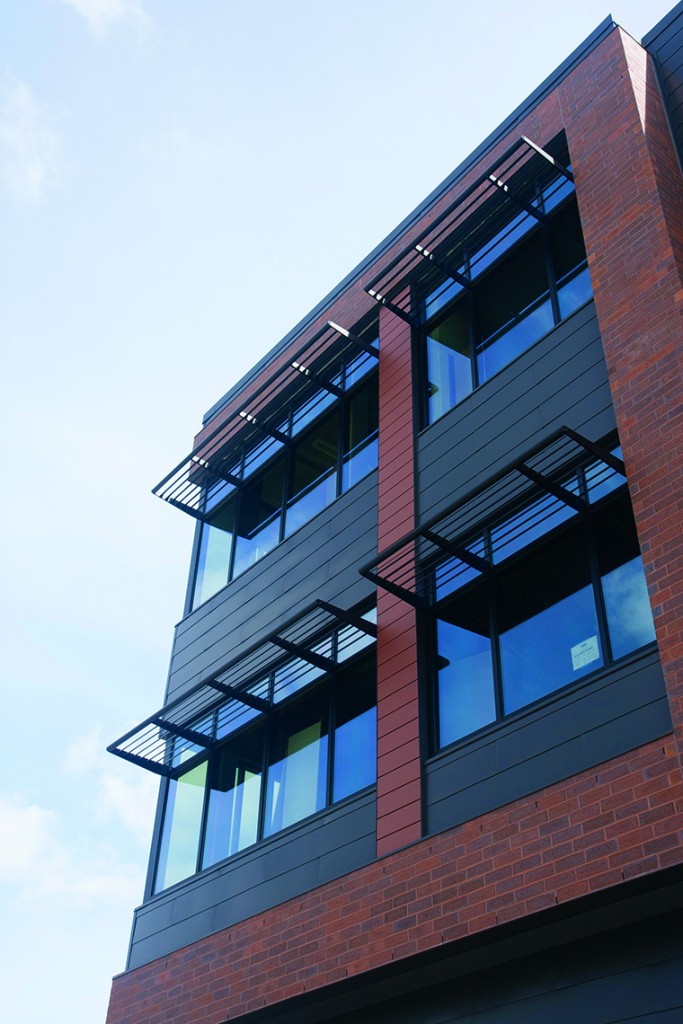 Building Envelope
Roof
Type Built-up roof on metal deck
Overall R-value R-30
Reflectivity Non-reflective (white roof not effective in this climate)
Walls
Type Metal panel and masonry over steel-frame backup; rigid insulation and liquid applied air barrier
Overall R-value R-18
Glazing Percentage 39%
Basement/Foundation
Basement Wall Insulation R-value R-15
Windows
Effective U-factor for Assembly 0.32
Solar Heat Gain Coefficient (SHGC) 0.28
Visual Transmittance 0.55
Location
Latitude 43° N
Orientation The long axis of the building is 38° east of north, due to the orientation of the adjacent major street
Key Sustainable Features
Water Conservation Rainwater collection with 10,000 gallon tank and graywater system, low-flow fixtures, waterless urinals.
Recycled Materials Carpeting, concrete floors, structural steel, hollow metal doors, aluminum window system, glazing and ceiling tiles.
Daylighting Tall, optimally placed windows; sunscreens and open-weaved roller shades for glare control; fully dimming daylighting controls, toplighting for interior zones on top floor; many tenants have low or no cubicle walls.
Individual Controls Tunable lighting, operable thermostats in each zone (except common areas).
Transportation Mitigation Strategies Indoor, heated bike parking; individual showers; locker rooms; adjacent to 12 bus routes; car parking is shared with apartments across the street to limit space.
Other Major Sustainable Features Re-use of an abandoned site, dedicated outdoor air system and CO2 monitoring for higher indoor air quality, robust measurement and verification allowing for building research and dissemination.