Building Envelope – Roxbury E+ Townhomes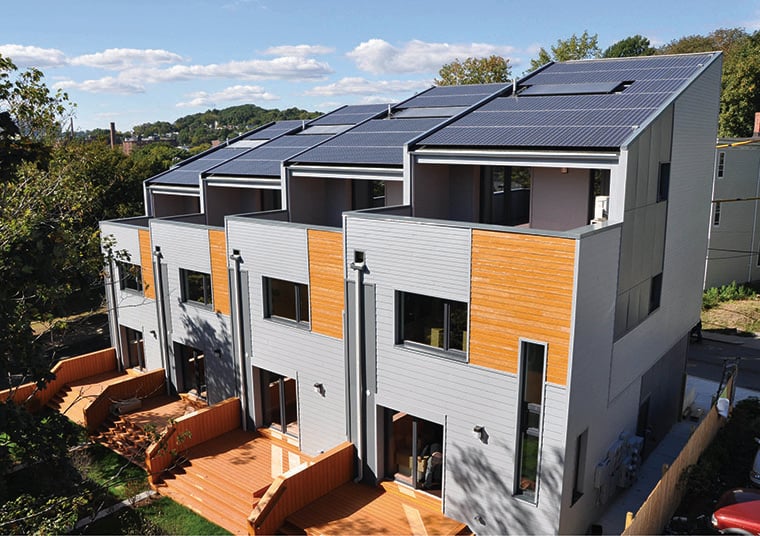 Photo courtesy Urbanica
Building Envelope
Roof
Type Wood frame, black EPDM (95% of roof is covered by PV panels)
Overall R-value R-69
Walls
Type wood double stud
Overall R-value R-41
Glazing Percentage 18.5% (average)
Windows
Effective U-factor for Assembly 0.105
Solar Heat Gain Coefficient (SHGC) 0.34
Visual Transmittance 0.58
Location
Latitude 42.32°
Orientation North
Key Sustainable Features
Water Conservation Underground infiltration system, low-flow plumbing, rain barrel, drought-tolerant and native landscaping.
Recycled Materials Fly ash in concrete, composite quartz countertops, cellulose insulation, PEX piping, construction waste management.
Daylighting North/south glazing, large windows with high solar heat gain coefficient.
Individual Controls Mini-split systems, individualized controls on each level.
Carbon Reduction Strategies Recycled materials, solar PV panels, solar thermal panel, efficient HVAC systems.
Transportation Mitigation Strategies Minimal parking (one spot per house), close to mass transit (subway and buses).
Other Major Sustainable Features Heat recovery ventilator system, 37–38 solar panels per townhouse, energy monitoring system.