Building Envelope – Stevens Library at Sacred Heart Schools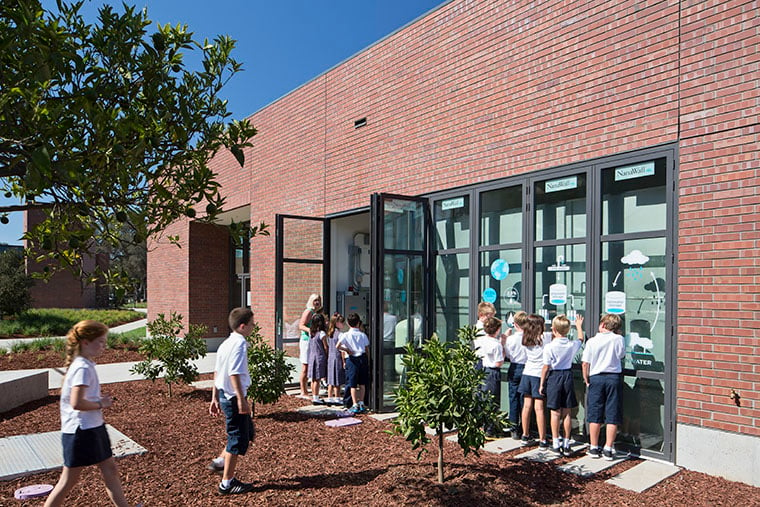 Building Envelope
Roof White TPO roofing (white)
Type Flat roof with high-efficiency roof-top solar photovoltaic panels
Overall R-value R-38
Walls Gyp board
Type Metal stud framing centered at 24" with 1-inch thick rigid insulation added to the batt insulation between the studs
Overall R-value R-15
Windows Color-neutral, low-e, double-glazed system with an inner lite of conventional clear glass.
Effective U-factor for Assembly 0.28
Solar Heat Gain Coefficient (SHGC) 0.28
Visual Transmittance 64%
Location
Latitude 37.45°
Orientation North-south; 30° of NE
Key Sustainable Features
Water Conservation Low-flow toilets, aerators on faucets, rainwater collecting system only source of water for eco-orchard irrigation, graywater collection for irrigation, drought tolerant planting, no potable water for irrigation.
Recycled Materials The site's felled trees were milled for the reception desk; reclaimed stone from yards for counter top; recycled denim jean insulation.
Daylighting Daylight is the main light source; daylight sensors; occupancy sensors; solar tubes, high performance lighting fixtures, and lowered footcandle level in design.
Individual Controls Operable windows, ceiling fans, high-performing lights with daylight and occupancy sensors.
Carbon Reduction Strategies No gas, recycled material (embodied), good building envelope.
Stormwater Management Bioretention areas, flow-through planters, pervious pavers, pervious concrete, and maximized landscape area manage a 25-year storm on site.
Other Major Sustainable Features Natural ventilation, displacement ventilation, low-flow water fixtures, Energy Star-rated equipment, interactive energy monitoring screens, harvested wood from felled trees on the site used to make the main reception desk of the library.