Five Things to Keep in Mind When Designing Human-Centric Lighting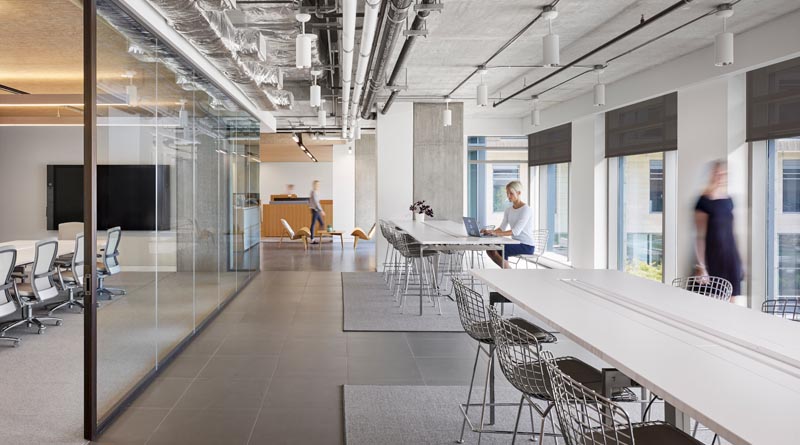 Casey
For some people, human-centric lighting is narrowly defined as circadian lighting—lighting that changes color during the day with our circadian cycles. Others believe in a broader take—lighting that is attuned to our activities, from working in an open-office environment to getting ready for a social occasion in a hotel ballroom.
Either way, human-centric lighting—as the name says—is focused on people. It is also becoming an important part of building design. Human-centric lighting creates extraordinary human experiences with lighting and shading solutions that promote comfort, enable enhanced well-being and help foster engagement.
Here are five things to keep in mind when designing human-centric lighting:
1. It should be intuitive.
These days many systems are designed with occupancy and vacancy sensors that turn lights on and off, which is great for saving energy and regulating space usage. But if the sensors malfunction and the occupants do not know where the light switch is, you end up with some frustrated occupants. Switches should be labeled clearly, so occupants know what switch they are looking for and what it operates.
These tips may sound intuitive and beg the question of why would you design human-centric lighting that is too complex for actual humans? But with increasing conversations about the Internet of Things (IoT) and smart buildings, occupants can be overlooked.
2. It should intelligently adapt.
This is not to downplay the importance of automation. Smart buildings have lighting control systems that adjust to occupant needs, from conference rooms that anticipate the next meeting's purpose to hotel rooms that offer a welcoming scene to arriving guests.
Designers should look at lighting control that is equipped with smart technology and can adapt as needs change.
3. It is not just about light. It is about the quality of light.
Electric lighting that flickers and buzzes can be worse than no lighting at all. For the best human-centric lighting, look for luminaires with great color rendering quality. This could be with high CRI or a good combination of Rf and Rg and controls that offer precision dimming and soft-on, fade-to-black technology.
Do not forget about daylight. Daylight and views are popular among office workers. And with properly positioned shades and the right fabric, daylighting can be welcomed into spaces without glare issues. If you incorporate LED technology with tunable white or full-spectrum color, you can mimic the dynamic nature of daylight in an enclosed space.
4. It is beautiful, but is it reliable?
The lure of the new is as powerful in lighting as it is in any other business. Designers and architects can choose from a variety of fixtures, wall boxes, high-tech control systems and shade fabrics. But do they come with service and support? The best manufacturers are available to offer their expertise, fix problems and make products that last.
5. Keep best practices in mind.
Human-centric lighting is not new. Lighting has been designed for people for as long as lighting design has existed.1 But we have abilities these days to do more with more features.
It is beneficial for builders, designers and occupants to use a broad approach. Human-centric lighting should feature quality light, natural light, a connection to the outdoors and personalized and adaptive control.
To focus on individual characteristics of lighting, such as circadian, is to limit lighting's capabilities. Different elements of lighting design working together can create a powerful user experience and inspiring environments, and that is what the best lighting design is all about.
About the Author
Craig Casey is a senior building science engineer at Lutron Electronics Co. He works in the Building Science group conducting applied research on energy and human benefits of lighting and daylighting controls.
1The Illuminating Engineering Society, which was founded in 1906, is dedicated to improving the lighted environment and has recommended practices for building illumination.