Fort Carson Goes for Gold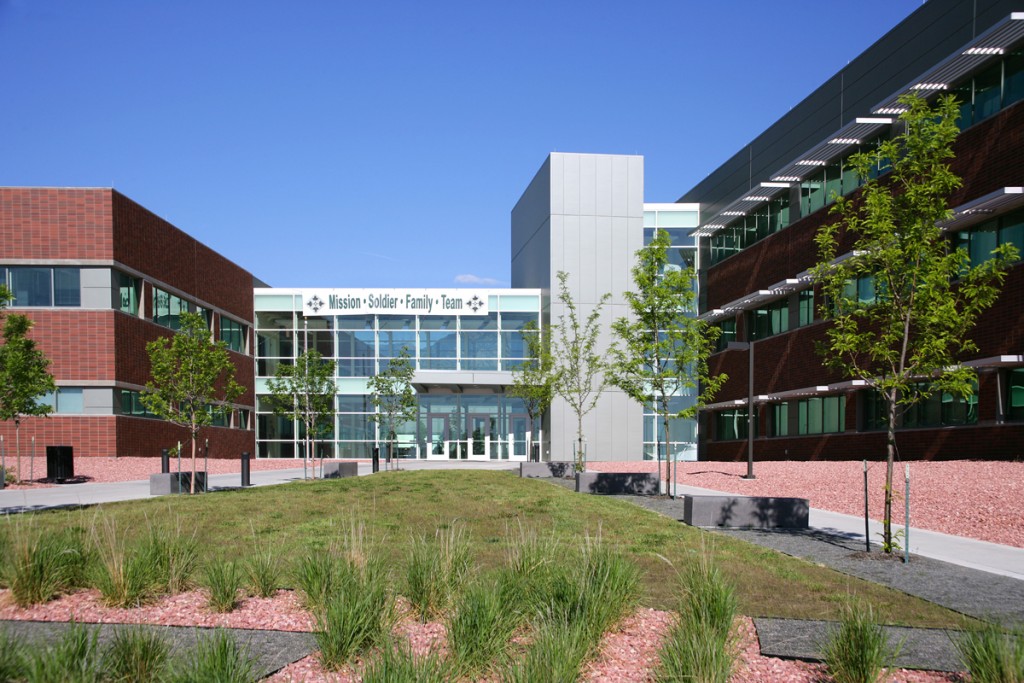 You may not have heard of Fort Carson, Colo., but the Army post, established in 1942, has quietly hit LEED Gold—and Platinum—many times over. In fact, the Army installation has so many LEED-certified buildings and projects, one can practically sail a paper airplane and hit one (assuming you have a strong arm—the installation is a whopping 137,000 acres, housing 26,000 active duty military plus families and five schools). So, why are there so many LEED-certified buildings and projects in Fort Carson? With a total of 82 buildings and 56 projects in all, including 40 Silver, 39 Gold and three Platinum, the site is undeniably impressive from a sustainability perspective. What's their secret? The answer is simple, friendly competition.
"The army didn't make getting LEED-certified a requirement originally, it was just something to work toward," explains Brian Nohr, Army Corps of Engineers district sustainability coordinator. "It would have been enough to simply call it good and certifiable. However, once our contractors began to see how easy it was, they started competing among themselves to see who could outdo the other, and a kind of friendly competition resulted. That's why we have so many certifications." Today, fully half of all buildings certified at Fort Carson are certified Gold or Platinum.
Main Entrance of the facility. This project reduced irrigation nearly 66% by providing native plants and grasses appropriate for the very dry climate, and the elimination of irrigation except at shrubs and trees. Brownfield and 9 other LEED site credits were earned.
One of those certifications—the Aviation Support Battalion (ASB) Hangar—is featured in the Spring issue of High Performing Buildings magazine. Nohr points out that Fort Carson's other Platinum LEED-certified buildings, the 47th Brigade Combat Team Brigade Battalion Headquarters (BBHQ) at the Wilderness Road Complex and its EAB Company Operations Facility/Warehouse unit office are also noteworthy:
BBHQ
Fort Carson's 47th Brigade Combat Team Brigade Battalion Headquarters (BBHQ) at its Wilderness Road Complex has received LEED-Platinum certification, qualifying it as the most energy-efficient and environmentally friendly building for the installation. A three-acre photovoltaic field provides 480 kW of electricity, enough to provide 62% of the buildings' projected demand. It reflects the role the U.S. military has played in recent years as a catalyst in sustainable design and construction. The mandates include requirements such as each branch developing 1 GW of renewable energy: Air Force by 2016, Navy by 2020, and the Army by 2025. The Department of Defense will develop 3 GW of renewable energy capacity by 2025. The project was created by the Denver office of Mortenson Construction and design-build partner RSP Architects. Like the Aviation Support Battalion Hangar, the building was originally targeted for Silver, and far surpassed that by attaining Platinum certification at no additional cost to the government. In addition to the photovoltaic field, other sustainable design features of the project include:
A scalable lighting control system providing 22% savings in energy consumption from interior lighting including daylight controls, programmable lighting, and more;

A rooftop solar hot water system that provides more than 20% of the domestic hot water to the 27 showers and 550 full-time occupants;

Extremely efficient building envelope, six times more resistant to air infiltration/exfiltration than required by the U.S. Army Corps of Engineers' design specifications;

More than 76% of construction waste recycled.
The facility received an Outstanding Construction Contractor Appraisal Support System rating from the U.S. Corps of Engineers Omaha district.
EAB COF
Like so many of Fort Carson's sustainability projects, its Echelons Above Brigade (EAB) Company Operations Facility started out aiming for LEED Silver and hit Platinum. This 46,608 square foot facility now accommodates three Army Companies and serves approximately 500 soldiers.
The site originally housed WWII-era buildings that included tank and truck repair shops that leaked hazardous material into the soil, requiring remediation—including asbestos. However, the site's location allowed for an Alternative Transportation LEED credit by providing public transportation access to existing bus routes.
Interior photo of a typical Readiness Bay from the mezzanine. Daylight is provided to the Readiness Bay with overhead Solatubes, and daylight and occupancy sensors control lights to save energy when appropriate. Windows from the corridor provides additional daylight to the mezzanines.
"This project tied into an existing neighborhood really well," Nohr recalls. "When we began these projects at Fort Carson, most LEED-certified buildings were typically schools or offices. This was the first warehouse-type building—at least in the army—to get LEED Platinum certified," Nohr said. "A lot of people at the time said, 'Oh LEED just applies to offices,' but we found you can apply the validation system to any type of building." Another interesting aspect of the project includes that the facility was designed in-house by the Army Corps of Engineers.
First warehouse-type of building in Army to receive LEED Platinum certification;

Reuse of existing site; removed existing WWII era buildings that were tank and truck repair shops, including cleaning soil of fuel and asbestos;

Designed in-house by Army Corps of Engineers;

Tied to existing transportation centers so it scored LEED points for connectivity to local functions.
So in its efforts to improve sustainability, Fort Carson found that sometimes a little friendly competition is all it takes to strike LEED Gold—even Platinum. "It's why we got so many certifications," Nohr recalls. "There was really great teamwork between the installation, contractors, designers, and the Corps.