Health, Water Themes at Greenbuild 2016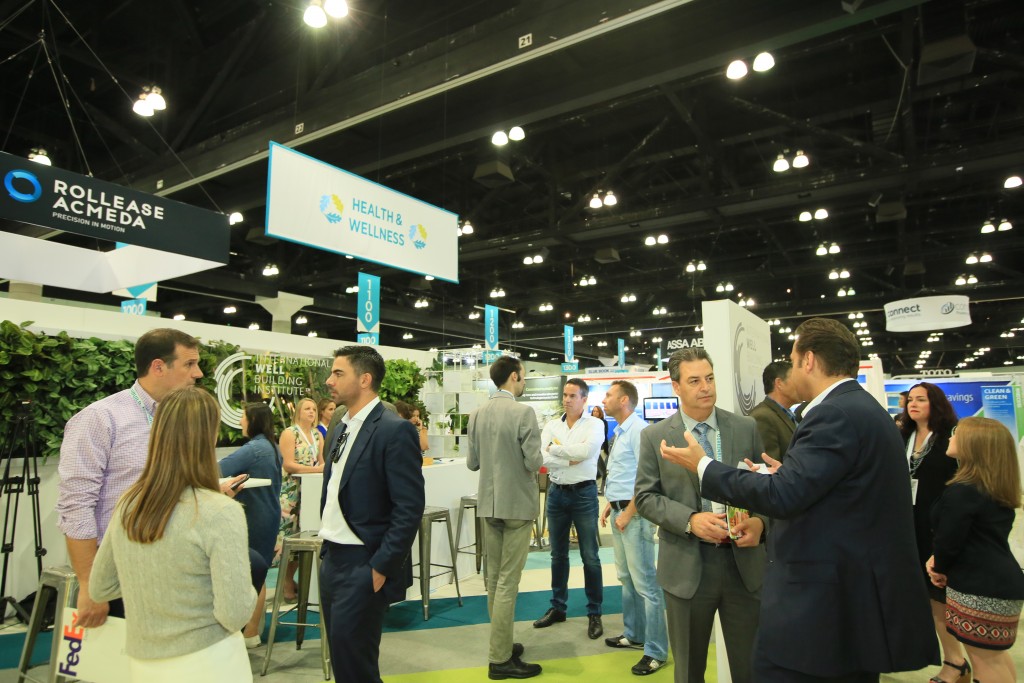 LOS ANGELES—If you weren't among the 18,079 attendees and 531 exhibitors at Greenbuild 2016, there was news on a number of fronts, according to the U.S. Green Building Council (USGBC) and Informa Exhibitions, organizers of the annual green building conference and expo.
Greenbuild featured more than 200 sessions, tours, summits and workshops in the education program and throughout the week, with many sold-out sessions, organizers said.
"Sustainability, health and wellness and water conservation were just a few of the over-arching themes that dominated this year's event," said Lindsay Roberts, Greenbuild group director, Informa Exhibitions. "We had an incredibly successful week and continue to be grateful to our community of attendees, exhibitors, sponsors and partners who bring substantial energy, buzz and momentum to the week as well as the green building movement."
Here are highlights from the event, held Oct. 5-7 at the Los Angeles Convention Center.
Studies, Reports Released at Greenbuild
Reports included:
Employees in high-performing, green-certified buildings had 26% higher cognitive function test scores than those in similarly high-performing buildings not green-certified, according to researchers at Harvard T.H. Chan School of Public Health and State University of New York Upstate Medical University. The study also found that employees reported 30% fewer sick building symptoms and 6% higher sleep quality scores than those working in high-performing buildings not green-certified. Researchers said that indicates that benefits of green buildings may extend beyond the workday.

Real estate companies and funds are improving across all aspects of environmental, social and governance performance, according to data from the 2016 GRESB Real Estate, Developer and Debt assessments. This includes a 1.2% reduction in energy consumption, 2% reduction in GHG emissions and nearly 1% reduction in water use. A record 759 real estate companies and funds participated in the assessment.

The Aluminum Association released Aluminum in Green Buildings – A Guide to Environmental Declarations for the building and construction market sector. The guide is designed to assist and support aluminum producers, end-users, architects, designers, engineers and others in understanding how to conduct environmental assessments for aluminum building products and make environmental declarations.

Alex Carrick, chief economist for ConstructConnect, released a white paper about the relationship between economics and sustainability. His paper, "20 Occupations and 2 Million Workers in the Front Lines of Construction's Drive to Sustainability," concludes: "Evidence of the need for full-on acceptance of environmentally holistic new structures is everywhere. The goal of achieving sustainability in the built environment has transitioned to the mainstream."
Exhibits on the Floor
The Greenbuild KB Home ProjeKt, a 1,790-square-foot custom demonstration home, featured assemblies and systems, home tours, interactive educational features and a digital wall display.

The Net Zero Zone, a 4,500-square-foot pavilion, was powered by alternative power collected on-site.

The GreenZone, a 15-by-40-foot prefabricated modular facility designed to LEED standards was a featured exhibit. LG Electronics USA, with an array of air conditioning, LED lighting systems, ENERGY STAR® certified home appliances and commercial displays, was the leading technology partner. The pavilion will be relocated to the Compton YouthBuild campus in Compton, CA. YouthBuild provides educational and vocational opportunities for young people who are invested in creating a sustainable future for themselves, their families and their communities.
An aerial view of The Greenbuild KB Home ProjeKt, a 1,790-square-foot custom demonstration home.
Oscar and Associates
Read more about product releases at Greenbuild here.
Organizations
Chief among the announcements was the formation of a new technology organization, arc, a new platform set to launch later this year. The platform will allow any building to participate and immediately start measuring performance, make improvements and benchmark against itself, according to the USGBC. The organization will be led by USGBC's current chief product officer Scot Horst, who becomes arc's CEO.

Green Business Certification Inc. (GBCI) and the Environmental Defense Fund announced they would work together to develop, deliver and promote the Investor Confidence Project as the "premier global underwriting standard for energy efficiency projects." Also, CBCI and the US Zero Waste Business Council (USZWBC) are formally joining forces to advance zero waste business practices.

Two years after the launch of the WELL Building Standard (WELL), which focuses on the effects of the built environment on human health and well-being, the International WELL Building Institute (IWBI) announced more than 270 projects encompassing 57 million square feet are now registered or certified under the standard in 23 countries across six continents. The U.S., China, Australia, France, Canada and the U.K. are leading the healthy building movement. IWBI said it will identify synergies between various standards and streamline the process for projects seeking dual rating.

USGBC and Bank of America Charitable Foundation announced five projects selected for the 2016 Affordable Green Neighborhoods (AGN) grant program. The AGN grant program provides funding and educational resources to developers of affordable housing who are pursuing LEED for Neighborhood Development certification. The projects selected are committed to creating affordable and sustainable communities.
Speakers
Speakers included:
Journalist and award-winning author Sebastian Junger.

Architect Bjarke Ingels led discussion during the Closing Plenary.

Los Angeles Mayor Eric Garcetti, California Lt. Gov. Gavin Newsom, and Rep. Maxine Waters (D-CA).

Master speakers Antwi Akom, co-founder & CEO of Streetwyze and Dr. Lucy Jones, former seismologist with the U.S. Geological Survey.

Lauren Sparandara, program manager at Google.

Sebastian Copeland, polar explorer and environmental advocate.

Outgoing CEO Rick Fedrizzi gave his final address at the Greenbuild Plenary and incoming CEO Mahesh Ramanujam ended the week at the Closing Plenary.
​Greenbuild 2017, with the theme of All In, is scheduled for Nov. 8-10 at the Boston Convention and Exhibition Center. More information can be found at greenbuildexpo.com. The Call for Proposals and Reviewers for Greenbuild 2017 opens Nov. 7 and the deadline to submit is Jan. 13, 2017.