Lessons Learned – Biosciences Research Building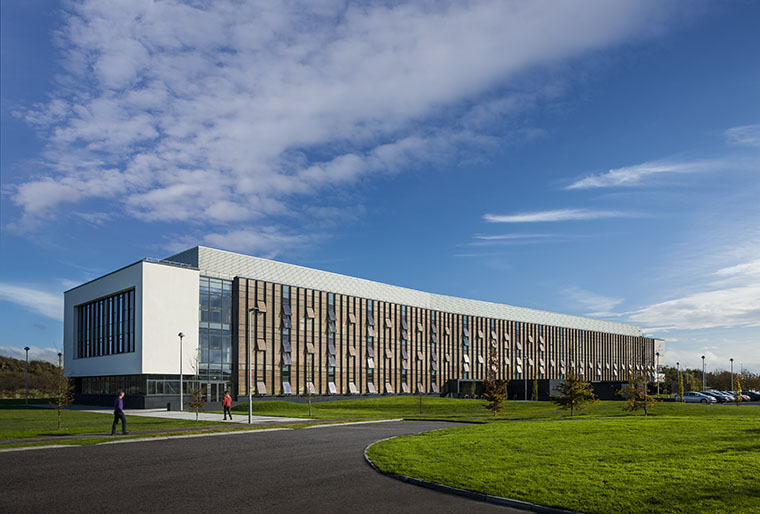 © Warren Jagger Photography
The aggressive project schedule and integrated design-build process created the opportunity, and the necessity, for collective wisdom and a continuous feedback loop among the owner-architect-contractor team. This was fundamental to the success of the BRB. For example, a myriad of performance strategies were modeled as part of an iterative design process, including the CFD modeling of the natural ventilation.
These early findings identified energy conservation and thermal comfort opportunities that drove larger building design decisions, and helped achieve a 70% carbon reduction from the Irish baseline building code. Engaging the contractor as a design-build partner early in the process created the opportunity to tune the building systems and assemblies to maximize performance, fit within the project budget, and avoid value engineering that could have eroded quality and performance.
The feedback loop continued through post-occupancy. Monthly energy usage data is collected to confirm the building is operating as designed. Also, a post-occupancy evaluation has been completed to scrutinize all aspects of the design, with a particular focus on building performance, operational efficiencies and the environmental quality of the workplace. Anecdotal feedback from the client indicates the building is exceeding design performance metrics and provides an unparalleled work environment for university research teams.
Finally, the planning module is conceived to accommodate a range of research needs. Floor plates, partitions and modular laboratory casework systems can be adapted and reconfigured to meet future needs.
A few key takeaways from the post-occupancy evaluation:
More storage space, write up desks, and administration space is needed. Currently five people are occupying write-up desks designed for four people, because of this overcrowding.
The weight of the sliding glass barn doors between the lab and write up zones sometimes causes the doors to move a little and go off track. Because of this they need more frequent maintenance. These were essential to enable natural ventilation in the write up areas, but durable hardware able to better handle the weight of the glass needs to be considered in the future.
Manual operable windows only used by where people work, not in shared spaces like conference rooms.
Check out the full case study here.