Lessons Learned – Bullitt Center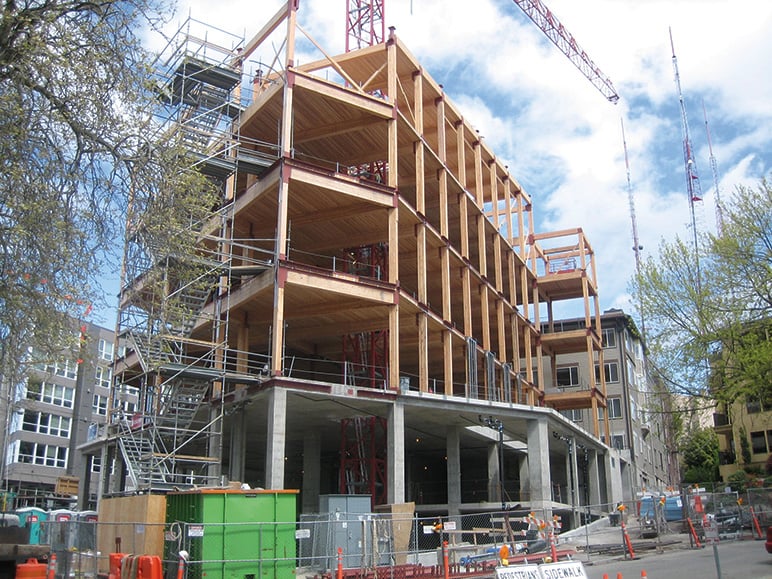 Net Zero Energy Indoor Environment. Achieving net zero energy performance can be architecturally liberating. Spaces within the building are extremely well daylit and comfortable. Simple HVAC and lighting systems reduce ceiling clutter. Reducing the number of finishes to simplify materials vetting under the Living Building Challenge promotes expression of the building structure and allows the aesthetics to derive from environmental performance.
Metering and Verification Systems Need Commissioning, Too. Operational challenges have been experienced with end use submetering and in maintaining the data interface/dashboard through ongoing tenant improvements and changes in the building. After more than a year of troubleshooting and validation efforts, the system is only recently reporting reliable data. With any complex system, many possible sources of error exist, and a process of verification needs to continue beyond the initial commissioning for the submetering.
High Performance and High User Engagement Can Be Achieved Without "Big Data." In the design phases, detailed feedback was viewed as essential to the performance and to supporting appropriate behaviors. However, tenants are working toward project success, and the building is exceeding energy performance expectations even without detailed energy use data.
Need for Building Operator "Buy-In." The building requires a full-time on-site skilled building engineer, although this person's role should diminish over time. The operator has delivered ongoing building commissioning of the energy, water, and metering systems over the first year and a half of operation, as is typical of high performance buildings. The design team believes it would have helped in the transition from construction to occupancy if the eventual operator had been involved in the design process.
Manual vs. Automatic. The exterior shading system and the operable windows are automated, zoned by façade. Automation allows the windows to be used in night flush mode so they can be controlled after hours. However, this introduces challenges when windows open during the day without full input from occupants. An occupant override option is provided to allow ultimate user control.
Open Office Tension. Two major design approaches to achieve net zero energy and related performance—the daylighting design and the natural ventilation approach—rely on an open office concept for the leased office space. As a result, the vast majority of the spaces have no partitions. The open office decision was made early on, but a constant tension existed between this design and some tenants' desires for visual and acoustical privacy. Most tenants have created smaller private zones and enclosed conference areas for use when privacy is required. These decisions need to be made early in the design process and then revisited as the design moves forward.