Next-Generation Professionals Designing the Future of Buildings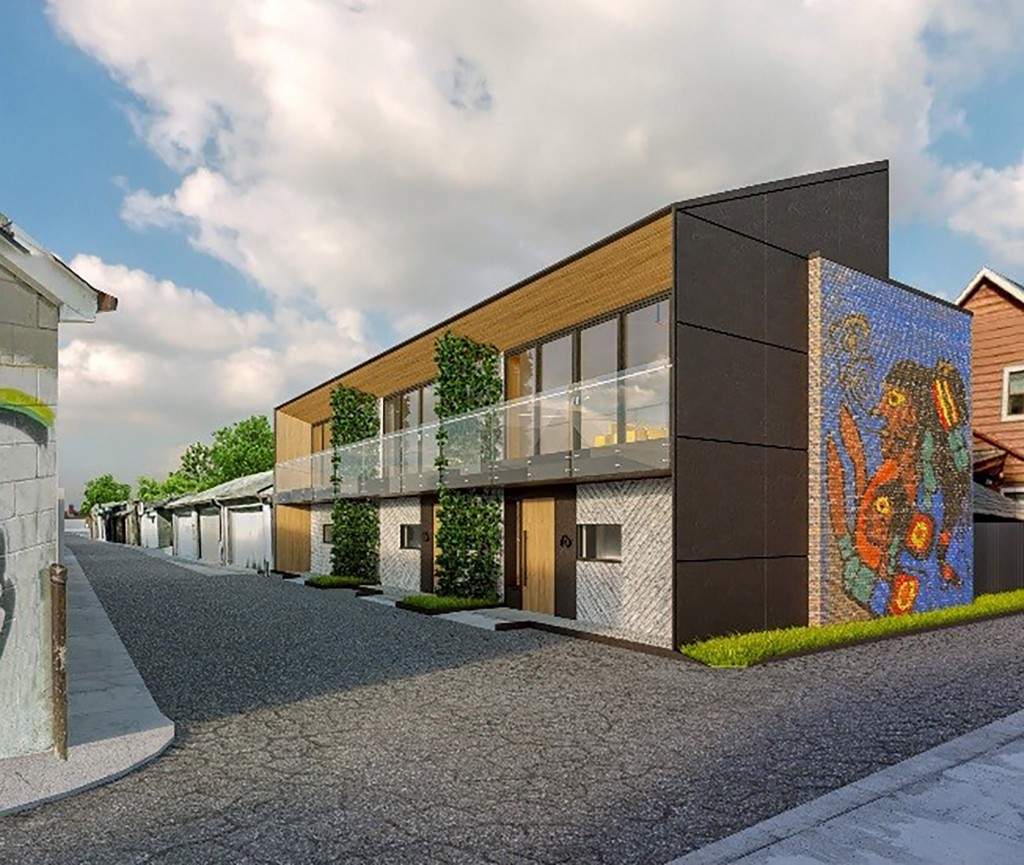 The LaneZero Project, by a team from Ryerson University, resulted in a net zero energy building that seamlessly integrates into a currently thriving Toronto neighborhood.
Is the perfect building possible? A group of young minds are tackling the design challenge with creativity and innovation.
College students worldwide are developing their building science knowledge and skills through the U.S. Department of Energy (DOE) Race to Zero Student Design Competition (Race to Zero). They design and present zero-energy-ready buildings in well-defined contest areas. Participating collegiate teams dive into building science and are mentored by building professionals as the competition incentivizes designs that carefully consider good architecture, engineering, and innovation. The challenge is simple in concept: design a building that is net zero energy using sound building science principles. And the design must also be cost effective and market-ready, all while meeting a broad list of criteria that professional design teams often encounter, including DOE's Zero Energy Ready Home program requirements.
During the course of one to two semesters, multidisciplinary student teams design and develop details for buildings so high-performance and energy efficient that all or most annual energy consumption can be offset with renewable energy. Competition participants get the chance to take part in hands-on analysis, including an in-depth investigation of specific interactions and integration of building design, while tapping into unique building science training from recognized experts and educators. The whole experience culminates with student teams presenting their designs to a panel of judges, and each team vying for the overall Grand Winner award.
Wanted: Industry Partners
Interested in participating? Schools are looking for industry partners to provide mentorship; participating collegiate institutions will be posted on the Race to Zero website in December. The competition organizers also are looking for industry sponsors and partners who are interested in being jurors. Contact the organizers at RacetoZero@nrel.gov for more information.
The Path to the Competition and Winning Designs
After months of intense work and preparation with their teammates, mentors, and industry partners, 39 finalist teams presented their designs at the fourth annual Race to Zero competition. More than 140 collegiate students converged at the National Renewable Energy Laboratory (NREL) in Golden, Colorado, in April 2017 to compete head-to-head and present their designs to a panel of jurors.
The competition was divided into four separate design contests: Urban Single-Family, Suburban Single-Family, Attached Housing, and Small Multifamily, with the first-place winner of each ultimately presenting live to more than 200 people to compete for the Grand Award. This year, the Grand Winner of the 2017 Race to Zero was the Future Cities Collective team with members from Ryerson University and the University of Toronto.
Major cities such as Toronto are struggling to simultaneously densify while maintaining a sense of community. The sustainable future of our cities depends on finding new ways to inhabit existing infrastructure. The LaneZero project seamlessly integrates into currently thriving neighborhoods.
In downtown Toronto, low-density, detached residential neighborhoods contain more than 155 miles (250 kilometers) of publicly owned alleys or laneways. This underutilized space on valuable land provides a unique opportunity for unobtrusive densification. The Future Cities Collective project exemplifies possible laneway housing opportunities in Toronto, promoting the efficient use of public and private property in the city.
For LaneZero to achieve net zero site energy, the design strategy employed a three-tiered approach: 1) minimize conditioning needs through envelope, geometry, mass, and orientation; 2) passive conditioning strategies through natural ventilation, solar heat gains, and daylighting; and 3) supplemental active air conditioning through an efficient system. Along with these strategies, the team also incorporated solar photovoltaics on their pitched roof, which makes the project a net energy producer. Overall, LaneZero brings life to laneways through comfortable, efficient housing, intended to make laneway homes a desirable and sustainable way to live.
The full 2017 Race to Zero competition results and winning design summaries are posted online.
Learn more about the overall competition by visiting the Race to Zero website.
Industry Partner Collaboration is Key
Faculty and students alike have expressed appreciation for the collaborative, yet intense nature of the Race to Zero, and the challenge to develop aspects of good design, from architecture to building science performance. And through it all, industry partners play a major role.
"The competition encouraged collaboration with local industry partners, which increased the rate at which students were able to process through the various design phases and topics. The industry collaboration and real-world design scenario also added a practical motivation that stretches students beyond classroom examples," said one 2017 Race to Zero faculty advisor.
Gregory Pavlack, of Hope College in Holland, Mich., joins other audience members in intently observing a presentation during the 2017 Race to Zero Student Design Competition.
As Team Woodridge, from Ball State University, found out, their industry partner inspired more than learning. A builder brought to the table a schematic design created specifically for an owned lot. The builder's original intention was to build this home on spec to fill in gaps in work for his crew during the slow times of winter 2017–18. When the student team leader met with the builder, it was determined that this would be the perfect project for the team to bring into alignment with the criteria of the Zero Energy Ready Home program. This collaboration created value for both the student team, who gained experience working with real-life constraints on a project slated for construction, as well as for the builder, who added zero energy to the list of features of the home for sale.
Another role for industry partners in the Race to Zero is as competition jurors. This level of involvement is a boon to the juror, his/her organization, and the many students who participate in the competition. One 2017 Race to Zero juror described the weekend as, "a great experience to collaborate with peers (jurors), learn from the next generation of practitioners, and share/mentor the next generation of peers."
Looking for the Next Race to Zero Teams
The next Race to Zero competition is April 20–22, 2018, at the National Renewable Energy Laboratory (NREL) in Golden, Colo. Through Nov. 7, 2017 (5 p.m. EST), collegiate teams can apply to participate via the team application website.
The fifth annual Race to Zero competition includes an elementary school design contest in addition to the residential building contests, giving teams many options of building types as the focus of their design challenge. Below are key dates for the next competition:
Nov. 7, 2017 – All participating teams must complete the team application and are encouraged to submit a three-page Project Introduction.

September 2017 to March 2018 – Webinars and building science training are offered.

April 20–22, 2018 – Finalist teams compete with presentations to industry leaders.
As one 2017 Race to Zero student said, "Our team was in awe of the caliber of designs and strategies used within each institution's team project, and were appreciative for the ability to network not only with our peers but the plethora of cutting-edge industry professionals in attendance. Without this competition, our team wouldn't have pushed the boundaries of architectural design, sustainability, and building science as effectually as we had during this experience."
About the Authors
Paul Torcellini is principal engineer in the Commercial Buildings Research Group and Rachel Romero is an energy engineer at the National Renewable Energy Laboratory in Golden, Colo.