Resiliency: From Surviving to Thriving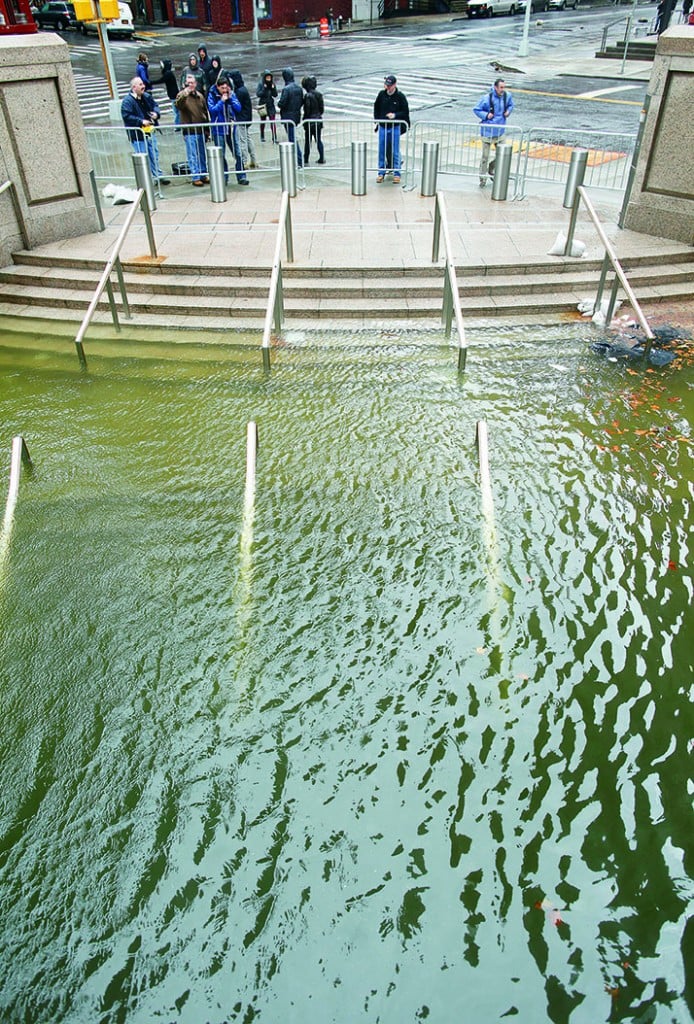 © CARLO ALLEGRI/Reuters/Corbis
A decade ago, New Orleans' buildings turned into traps. More than 16,000 people who didn't evacuate before Hurricane Katrina hit fled to the Louisiana Superdome, which wasn't designed as a long-term shelter.
The air conditioning failed almost immediately and the emergency generator didn't last much longer. The backup generator eventually drowned in floodwater. After the storm, people who had sloshed their way to high ground were turned away from the overtaxed stadium. Elsewhere in New Orleans, buildings that were designed as mission critical facilities experienced similar failures for sheltering human life.
Superstorm Sandy nearly three years ago had a lower loss of life but also caused a huge amount of damage. As in New Orleans, critical building systems in New York City were quickly submerged in basements that never experienced floods at that level before.
These storms are two of the most expensive in U.S. history in terms of damage done, lives lost, businesses destroyed and people who lost their homes. Hard lessons were learned and helped spur a growing interest in making buildings and communities resilient.
Sustainability vs. Resiliency
The concept of sustainability has been with us for more than three decades. It encompasses making well-informed choices regarding conserving natural resources and providing buildings that are healthful for occupants.
Resiliency differs in that it provides a guiding principle for survival and rapid recovery. It isn't a new concept, but it has gained a new prominence in the built community.
Some say resiliency is the new sustainability. Others say resiliency can motivate reluctant adopters of sustainable principles to change their ways.
"What drew me to focus on resilience is that it can create more motivation for sustainability. You can end up with more than you started with," said Alex Wilson, president of the Resilient Design Institute, at a recent AIA conference session.
Most seem to agree that resiliency is complementary to sustainability. In New York, a new strategic plan from the Office of Recovery and Resiliency lays out distinctly separate visions for sustainability and resiliency.
Agreement also exists that there is a profound knowledge gap regarding best practices for designing buildings to withstand hazards and enable rapid recovery.
Resiliency has become a common topic at Greenbuild and AIA conventions for the last few years. Speakers are educating their audiences that buildings and communities cannot only survive, but also thrive. And, that acute events aren't the only ones that carry risk.
"We are looking at substantial changes in temperature that we need to be thinking about for resiliency," said Mary Ann Lazarus, AIA Resident Fellow on Sustainability, at a recent AIA conference session.
Defining Resiliency
The term "resiliency" gathers together many other concepts such as durability, adaptation, responsiveness, short-term survivability, and community building. Resiliency, as with the term "sustainability," is an umbrella term that may work best to define the point where conversations begin.
From One New York: "The ability of people, the places where they live, and our infrastructure systems — such as transportation and energy — to withstand a stress or shock event, to recover, and emerge even stronger."
From Presidential Policy Directive 21: "The ability to prepare for and adapt to changing conditions and to withstand and recover rapidly from disruptions. Resilience includes the ability to withstand and recover from deliberate attacks, accidents, or naturally occurring threats or incidents."
Many other definitions exist, but all of them carry the sense that simply surviving isn't enough. People and buildings need to rapidly recover to a state where they can thrive. These are long-term goals that require deep analysis of future risks and robust strategies.
Salt Lake City's Public Safety Building houses the city's police and fire departments, its primary data center and the regional 911 emergency response center. Seismic design was a chief concern, as Salt Lake City sits near a 200-plus mile-long earthquake fault line. The building can withstand an earthquake of up to a magnitude of 7.5. It is designed to be fully operational immediately after an earthquake, rather than just able to be occupied, as is required by seismic codes.
Making Buildings Resilient
Making buildings resilient doesn't mean sacrificing other goals such as sustainability or occupant comfort. Some aspects of sustainability also help make a building resilient. A simple example is operable windows. In climates that can take advantage of natural ventilation strategies, operable windows can help keep a building habitable if a storm causes a long power outage. Daylighting offers the same sort of benefit.
These sorts of passive survivability strategies meet both sustainable and resiliency goals, and may provide additional motivation to owners of buildings in high-risk areas such as coastal areas, earthquake zones and Tornado Alley. Some cities in these areas are making progress on complex strategies that will help make their communities as a whole more resilient. Here is a sampler of what three U.S. cities are doing today to deal with future shocks to their systems.
Those are followed by brief descriptions of devastation caused by floods and an earthquake in Houston and Nepal, respectively, highlighting the need for increased resiliency strategies in those areas.
New York City


New York City is readying its buildings for the next big storm. The city has already made great strides toward sustainability with the many initiatives under the umbrella of PlaNYC, which was started in 2007. The city has many resiliency initiatives in progress that provide for various incentives and targeted requirements to motivate owners to retrofit buildings in the 100-year floodplain to increase flood resiliency.
Another issue is wind. New York's sea of skyscrapers is vulnerable to damaging vortices. For new and substantially improved buildings, the city changed its building code to clarify wind-resistance specifications. New York also expects to launch a wind study later this year.
For the residential sector, the city's
Build-It-Back program is elevating the homes it is rebuilding.
New Orleans
Last year, New Orleans joined the 100 Resilient Cities program, which is funded by the Rockefeller Foundation. The program provides financial and logistical guidance for hiring a chief resilience officer and support for developing a resiliency strategy. The city's Resilient New Orleans team is beginning work on a strategic plan for resiliency.
On a building level, vital services to the community have been built anew using lessons learned from Katrina. For example, because evacuees couldn't bring their pets with them, people wouldn't leave their homes. Some died. Most by drowning. Others were rescued from attics and roofs days after the storm. The Louisiana Society for the Prevention of Cruelty to Animals (SPCA) facility was wiped out by flood. The new facility is located on a new campus and is designed to operate with no power (passive strategies), two levels of emergency power, and utility power.
Another example of building better is the New Orleans East Hospital, which has returned emergency services to an underserved area of New Orleans. This mission-critical building was constructed with Katrina in mind. The steel and glass exterior is designed to withstand winds of 130 mph. Unlike most hospitals, the first floor doesn't house any clinical space. Emergency services are on the second floor. Generators are on the rooftop with enough fuel to keep the hospital operating for 96 hours.
Los Angeles
California has more cities that are members of 100 Resilient Cities than any other state: San Francisco, Oakland, Berkeley, and Los Angeles. Last year, the Mayoral Seismic Safety Task Force in Los Angeles developed a "Resilient by Design" report that outlines steps to deal with one of that region's greatest threats: earthquakes. Among other items, the report recommends a voluntary rating system to encourage building owners to invest in resilience so their buildings remain standing and functional after a disaster.
In addition, the Los Angeles chapter of the U.S. Green Building Council (USGBC) is sponsoring the development of a "Los Angeles Resilience Rating System" that will offer guidelines for building resilient projects.
LA's mayor also recently released its sustainability plan. Initiatives call for dealing with several problems at once such as water distribution in a rain-starved city when an earthquake hits. Most of the building-level goals do not address resiliency specifically. However, some of the strategies used to save energy are likely to inherently have resiliency aspects to them.
Rosa F. Keller Library and Community Center in the Broadmoor neighborhood of New Orleans exemplifies the power of a community-level response. After Katrina, the low-lying area was designated to be turned into green space. Instead, neighbors joined together to save their community—and their library. The library was raised above flood levels, and the mechanical systems were raised even higher. Bioswales help to handle storm water by delaying rainwater on site for six to 12 hours.
Houston
In late May 2015, some 1,400 structures in Houston suffered severe damage from floodwaters during more than a week of storms. Some parts of the city received more than 11 inches of rain.
Despite the widespread knowledge of Houston's flood risk because of its coastal location and extreme flatness, resiliency planning and building hadn't fully taken hold in the city, at least not prior to recent events.
One of the few citywide efforts is the government program RebuildHouston. The city website says that "ReBuild Houston is the City of Houston's initiative to improve the quality of life and mobility for residents of the city by rebuilding its drainage and street infrastructure. To support the initiative, the city has established a dedicated, pay-as-you-go fund to maintain the infrastructure, and to plan upgrades to meet future needs as the city grows."
The program, however, primarily deals with improving street drainage during "regular" storms to keep sewers from backing up and basements from being flooded.
Nepal
A 7.3 magnitude earthquake that hit Nepal on April 25 displaced an estimated 120,000 residents and killed at least 8,000 people. The nongovernmental organization Manabiya Astha Nepal has since been setting up metal shelters for those who lost their homes. Another group, Abari Bamboo and Earth Initiative, is building 1,600 homes of bamboo and earth, which would last two to three years. Both options, however, are expensive ($100 for the shelter to $500 for the home, even with a $150 subsidy for each family that lost its home) in a region where the per capita gross national income is $730.
While the temporary steps are moving ahead, the national government is working on more lasting, resilient, measures.
Nepal's National Planning Commission has called for an exhibition and exchange of ideas. The goal is to develop a cohesive plan for reconstruction that addresses some of the regulatory and building mistakes of the past.
"The scale of damage by the recent earthquake has proven that our existing structures in rural areas were not safe," says Bhai Kaji Tiwari, a senior urban planner at the Ministry of Urban Development. "Earthquake safety could be improved with only a slight modification in our existing housing designs."
Community Perspective
Broadening the view from building to community shows that resiliency is highly scalable. First responders often aren't trained personnel. They can be next-door neighbors. At the World Trade Center Towers on 9/11, occupants helped each other evacuate the buildings before anyone else had arrived. That sort of micro-community-level response can be supported by robust resiliency plans at the building and community levels.
"Until now, we've focused on how a location impacts a project…we're beginning to ask how a project impacts a location," says the website of the LA chapter of USGBC.•