Surviving and Thriving after Katrina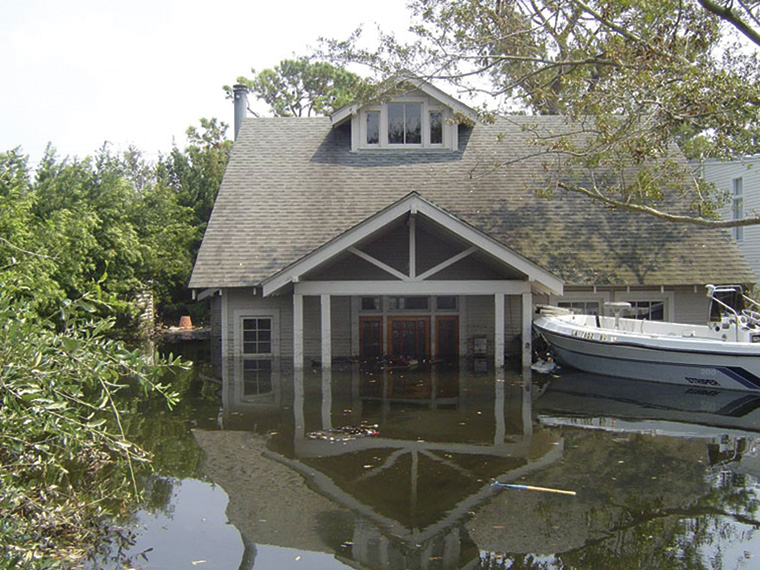 ​When you say you're from New Orleans, everyone wants to ask you about Hurricane Katrina. My personal story was not too dissimilar from that of thousands of New Orleanians—our family evacuated to Baton Rouge, La., fully expecting to ride out the storm at a relative's house and return shortly to clean up the debris, perhaps replacing some broken windows. What transpired can only be described as surreal: watching the disaster unfold on national television while trying to fathom the magnitude of the destruction and the loss of human life.
With the city shut down for weeks and our firm's employees evacuated to multiple locations, we were left to improvise a means to communicate with each other and to retrieve critical files from our New Orleans studio. Since the city was under a government-ordered lockdown enforced by the National Guard, we created an official-looking document that allowed us emergency access into the city to retrieve our file server and other critical documents.
Climbing 31 flights of stairs to the top floor of our abandoned building, we found our open-plan studio decimated by the effects of several blown-out storefront windows. Wading through the wet debris, we retrieved the 40 lb file server and strapped it, Sherpa-like, to some 2 × 4's to facilitate the downward trek through the emergency stairs to the awaiting truck.
Twenty-four hours later, we completed the activation of a one-room office rental in downtown Baton Rouge. Together with a few staff members and some equipment loaned by the AIA, we were officially "open for business" again. We had absolutely no idea what lay ahead for New Orleans, but were confident that whatever transpired, we would be an integral part of it!
The offices of Eskew+Dumez+Ripple immediately after Hurricane Katrina.
The damage to my own house and neighborhood was more severe. My neighborhood (Lakeview) had once been swampy land essentially at sea level; decades of drainage and pumping had caused the land to subside to 6 ft below sea level. If the topography of the city was thought of as a bathtub, my house was a few blocks from the drain!
Furthermore, being a quarter mile from one of the catastrophic levee failures, our house was flooded with over 6 ft of water, with 9 ft in the street, and stayed there for three weeks until the city was pumped dry. Borrowing a small boat from a relative, we managed to cross Lake Pontchartrain four days after the storm, and reach my flooded neighborhood by boat to retrieve the key items from our house.
Ten years later, we have rebuilt our house, thanks to the generosity of family and friends. More importantly, we have restored our firm and our community, thanks to the inspired passion and commitment of hundreds of individuals who cared deeply.
Post-Katrina rebuilding has also changed our firm, what we build, and how we build. We had always prided ourselves on our level of commitment to community, but participating in the rebuilding of our city, where neighbor helped neighbor while the government and insurance company officials wrote memos, made abundantly clear to us that it is communities that are resilient, not just buildings.
It forced us to double down on our commitment to engaging the community through probono design services, from the Field of Dreams community sports field in the 9th Ward to the Martin Luther King Day of Service projects. We now look for opportunities to enhance resilience in all our projects, and have shared what we've learned in a monograph, "A Framework for Resilient Design," that we make freely available on our website, http://tinyurl.com/p3v6myh.
Katrina drew new attention to issues around climate change and healthy building materials (with residents developing respiratory problems from formaldehyde-laden FEMA-provided trailers). There was precisely one LEED-certified building in the entire state of Louisiana on the day Katrina struck. Today, between the rebuilt homes, schools, and commercial buildings like NOBIC, there are over 1,000.
One unexpected change post Katrina is the influx of idealistic, highly educated transplants to the city. The composition of our own firm has grown from almost entirely Louisiana natives to one with staff from around the world representing 40 university programs. And New Orleans has been recognized by Forbes and other organizations as one of the top cities for startups nationwide.
We are a firm and a city transformed.
---
Mark Ripple AIA, LEED AP BD+C, is a principal at Eskew+Dumez+Ripple in New Orleans.