The Living Building at Georgia Tech: Locating a Home for Success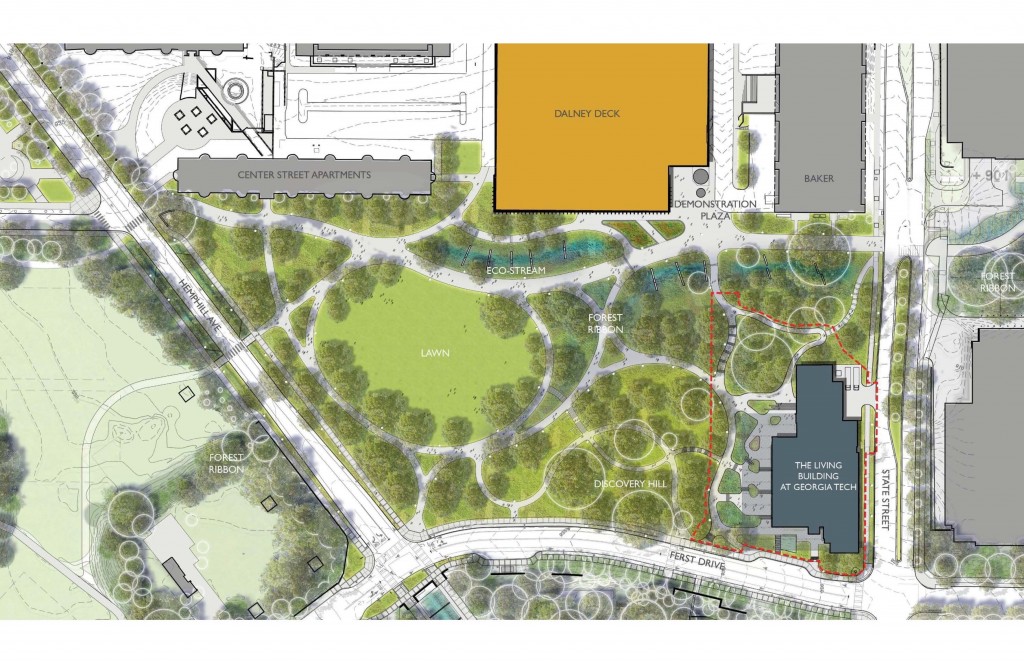 When deciding where to physically locate a project that is designed to achieve Living Building Challenge certification—the most stringent building performance standard in the world—the stakes are understandably high. Essentially, the site must provide a self-sufficient foundation that enables successful achievement of all the Living Building Challenge petals (seven performance areas) and imperatives (detailed requirements of each performance area).
For the Living Building at Georgia Tech, the design team of The Miller Hull Partnership and Lord Aeck Sargent understood from the very beginning that the site would greatly influence the building programming, such as urban agriculture and community outreach, and the mechanical systems needed to provide energy, control temperature, and manage rainwater. In addition, thoughtful consideration was given to selecting a site that would serve the immediate goal of finding land that can be transformed with minimal human intervention and also be maintained sustainably for long-term adherence to the Living Building Challenge standards.
During the Living Building at Georgia Tech project's design team competition, all three participating teams had the opportunity to evaluate the campus map as part of the site selection process. Each team landed on the same spot—a very special corner on the northwest sector of campus adjacent to the Eco-Commons, an initiative that's part of Tech's Campus Master Plan meant to provide a series of campus green spaces designed to conserve natural resources, including energy and water, and provide the community with educational and recreational amenities. This is in keeping with Tech's efforts to convert its 400-acre campus to a more natural and inviting state—even in the midst of a booming major metropolitan area.
"All the required variables aligned and pointed to the same location," said Howard Wertheimer, assistant vice president of Georgia Tech's Capital Planning and Space Management. "But with all great plans, there will be challenges and decisions to be made along the way to Living Building Challenge certification."
For one, the building is to be situated on site in a north-south orientation to interact seamlessly with the Eco-Commons to the west. While this fulfills the requirement to harmonize with nature and provide ready access to urban agricultural opportunities, from a systems standpoint, this orientation inherently does not leverage solar exposure to its fullest extent. The solution: Add a 260 kW photovoltaic array to the roof to harness the sun's energy and incorporate systems, like radiant flooring, that can fully operate a building on less energy.
Another challenge is the development of the surrounding landscape in a manner that respects the interconnected project variables such as rainwater management, tree protection, passive building cooling (i.e., shade), human intervention, and cost. Per the Living Building Challenge certification criteria, the design team calculated that, based upon the building's floor-to-area ratio (FAR), approximately 12,600 square feet of the surrounding landscape must be dedicated to fostering a healthy and accessible food system. While the amount of land could enable a variety of approaches to satisfying the urban agriculture imperative, the decision was made to pursue an indigenous, edible landscape based upon its ability to work well with the existing characteristics of the site, support the building's system requirements, and yield the best results with minimal interference and maintenance.
The maintenance of such a site by Living Building Challenge standards should be as "one with nature" as possible. However, learning to care for this area without gas-powered equipment and Red List chemicals, such as herbicides for weed control, is posing a challenge for Georgia Tech's Landscape Services.
"Doing less actually requires you to do more upfront in the process," said Hyacinth Ide, associate director for Georgia Tech's Landscape Services. "It is easy to underestimate the resources and knowledge required to care for this natural landscape."
In addition, Ide also stressed the need to start educating people now about natural landscapes—especially in setting expectations for how the landscape will look aesthetically. "This area will be beautiful in its own right but, due to how we must maintain it, will have a different, more untouched, feel compared to other areas on campus."
Beginning in 2017, Georgia Tech's Landscape Services started training its team about Living Building Challenge certification requirements and planning pilot programs to better understand how a native, natural landscape will perform. The goal is two-fold: to use these pilot programs to help gain a better understanding of what works (and what doesn't) to achieve certification, and appropriately apply these principles successfully across Georgia Tech's urban campus.
Read the full case study here.
About the Author
Rachael Pocklington works in communications at Georgia Tech in Atlanta. One of her main areas of focus is campus sustainability.