The Renwick Gallery of the Smithsonian American Art Museum, Washington, D.C.
Preserving a National Treasure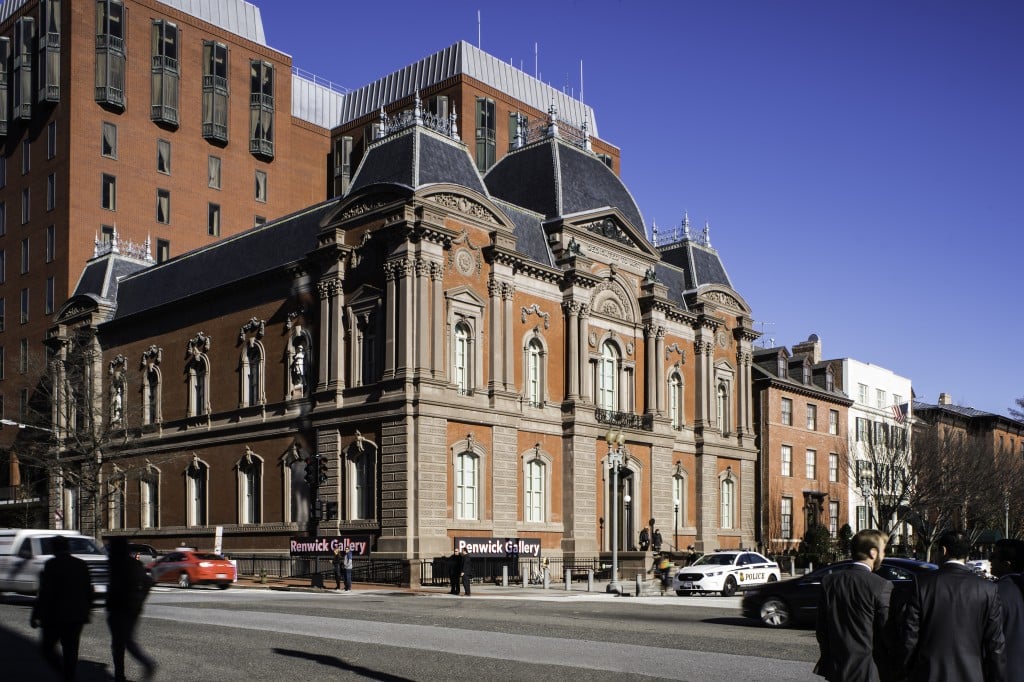 Home to the Smithsonian American Art Museum's arts and crafts program since 1972, the Renwick Gallery was built in 1859 as the original Corcoran Gallery of Art. It is a principal structure in the Smithsonian Institution portfolio, based on the era of construction and its historic significance as the first purpose-built art museum in America. The building was originally designed by James Renwick, Jr., the architect of the Smithsonian's "Castle" and St. Patrick's Cathedral in New York City. It is often referred to as the American Louvre, with many similarities to the Second Empire Style Tuileries Gallery of the Louvre in France. The building was at risk of being demolished in the 1960s to make room for a new government facility. First Lady Jacqueline Kennedy led a successful campaign to bring new stewardship to the facility, including a modernization to restore the building's use as a museum. The building was listed on the National Register of Historic Places on March 25, 1969, and was one of the first buildings of the modern historic preservation movement.
Historic Photo (1861).
Courtesy of Smithsonian American Art Museum
Fast forward to the 21st century and the building's comprehensive two-year renovation program, the first in 45 years, to address aging infrastructure, worn finishes, and align systems with today's standards and codes. The integrated design firm Westlake Reed Leskosky was selected as architect engineer (2012), and Consigli Construction Co., Inc., as general contractor (2014), to carefully develop an approach to ensure the building would reach both old and new audiences for the next 50 years, efficiently, sustainably, and openly. On Nov. 13, 2015, the museum opened again to the public, with an innovative exhibit, "Wonder," which has generated significant interest in the intersection of art and historic architecture. The inscription on the building's front entrance, "Dedicated to Art," now holds renewed meaning; the art and science of design and construction now comes together more than ever, to ensure the sustainability of a cherished building for another generation.
Resource Efficiency: Stewardship of the Collection
The project incorporates systems designed to provide an ASHRAE Class A museum environment, per the ASHRAE Handbook—HVAC Applications (Chapter 23) and Smithsonian's standard of 72 ±4°F and 45% RH ±8% RH, developed based on significant research over the past decade to best balance efficiency and control with a diverse collection and building stock.
The building includes significantly reconfigured building mechanical space to address improved access for maintenance, while reducing energy and water use. The project includes the following major systems:
Chiller plant: to maximize existing space, while allowing for equipment redundancy, a 200-ton modular chiller with four 50-ton modules (NPLV=0.58) was used with variable primary chilled water pumping and variable primary condenser water pumping with integrated waterside economizer capability. The system uses a winterized forced-draft cooling tower with extended discharge collar to avoid local recirculation and redundant fan motors.

Boiler plant: 3,000 MBH (3 x 1,000 MBH) gas-fired condensing boiler plant with thermal efficiency of 95% and primary-secondary pumping. The design water temperature of 150°F supply and 120°F return was optimized based on energy studies, which considered the integrated impact of terminal unit pressure drop, return water temperature, design range, and seasonal operating modes.

Air-handling units: the building incorporates three main air-handling units with MERV 8 and 14 filters, supply fan arrays with redundant VFDs, cooling coil, and heating coil. The total supply airflow is 46,000 cfm. AHU-3, located in the basement, was specified with full knock-down construction and was installed in a 7 ft, 8 in., clear basement with less than 0.5 in. remaining clearance.

Terminal units: the system includes approximately 30 networked variable air volume boxes with hydronic reheat. Boxes operate in multiple modes depending on humidity control requirements and occupancy. Units were located in stacks within mechanical rooms, to centralize maintenance and eliminate hydronic piping directly over gallery spaces.

Air distribution: the design incorporates carefully integrated architectural linear diffusers in public zones, coupled with low-level return through historic registers. Throw requirements in the Grand Salon were extensive, with a 40 ft ceiling height. Careful evaluation of diffuser characteristics occurred to ensure proper air distribution under a range of load conditions.

Humidification: each air-handling unit is matched with a gas-fired packaged humidifier. A centralized reverse osmosis water treatment system provides makeup water, reducing scale blowdown requirements that can interrupt steam output.

Specialized systems: a new air curtain was provided at the main entrance to improve environmental separation. A dust collection system was incorporated in the workshop.
North-South Building Section
West-East Building Section

Courtesy of WRL/Smithsonian American Art Museum
The target energy use intensity of the facility is 92 kBtu/ft2·yr and a 26% improvement over ASHRAE Standard 90.1-2007, not including process load reductions using 100% LED museum exhibit lighting. The 2012 pre-renovation energy use intensity (EUI) was 199.7 kBtu/ft2·yr. The target EUI for the facility was 100 kBtu/ft2·yr. Based on review of the first 12 continuous months of operation, the building is performing close to modeled consumption at an EUI of 97 kBtu/ft2·yr.
In the period from October 2015 to January 2016, electrical consumption is 56% less than the same months in 2012; natural gas consumption is 17% less. These values are significant, given that visitor attendance is in the first three months has exceeded pre-renovation annual attendance. Environmental control has been within Smithsonian criteria.
The building incorporates an HVAC cooling coil condensate reclamation system for cooling tower makeup. The estimated offset of potable water is in excess of 100,000 gallons and is approximately 65% of the equivalent potable water use for interior plumbing fixtures. Due to the purity of condensate, chemical water treatment is reduced.
Lighting: Market Transformation to Mass Adoption
The building is one of the first museums in the United States to use an all-LED solution for gallery lighting and was able to build upon work done before the renovation as part of a Department of Energy Gateway Study. The project team worked closely with the Smithsonian's in-house lighting designer Scott Rosenfeld and with a light source vendor to develop an LED source with a very narrow beam spread (4 degrees). Due to the geometric proportions of galleries in the Renwick, track systems have to be located relatively far from objects on display.
The LED sources developed are now being mass-produced for application by a broader user group, including in the retail sector. The pre-renovation lighting power density for exhibit lighting was 6 W/ft2. The system now operates at 1 W/ft2 and meets stringent criteria for beam control, color rendering, color temperature, color stability, lumen output, and UV output. The significant reduction in lighting heat output provided greater flexibility for HVAC system sizing.
Grand Salon with Janet Echelman's 1.8, Renwick. The installation is intended to capture the power of the Japanese earthquake that occurred on March 11, 2011. The event was so powerful, it impacted the length of the day by 1.8 milliseconds.
© Roger Chang
Occupant Comfort and a Conservation Environment
Ventilation air delivery meets ASHRAE Standard 62.1-2010 with a high level of control and monitoring. High-efficiency particulate filtration is provided at each central station air-handling unit and further monitoring is provided with space carbon dioxide sensors. Air-distribution effectiveness and system level ventilation effectiveness were both accounted for. The project has documented all low-emitting material credits under the LEED for New Construction program.
ASHRAE Standard 55 was used as a reference standard for thermal comfort design evaluation. Activity levels (met = 1.0 to 1.5), clothing insulation levels (clo = 0.5 or 1.0), air velocities (40 fpm target), space air temperature (70°F to 74°F typical range), radiant temperature (within 5°F of ambient), and condensation control were carefully considered. Prior to the renovation, the museum encountered issues with surface condensation, due to a lack of air movement and stable supply air dew-point control.
Two-dimensional thermal analysis and hygrothermal analysis (ASHRAE Standard 160) were performed to shape the specification of new windows and opaque assemblies, respectively. To reduce collection risk, the design avoids the use of hydronic systems in art spaces, which could leak and damage the collection. A previous hydronic baseboard system was replaced with a low-demand electric perimeter heating system (300 W per window) for condensation risk mitigation.
Acoustic performance was carefully considered with a target of NC-35 for most galleries and NC-30 for work areas. NC-25 was targeted for the Grand Salon, which is often used for lectures and musical performances, and now also for evening events. The acoustic criteria were met with a combination of careful terminal unit selection, air device selection, fan selection, vibration isolation, and architectural finishes.
Historic Preservation: Inspiration Rather than Constraints
The project demonstrates that a historic building can be restored and modernized to today's building codes and standards while meeting an aggressive brief for environmental control, budget, and schedule. The project used laser scanning and building information modeling for careful coordination of building systems within existing spatial constraints. A previous design team originally proposed raising the roof of the building by 10 ft to accommodate building systems. The current design team chose to reevaluate this concept and was able to develop a scheme that resulted in no major alteration to the building mass, while still providing manufacturer recommended clearances for equipment maintenance.
The Renwick Gallery:
Social Media
In the museum's first six months, #RenwickGallery has seen a significant jump in use, with reposts to a variety of social media platforms. Signage encouraging photography is located throughout and given the large scale of the first set of installations in the "Wonder" exhibit, the museum became known as a "selfie heaven," further triggering hearty discussion on the evolution of the art viewing experience. For "Wonder," nine artists were selected to each develop a custom installation for each of the main galleries of the Renwick. Visitors were introduced to work using a variety of media, all meant to focus a visitor's attention not only to the art itself, but the architecture as a vessel for creativity.
The building configuration includes limited head height of 7 ft, 8 in. in the basement (6 ft, 8 in. is required clear for head height by code), leaving only 12 in. of usable space for infrastructure routing in an exposed condition. The first and second levels have floor to ceiling heights of over 20 ft, but a zero-plenum condition, due to the existing elevations of historic crown moldings and vaulted ceilings. This required significant attention to air delivery in side-throw applications.
Operation and Maintenance for the Long-Run
Building systems were significantly past their ASHRAE typical design life, by as much as 15 years. Environmental control was unstable and accessibility to equipment for maintenance was challenging. Full coil and filter access were not available to all air-handling units. Terminal units and their reheat coils were located in difficult to access areas in the attic and basement and were sometimes located in areas that created unnecessary collection risk. In the renovation, the manufacturer recommended clearances for all equipment were provided, even with lost vertical and horizontal area due to threading of an entirely new egress stair at the East Core and additional restrooms to align with today's codes. All systems are integrated to Smithsonian's master building monitoring system, which includes remote access. Sequences of operation were developed to best balance efficiency with environmental control demands.
An increasing number of art installations are designed to be hung from ceilings, rather than mounted on walls or on stands. Working with consulting structural engineers Woods Peacock, the team integrated a significant amount of structural reinforcement, particularly in the Grand Salon. The majority of existing structure was able to be reused, contributing to a stable environment, due to inherent thermal mass. Damage that had occurred during a significant earthquake in 2011 was also addressed.
By utilizing an integrated design approach, the project was able to achieve a significant series of sometimes competing goals within the Smithsonian's allocated base construction budget of $20 million and a overall project cost of $30 million with funding through a 50-50 public-private partnership.
Construction Process: A specialized retractable canopy developed by the contractor allows more flexibility in movement of materials into the building. This area was the future location of the main attic mechanical room. The bow trusses were removed carefully for future installation as an artifact within another Smithsonian facility.
© Prakash Patel, Courtesy of Consigli Construction Co., Inc.
Community Impact
While the energy and water use footprint is tracking well, the broader impact of this project is a highly visible example of sustainable historic preservation with a technically intense building type on a constrained building site in an urban environment.
While this building was saved once in the 1960s from demolition, this renovation helps to ensure its stewardship again. As the first purpose-built museum dedicated to art in the United States, its legacy is important to the museum community. The attention the project has brought to arts and crafts with its first exhibition has exceeded the Smithsonian's expectations and brought new attention and investment in the arts. •
About the Author
Roger Chang P.E., Assoc. AIA, BEMP, LEED Fellow, GGP, is principal, director of engineering, Westlake Reed Leskosky.