Alberici Headquarters, Overland, Mo.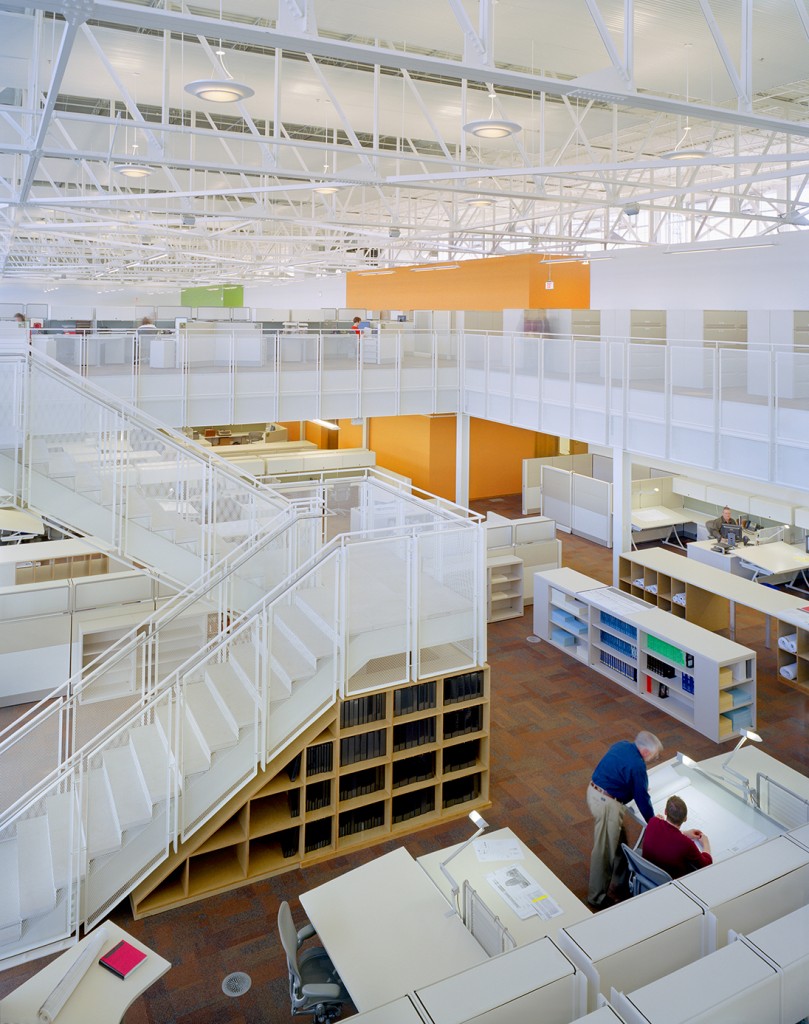 The story of the Alberici Corporate Headquarters is one of transformation.
It is the transformation of a company whose prior headquarters consisted of mostly private offices within a four-story building that had minimal daylighting into an office environment with open work stations organized around three atria to foster communication and collaboration, all with ample daylight and views.
It is the transformation of the construction marketplace, with construction workers contributing ideas for materials, systems and ways to recycle, and who looked forward to the next green project to build because they felt better at the end of each day due in part to the materials specified and installed and those avoided.
It is the transformation of environmental design, locally, nationally and internationally, raising the bar, with the new headquarters certified by the U.S. Green Building Council in 2005 as the highest rated LEED Platinum building in the world.
Process
Having outgrown its existing headquarters and needing to expand, Alberici Constructors analyzed 45 sites. They decided to locate the new headquarters about five miles from the existing building and retain the original office building and another plant for steel fabrication and erection.
The new site was 13.6 acres, with 9 acres of impervious surface and 3.7 acres under roof. A 150,633 square foot, 1950s era former metal manufacturing plant, a 34,000 gross square foot, three story office building, and a surface parking lot were on this designated brownfield site. With three 70 ft × 505 ft and one 90 ft × 495 ft clear-span structural bays, the former manufacturing plant was a "cathedral of steel" and held great potential to both accommodate and reflect Alberici Constructors' business of building and steel fabrication and erection.
Interior view of original manufacturing plant. The south clear span structural bay was 90 ft wide, 495 ft long and had a clearance of 28 ft from the floor to underside of steel trusses. The interior volume accommodated a new mezzanine level for additional office space.
Photo: John C. Guenther
Goals and aspirations of the client and project were discussed at an eco-charette. The client wanted to lead by example and transform the design and construction marketplace.
Without hesitation, John Alberici, the company's Chairman of the Board, set a goal of LEED Platinum certification, reminding everyone about "the future generations who will someday work in this building."
The design process was highly collaborative, with design and construction teams working together from the beginning.
The design that followed was highly integrated, interdependent, holistic and performance-based, with numerous reasons for any one design feature. In evaluating design options and refinements, the team reflected on architect Buckminster Fuller's question, "How much does your building weigh?" The team sought solutions that achieved the most with the least, in the most direct and simple way.
As a result of this collaborative effort, the company enjoys a healthy, comfortable, beautiful environment that fosters teamwork, creativity and collaboration. A 50-year-old adaptively reused structure had new life.
View of garage with relocated crane rail steel beams. The northern two structural bays accommodated all of the parking requirements under roof.
Photo: John C. Guenther
Organizing Concept
In considering the requirements for an open office environment, structured parking, training rooms, conference rooms, support functions, exercise facilities and dining facilities, the team realized the office component could mostly be accommodated in the southern, 90 ft × 495 ft structural bay, while 323 parking spaces could be accommodated in the northern two 70 ft × 505 ft structural bays under roof and on parking ramps, reducing the heat island effect due to parking lots.
A courtyard was created by removing the roof of the second 70 ft × 505 ft structural bay (except for the connection between the parking garage and the office building) to allow for daylight and ventilation for both structures.
With the original building oriented to the southwest—a very difficult solar exposure facing the late afternoon sun—the team added a 28,070 square foot "sawtooth" addition, which in effect reoriented the building due south, allowing for precise solar shading with new overhangs to screen the glass from the summer sun, while allowing the winter sun to warm the interiors. The reflective roof of the saw tooth addition was kept lower than the main building volume and reflects light through the south clerestory into the building interiors with its white painted structure and ceilings, harvesting daylight and supplementing interior lighting.
Design concept and sketch. The design concept originates from understanding the path of the sun through the year. This led to the "sawtooth" addition which, in effect, reoriented the building due south.
Sketch: John C. Guenther
Given the 28 ft height from floor to underside of trusses spanning 90 ft in the southern structural bay, a new mezzanine floor with three atria was inserted to provide additional office space within a compact footprint.
Given the interior volume, underfloor air distribution provides fresh air directly to the building occupants.
The 90 ft width of the southern structural bay and the design of the south and north fenestration permit natural ventilation along with daylight and views for all of the office staff.
The final plan configuration resulted in a 110,000 square foot office building.
Sustainable Sites
The 13.9 acre site had 9 acres of impervious surface, including 3.5 acres under roof. By placing all parking under roof (using an Energy Star compliant, highly reflective, high emissivity roof), surface parking lots were removed, the entry drive was kept to a minimum and the heat island effect was reduced. Working within the existing manufacturing plant structure reduced the site disturbance-development footprint.
The original three-story, 34,000 gross square foot office building was no longer needed, and it was deconstructed, with materials donated wherever possible. The deconstruction process allowed the majority of the brick and concrete to be used as structural fill for the new entry drive.
Aerial view of original office building and manufacturing plant, which was oriented to the southwest.
Courtesy of Alberici Constructors
Storm water was managed by creating two ponds that function as landscape elements and a permanent water retention system. A forebay pool filters 80% of total suspended solids and 40% of total phosphorous from storm water discharged into the ponds. The ponds retain virtually all the storm water from the roof areas and surrounding site and are now living ecosystems with fish, frogs and predaceous aquatic invertebrates—all insect predators, which thrive in this environment.
Landscaping consists of 100% native plant species, which eliminates the need for irrigation and weekly maintenance. In fact, annual savings of $50,000 per year result from not having to maintain a typical lawn for a corporate office.
The native, drought-resistant plantings included 6 acres of Missouri prairie grass and wetland plants. Over 250 Missouri native trees and 4,200 perennial plants and bushes were planted, placed by type, growth rate and shade requirements.
Partnerships with Missouri Botanical Gardens, Shaw Nature Reserve and Grow Native! have been established, and now the site is a seed bank for other statewide prairie developments.
Aerial view of Alberici Constructors Headquarters and site. The original metal manufacturing plant was adaptively reused as Alberici Constructors' Headquarters.
Courtesy of Alberici Constructors
The site was designated a brownfield site by the City of Overland, Mo. Asbestos was successfully mitigated from the office building and properly disposed of.
Alternative transportation includes a main bus line, which passes by the site, and accommodations for bicyclists who are provided with bike racks in the parking garage and showers and locker rooms in the office building. Several employees commute to and from work via bicycle when the weather is favorable.
Carpoolers have preferred parking as well.
In an effort to continue to improve and refine the headquarters, four charging stations for electric vehicles have been added, with two to three electric vehicles being charged each day.
Light trespass from the site onto neighboring properties was eliminated by the design of interior and exterior lighting.
Water Efficiency
Through a variety of strategies, Alberici achieved a 70% water reduction.
A 38,000 gallon underground cistern was installed within a sunken area of the former train track that brought metal supplies to the manufacturing plant. The cistern is filled with water captured from the parking garage roof. The water is filtered through a strainer and sand filter, chlorinated and held in a secondary 500 gallon tank. This results in rainwater catchment for 100% sewage conveyance, eliminating all potable water for sewage conveyance.
The water is also used in the HVAC system's cooling tower. The cistern's overflow drains into the north retention pond.
All restrooms have urinals and water closets that abide by Energy Policy Act of 1992 guidelines for water consumption, along with low-flow lavatory fixtures. Two restrooms feature dual flush water closets and water-free urinals.
No permanent irrigation system is needed due to the use of native landscape planting.
Energy and Atmosphere
The team was challenged to create the most efficient building using a conventional building budget.
The building reorientation to the south was achieved with the sawtooth addition, while the east and west exposures have minimal fenestration.
The northern exposure incorporates a wall of glazing for daylight and views. All exposures have operable windows.
Daylight is harvested by reflecting light through the south clerestory windows off the white roof membrane of the sawtooth roof and into the building's interior with its white painted structure and ceilings.
With R-19 walls, an R-30 roof, high performance low-e glazing, high-efficiency mechanical and electrical equipment, daylighting controls, energy-efficient lighting and occupancy sensors, and a reduction in lighting fixtures and energy ballasts, all of which contributed to a lower power density of 0.64 watts per square foot, the building is 60% more efficient than a conventional office building. A DOE-2 energy model was used to study and create a highly efficient building envelope.
View of north façade.
© Debbie Franke Photography, Inc.
The original T-8 and T-5 high output direct/indirect fluorescent lights with dimming and non-dimming electronic ballasts have been upgraded to LEDs. Indirect uplighting reflects off the white painted structure, metal ceiling decks and perforated acoustical ceiling panels, turning them all into lighting components and enhancing the lighting efficacy.
The building's central utility plant was located in the parking garage to reduce noise and improve energy efficiency. It ties into three mechanical rooms located along the building's "Main Street" (the main circulation along the 500 ft length of the building) and the atria to efficiently serve the open office workspaces.
The HVAC system uses a mix of underfloor air distribution to provide fresh air directly to occupants and natural ventilation through operable windows. An energy recovery system incorporated into the HVAC system extracts heat without the need to recirculate stale air. A roof-mounted weather station communicates with the building management system to automatically open clerestory windows for natural ventilation when temperature and humidity levels permit.
The atrium spaces also help with air distribution and ventilation by serving as a thermal chimney, allowing hot air to rise to the highest point in the building. The atriums also open views between floors and provide a sense of collaboration.
When the building was completed in 2004, on-site renewable sources yielded approximately 17% of the total energy used. A 65 kW wind turbine provided 92,000 kWh annually—approximately 20% of the facility's electrical needs—while solar hot water preheat provides all water heating needs. In 2012, a new 100 kW wind turbine replaced the original, and new blades were installed in 2018. The 100 kW wind turbine requires significantly less wind to start and operate.
In addition, 384 photovoltaic panels have been installed on the parking garage roof. They yield dramatically more on-site renewable energy and work in concert with the wind turbine and hot water solar collectors.
View of wind turbine. The 100 kW turbine, installed in 2012 to replace the original wind turbine, now has new blades, installed in 2018, and requires significantly less wind to start and operate.
Photo: John C. Guenther
Materials and Resources
Ninety-three percent of all construction and demolition waste was diverted from landfills, saving 93% of dumping fees and 45% of hauling costs. Throughout the construction process, gypsum board, clean lumber, metal, glass and cardboard were recycled.
The project was exceptional in that more than 57% of all building materials were manufactured within 500 miles of the site, with more than 52% of the raw materials used in those products extracted or harvested within 500 miles of the site. As a result, transportation costs and associated energy consumption were reduced.
Autoclave aerated concrete block used is composed of 85% fly ash, while 100% synthetic gypsum used post-industrial content gypsum, fly ash binder and post-consumer recycled content paper.
Rapidly renewable materials were incorporated and include certified wood for all window assemblies; doors and door frames; bamboo plywood for feature walls; cork flooring in the lobby, coffee bars and copy centers; and case work made of wheat board for the coffee bars, copy centers, mail room and training rooms.
The parking garage roof was coated with an Energy Star-compliant, reflective, emissive product, a proprietary soy-oil polymer made from regional crops.
Materials were also carefully selected and specified to achieve the highest level of recycled content—post-consumer and post-industrial.
Sheet pile was salvaged and reused from a previous Alberici project to form a permanent retaining wall on the south edge of the property. Similarly, a steel stair was repurposed to connect the south outdoor terrace to a path around the ponds.
The overhead crane rail steel beams used in the manufacturing building were reused and repositioned to support the new concrete double tee beams for the structured parking within the northern two structural bays.
Indoor Environmental Quality
Fresh air at the Alberici Headquarters is the result of many factors. This is not only a smoke-free building, but a smoke-free campus. The air within the building is virtually free of CFC refrigerants, volatile organic compounds (VOCs) and added urea formaldehyde.
Carbon dioxide is monitored by the building management system which, if levels exceed set standards, will introduce additional fresh air into the building.
Copy centers, which contain printing and copy operations and the associated chemicals, are separately ventilated out of the building.
Building materials were carefully selected and include low-emitting adhesives, sealants, paint, carpet and composite wood.
A fitness center also contributes to employees' health.
The building is shaped by the solar patterns, wind patterns, ventilation and light. Virtually all of the employees have daylit workspaces with direct views to the outdoors while seated at their workstations. They can also control airflow from an underfloor air distribution system through floor vents at each workstation, which allows for higher amounts of outside air to be delivered to the building while reducing the use of recirculated air. With the HVAC system constantly charging the underfloor plenum with cool air, variable HVAC motor loads are eliminated and allow the ventilation system to run at maximum efficiency. Natural ventilation through operable windows is also provided.
Education
When it comes to educating the public, students and professionals, Alberici Constructors are exemplary in sharing their lessons learned. Over the past 16 years, thousands of visitors have toured the headquarters and grounds to learn about sustainable design and building, energy conservation, healthy work environments, and how an existing building can be adaptively reused, resulting in the world's highest rated LEED Platinum building when it was certified in 2005.
In short, visitors can learn about and appreciate this remarkable transformation. Hopefully, with an increased environmental awareness, they will in turn take action to transform our world into a better place. •
ABOUT THE AUTHOR
John C. Guenther, FAIA, LEED AP, was a design principal and partner with Mackey Mitchell Architects when he designed the Alberici Corporate Headquarters. Since 2009 he has practiced independently as John C. Guenther Architect LLC.