NFL Season Is Sustainability Season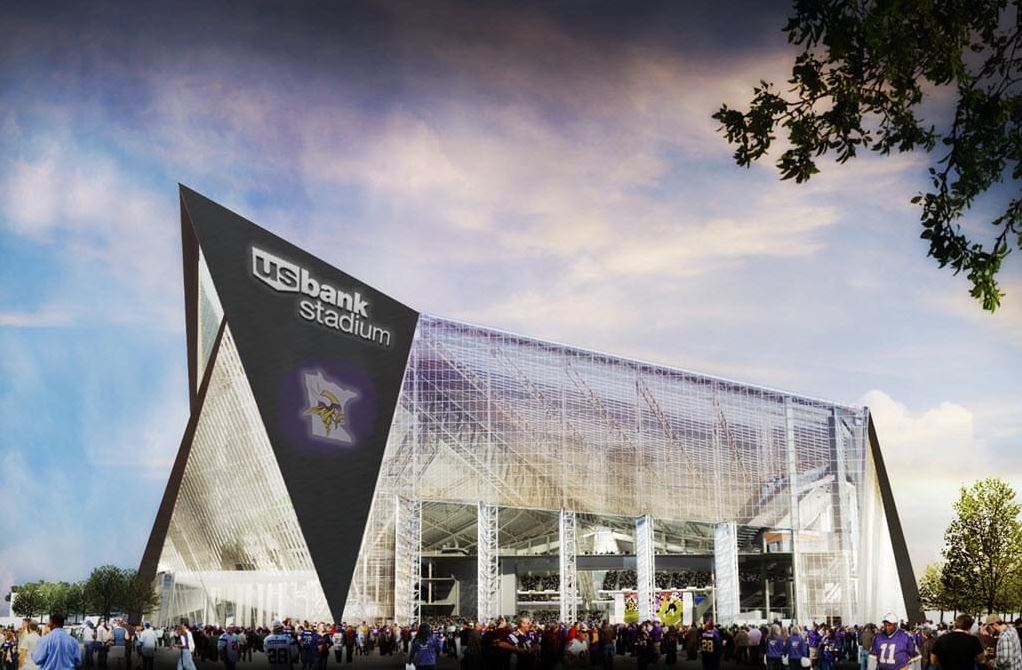 As the 2016-17 season for the National Football League opens, sustainability is increasingly becoming an important player in the on-field experience for the teams and their fans. Implementing and promoting sustainable features in stadiums is also a way for team and stadium ownership to save money and generate goodwill in an environment where stadium-building costs are skyrocketing and often, local taxpayers have to foot a least part of the bill.
The final game of the last NFL season, Super Bowl 50, was played in Levi's Stadium in the Bay Area of California. When it was completed in 2014, the $1.2 billion Levi's Stadium became the first pro football stadium to achieve Gold certification under the U.S. Green Building Council's (USGBC) LEED program.
The highly touted "rookie" among stadiums for the 2016-17 NFL season is U.S. Bank Stadium. The Minnesota Vikings will play their first regular season game in the newly opened venue in Minneapolis on Sept. 18. According to Michele Kelm-Helgen, chair of the Minnesota Sports Facilities Authority, the stadium is "on track to receive some level of LEED certification."
Levi's Stadium's solar-array-covered "Energy Bridges" connect the main parking lot to the stadium.
Levi's Stadium
The new stadium will join a growing list of stadiums that have LEED certifications. However, the list remains small. In addition to Levi's Stadium, only Soldier Field in Chicago, M&T Bank Stadium, in Baltimore and Philadelphia's Lincoln Financial Field are LEED certified. That the small number is growing is encouraging, as the trend of building stadiums with sustainability in mind, and seeking and achieving LEED certifications for the structures, has only been in the collective game plans of teams and stadium owners for less than a decade.
Moribund Multipurpose
At the beginning of the heyday of professional football in the U.S., stadium designs were basically on a losing streak. They weren't, in the common sports vernacular, "performing at a high level."
Sports arenas have historically been only that–places to conduct and watch sporting events. In the U.S., for decades there was a trend of cookie-cutter "multipurpose stadiums." The simple, round edifices could be used for both the rectangular gridiron of American football, and for baseball diamonds. Their circular, open designs provided little in the way of aesthetics, and definitely not performance. Even the NFL's Vikings most successful seasons were played out in a cold, concrete stadium in Minneapolis.
Multipurpose stadiums were basically interchangeable with one another, and shared a common philosophical ancestor.
"Firmitas, Utilitas, Venustas"
Model of the Colosseum at the Museum of Roman Civilization depicting a possible design of the velarium.
Jean-Pierre Dalbéra
One of the most famous sports venues of all time, the Colosseum of 1st-century Rome, was similar in some respects to more modern venues of the mid-to-late 20th century. It was a multipurpose facility: gladiator contests, naval battle re-creations, dramas and even executions were held in it. However, the 70,000- to 80,000-seat structure, unlike its more modern progeny, actually had a feature that made it seem its designers actually thought to push the extant technological envelope. It had what could be considered a "retractable roof." At the top of the structure was a retractable awning, a "velarium," to keep sun and rain off spectators. The velarium consisted of a canvas-covered, net-like structure made of ropes, with a hole in the center. It sloped down towards the center to create a ventilation updraft to provide air circulation. It was essentially a free-cooling system, or even a DOAS. To this day, it is not known for certain how it was supported. It also showed more attention to environmental detail than did many of the multipurpose stadiums of the latter half of the 20th century. It was a prime example of the philosophy of Roman architect Vitruvius, who held that a good building should satisfy the three principles of "firmitas, utilitas, venustas"—that is "durability, utility and beauty."
Halftime Adjustments
Throughout the 1960s, 70s and 80s, similar, easy-to-build multipurpose stadiums were built throughout the U.S. They were unattractive and underperforming. While they had utility—they served their basic purpose—they sorely lacked durability and beauty.
Then, in the late 1980s and into the 1990s, cities, teams and stadium designers began to pay more attention to these facilities. No more would staid, utilitarian stadiums be the only game in town. There began an emphasis on making stadiums unique, and often tailored to the cities, or even the personnel of the teams that played in them. They were designed to be more attractive, some to the point of being gaudy in form. But still, their function was only thought of in terms of being places that provide the basic essentials for conducting and watching sporting events.
However, costs for these buildings began to escalate. By the 2000s, stadiums moved quickly into being endeavors that cost several hundred million to more than a billion dollars. Cost concerns, and the changing social paradigms around environmental stewardship put stadiums on the same playing field as skyscrapers. Owners had to look at, in addition to team performance, building performance.
Taking the LEED
One of the first major U.S. stadiums to have sustainability as a goal was the MetLife Stadium. The home of the NFL's New York Giants and New York Jets opened in 2009 with a giant price tag that eventually soared to more than $1.5 billion.
The teams signed a Memorandum of Understanding (MOU) with the United States Environmental Protection Agency (EPA) to develop environmental sustainability goals for the project pledging to become environmental stewards by implementing a number of green initiatives. The goals covered areas such as air pollution, energy and water conservation, and reducing the environmental impact of construction. Conservation and recycling measures were set in place to save an estimated 1.7 metric tons of carbon dioxide during the build.
That commitment to imbuing stadiums with the latest in environment-friendly features has increased in recent years. "This is a golden age of energy-efficiency enhancements at stadiums and arenas," Allen Hershkowitz, senior scientist at the Natural Resources Defense Council, said in an interview for fitness and recreation business-to-business publication Athletic Business.
On its website, Levi's Stadium says it "embodies innovative elements found throughout Silicon Valley." Sustainable features in the structure include "1,000-plus state-of-the-art solar elements" found throughout the building, including three solar-array-covered "Energy Bridges" developed by power conglomerate NRG Energy. The NRG Energy Bridges connect the main parking lot to the stadium. The bridges contain 642 solar panels and combine with a "Solar Terrace array" atop a luxury suite tower high on the building to produce 515 MWh of energy annually, enough to offset the energy used during the San Francisco 49ers' 10 home games each season. Additional features include automatic sensors and an energy management system.
U.S. Bank Stadium continued that mindset. The Minnesota Vikings state that for the new building, "authentic sustainability," has been important since its inception.
It is built with an asymmetrical, high-pitched roof, designed to shed snow off the roof efficiently into a giant snow gutter near the roof line that features a heating system to direct the melted snow through the stadium's storm water control system. This functionality enabled designers to use only a single central ridge truss and lessen the carbon footprint of the building by reducing the need for structural steel by an estimated 2,000 tons.
Steel use also is lessened by the use of Ethylene tetrafluoroethylene (ETFE) for 60% of the roof surface. The fluorine-based plastic also is transparent to ultraviolet light. This enables the stadium to use solar thermal heating and reduce the demand for artificial lighting. Solar thermal heating, in turn, creates a heat reservoir during the winter that will allow warm air to be redistributed by reversing the fans and ducts that distribute cold air in the summer. Additional features include advanced air-handling units, improved ventilation and high-efficiency motors. The Vikings organization also claims that U.S Bank Stadium is "the first new NFL venue to be built with an advanced LED lighting system…."
The Next Game
The trend of incorporating green features into stadiums mirrors where the overall societal mindset is being directed. According to USGBC, "green sports venues expose everyday audiences to green building and play a crucial role in building broad support for sustainability."
As of August 2016, Atlanta's Mercedes-Benz Stadium is under construction. It is scheduled to open in time for the 2017 NFL season.
Mercedes-Benz Stadium
"It's got to be a cultural shift, and sports can help make it possible," added Scott Jenkins, chairman of the Green Sports Alliance and general manager of the Atlanta Falcons' under-construction Mercedes-Benz Stadium.
Mercedes-Benz Stadium, a $1.5 billion project in the heart of downtown Atlanta, is expected to feature roughly 4,000 photovoltaic panels, electric vehicle charging stations, and high-efficiency water fixtures. The highlight of the stadium's design is its retractable roof. By properly timing the opening and closing of eight machine-operated roof petals, ambient air can precool the stadium prior to games and reduce the energy spent on air conditioning.
A rendering of Mercedes-Benz Stadium with the roof fully retracted.
Mercedes-Benz Stadium
A retractable roof whose movement helps to keep spectators cool? It is a "cool" new building feature—one copied from the playbook of a 2,000-year-old ancient Roman multipurpose stadium.