Plastic LED Fixture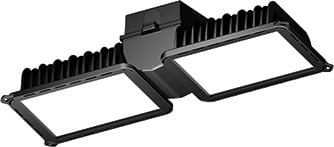 Company: Nicor, Inc.
Product: LED Vapor Tight luminaire
Nicor, Inc. and Shat-R-Shield have released a thermally conductive plastic LED Vapor Tight luminaire. The product was specifically designed using thermally engineered polymers for corrosion and UV resistance in harsh environments and is able to withstand moisture, dust and salt spray. This high-efficiency luminaire weighs 5 pounds, delivers over 100 lumens per watt and offers two packages with approximately 3500 and 7000 lumens. Suitable applications include marine facilities, natatoriums, industrial facilities, food processing plants, wastewater treatment plants, cold storage, parking garages, tunnels and subways, construction sites, airports, and other harsh environment applications.